In the 20 years my husband and I have been married, we've had the pleasure of being a part of several different church families: the tiny one in our college town, a small rural one after we graduated, a bigger one in Houston, and now the church we planted in Baltimore, Maryland.
At each of these churches, I entered the church community as a woman who loved Jesus and desired to grow in spiritual maturity and fruitfully contribute to our new church. But I also entered each of these families weary and heavy-laden with wounds, sin, and baggage. In every stage of life and spiritual maturity level, I've valued encouragement within the body of Christ.
I remember the encouragers. Their lives breathed encouragement because they were filled with joy. These men and women gently helped me see, understand, and apply the promises of God when my heart was weary. Their words and demonstrations of God's kindness helped me to be strong, stand firm, and take heart in various seasons of discouragement. My faith, my testimony, and my work are stronger today because of the encouragement of these saints.
Growing in Encouragement
Some pastors and teachers are naturally gifted encouragers. For others, it takes time and effort. Churches are filled with members who all have different gifts. Whether or not your church members joyfully encourage with the skill of Barnabas or Paul, every church has room to grow in how we equip each member for the ongoing responsibility of encouraging one another.
Here are a few ideas to consider if you're hoping to foster a culture of encouragement in your own local church:
Encouragement doesn't need to be programmatic. You may be the one God has called to start investing in a ministry of encouragement first. Start small. Consider how you and a few friends might encourage a specific group of people. You don't need a committee or a leadership team; just invest in others relationally.
Encouragement is a learned skill. Just like other parts of discipleship, encouragement should be taught, practiced, and replicated as an important aspect of the Christian faith. Encouragement is Spirit dependent. Ask God to show you who you might encourage. Pray for the Spirit's wisdom and that he would provide the good counsel of a well-timed word. Depend on the Spirit to do the work of empowerment. You are the messenger not the Spirit.
Encourage regularly and systematically. Once you decide who God has called you to encourage, privately commit to their ongoing encouragement; this might include checking in on them each Sunday, praying once a week, or even sending a text whenever you hear there's an extra need. Choose to invest for the long haul, even if it means only making small relational investments over time. You may be surprised at how God is able to support someone through simple words of truth.
Encouragement multiplies. Consider getting together with a small group of friends just for the purpose of encouragement and prayer. Keep the time short and simple. Start with a specified start and end date. You can always recommit once you're finished. You might prioritize one area to pray for encouragement: spiritual disciplines, family, friendships, work, physical health, or something else. Find and discuss a Scripture to meditate on or pray for one another throughout the week. If this seems too complicated, you could always spend the time pairing up to check in on and pray for one another during the week; just keep the focus on encouragement. Then, share the blessing of encouragement by breaking out of your group, multiplying, and making new groups that include additional church members.
Commit to studying encouragement together. If you want to go deeper in discussing biblical encouragement with a group in your church, you could start by studying the subject of encouragement in Scripture. Alternatively, you could study the life of Jesus, Barnabas, or Paul. (My book, A Better Encouragement: Trading Self-Help for True Hope, is one tool to help you do this.)
Be patient as you work and pray for change. A church's culture doesn't take shape overnight. As you work to implement a culture of encouragement, be patient and diligent in studying encouragement with church members. Be patient with the weak who may struggle to biblically encourage. Be patient with those who aren't skilled in blessing others with their words. Celebrate small, steady, incremental changes when you notice them.
A church's culture doesn't take shape overnight. Be patient and diligent.
Encourage the weak. If you're not sure who to encourage, ask your pastor or a ministry leader. Share your desire to grow in the skill of encouragement and ask them for ideas. Pastors and ministry directors are often aware of church members who could use an extra friend or a voice of support.
Encourage your pastor. Ministry is tough. And even if your pastor or ministry leader seems strong, he or she is shouldering heavy burdens. Look for ways to exhort and encourage the shepherds God has given you. Point out glimpses of fruit in their lives. Thank them for their sacrificial living and ask how you might pray for their strength and endurance. Celebrate fruit in their ministry whenever you can. Share openly with them when you notice fruit or growth in your own life that is the result of their ministry. Give your leaders the opportunity to celebrate and rejoice with you.
Encourage your church. Pray for your pastors, elders, and teachers to be strengthened by grace through the encouraging words and actions of the church's members. Pray and ask the Lord for wisdom and humility to discern how God might use you to encourage and strengthen others within your own local church.
What is your church known for? Where is there already evidence of the fruit of the Spirit at work? As you brainstorm how you might work to cultivate a culture of encouragement, consider the unique personality of your church and how it has been shaped and defined over the years by the diligent contributions of certain leaders or church members. When God's people bring their desires, abilities, strengths, gifts, and resources to the church and work for his glory, God produces beautiful fruit!
Get a FREE eBook to strengthen your family discipleship!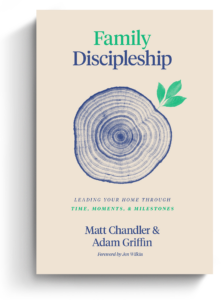 The back-to-school season is stressful for moms and dads. New rhythms of school, sports, and other extracurricular activities can quickly fill up a family's already busy calendar. Where do busy parents look for resources on discipling their family well? Aside from prioritizing church, what else can Christian parents do to instill healthy spiritual habits in their household?
Matt Chandler and Adam Griffin cover these questions and more in Family Discipleship: Leading Your Home through Time, Moments, and Milestones. And we're excited to offer this book to you for FREE as an eBook today.
Click on the link below to get instant access to your FREE Family Discipleship eBook now!