Our calling is to make disciples. To that end, there has been much written about methods and strategies of disciple-making. These resources can be helpful, but sometimes we get caught up in being faithful to a method rather than using and adapting the method to be faithful to our call.
Adaptation is important since we don't live in a uniform, cookie-cutter world. Our culture is changing, and continues to change at an accelerating pace. There is no magic-bullet discipleship method that will work in all contexts. Therefore, those of us responsible for disciple-making in the church must design strategies, processes, and models unique to our context. We can certainly learn from and use models, so long as we're willing to customize and adjust.
Sunday school and small groups are two perennially popular discipleship models. I'm going to explain how how and why our church uses small groups instead of traditional Sunday school—while incorporating insights from both.
Different Discipling Groups
If the objective of a group in our church is to make disciples, it's called a small group, but the groups themselves vary widely. Some are large, others are small. Some are life-stage specific, or multi-generational, or geographically based, or vocationally focused. These different options allow our people to find a situation that best facilitates their Christian growth.
Each group has a leader trained specifically to lead that type of group. Several approaches work well—so long as leaders clearly understand what they're trying to accomplish. Our leaders focus on four key ingredients in our small groups: people, Bible study, accountability, and a clear target.
1. People Are Welcome
We want all kinds of people to attend our groups. To that end, we expect all groups to be "open," allowing anyone to join at any time (though there are exceptions, and a small percentage are closed for a season). Since we recognize that all groups change over time, we tilt toward groups being open and slightly less comfortable rather than groups being closed and slightly more comfortable.
2. Sermon-Based Bible Study
Most groups use a Bible study guide written in-house that engages the last sermon preached. The template is based on three simple questions: "What?", "So What?", and "Now What?"
"What?" is the sermon outline and summary; "So What?" is why the sermons matters, or broad application; and "Now What?" focuses on specific, immediate application points for each person in a given group. The first two points are largely derived from the sermon and are consistent across the board. Answering "Now What?", however, requires the leader to craft specific action points for his or her group.
3. Grace-Based Accountability
Small groups then provide accountability for completing those specific action points. We specify that accountability should be grace-based rather than imposed. Whereas imposed accountability often takes the form of checklists or directives, grace-based accountability is requested and welcomed by group participants.
The key to grace-based accountability is intimacy, which is based on trust, which is found in biblical community.
The key to grace-based accountability is intimacy, which is based on trust, which is found in biblical community. Strong relationships within groups are necessary for growth, health, and care. It's far less frightening to be held accountable when it occurs in an environment of loving trust.
4. Clear Target
When people study and wrestle with God's Word and are accountable to trusted friends, we take steps toward Christlikeness together, making disciples in and through our groups.
We frequently reinforce this objective with our small group leaders. The goal is to make disciples, not merely to provide an environment for healthy fellowship. And yet if we're going to make disciples, healthy fellowship is critical. Focusing on the target keeps our leaders from being distracted by other goals.
The bottom line is this: As long as these four ingredients—people, Bible study, accountability, and a clear target—are present, there can be great flexibility in how we do discipleship ministry. Our church is able to use several ministry models simultaneously, while allowing leaders to choose the methods they need to be most effective.
As you consider your church's discipleship needs, remember that you have this same freedom. Focus on the important things, and then adapt models to figure out what works best in your context.
---
Also in this series:
Get a FREE eBook to strengthen your family discipleship!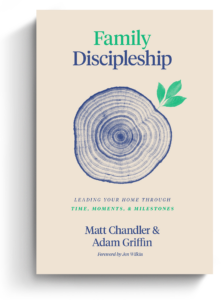 The back-to-school season is stressful for moms and dads. New rhythms of school, sports, and other extracurricular activities can quickly fill up a family's already busy calendar. Where do busy parents look for resources on discipling their family well? Aside from prioritizing church, what else can Christian parents do to instill healthy spiritual habits in their household?
Matt Chandler and Adam Griffin cover these questions and more in Family Discipleship: Leading Your Home through Time, Moments, and Milestones. And we're excited to offer this book to you for FREE as an eBook today.
Click on the link below to get instant access to your FREE Family Discipleship eBook now!