Can theologically conservative Christians—those who uphold orthodox doctrine and traditional Christian ethics—be relevant in artistic spaces increasingly hostile to our beliefs?
For much of the last two millennia, Christians have been significant players in the arts, both as patrons and practitioners. This started to change in the last century or so. A successful Christian at the highest levels of music, literature, fine art, or media now feels like a surprise, not the norm. Some Christians might argue that the arts are too far gone (too secular and too hostile to orthodox faith) to justify an investment at this point. But is this potent sphere—with such potential to shape hearts and minds—really one where we want less of a Christian presence?
Alarmingly, many Christians have either taken an apathetic stance on the church's place in the arts or abandoned the arts altogether. Rather than creating art that infuses the world with the glory of Christ, we retreat from a sphere that has become increasingly secular as Christians have vacated it.
If we don't see much of Christ in the artistic landscape around us, we shouldn't be surprised. Things as powerful as art and beauty—when divorced from transcendent truth—are bound to go morally awry. In response, Christians can decry, protest, or retreat further from the moral filth of the artistic sphere. Or we can commit to reentering this arena and bringing with us beauty tethered to an unapologetic declaration of truth.
But that's easier said than done.
Why Many Christian Artists Deconstruct
If you've kept up with the CCM (contemporary Christian music) genre over the past few decades, you likely know the deconstruction stories of Kevin Max (DC Talk), Derek Webb (Caedmon's Call), and Jonathan Steingard (Hawk Nelson), just to name a few. Max's deconstruction is particularly painful for me, as he remains one of my favorite vocalists whom I once had the pleasure of interviewing. He was an example of a Christian artist who embodied creativity and imagination—two things Christian art often lacks.
A successful Christian at the highest levels of music, literature, fine art, or media now feels like a surprise, not the norm.
Why is deconstruction so common among Christian artists? It can feel almost inevitable that many artistically excellent Christians, however faithful they may seem at the outset of their careers, will gradually lose their faith the longer they spend in the highly secular waters of contemporary art and entertainment.
One challenge, particularly in the music industry, is the need to travel and tour. Artists often spend the majority of their time on tour with unbelievers, making it hard to maintain convictions contrary to what the people around them endorse.
Another challenge is that CCM has become a highly monetized industry, and sometimes the financial incentives are stronger for theologically vague, inoffensive, and inspirational songs than for robustly Christian songs.
There are likely many artists in CCM whose music—and faith generally—is only "Christian" in the most tenuous of senses, a fragile faith primed to fall apart under cultural or market pressures.
Why Many Christian Artists Keep Quiet on Controversies
Another tendency among popular professing Christian artists is to sidestep controversial issues like abortion and LGBT+ issues, even when directly asked about their stances. These artists may not have deconstructed their faith, but they play it safe, likely driven by fear of being shunned by subsets of their audiences.
Some of these fears are founded. Increasingly, many Christian beliefs are untenable in our secular culture—and to publicly associate with these beliefs is to draw online fury, backlash from fans, and possible cancellation.
Do Christian artists with public followings (which may include many nonbelievers) need to share all their views on morality and ethics? No. However, a public platform shouldn't just be seen as a liability ("Will I say the wrong thing?") but as an opportunity to be light in a dark world by speaking the truth with grace. Christians in the arts shouldn't be primarily driven by fear of losing their audience but rather by faith that God will honor their integrity in a hostile environment.
Christians in the arts shouldn't be primarily driven by fear of losing their audience but rather by faith that God will honor their integrity in a hostile environment.
John Cooper is one example of a Christian artist who hasn't renounced his faith—or folded under the pressure to compromise or hide his orthodox views, even though he hasn't been left unscathed in the process. Even though Skillet has undoubtedly become a polarizing band because of its members' unapologetic stances, they continue to play to massive crowds and tour with mainstream acts. They haven't been silenced. They've simply accepted they'll be hated by some for remaining true to their Christian beliefs.
Needed: More Unapologetic Christian Artists
Not everyone will gain as large a platform as Skillet. Cooper has been at this for decades. Developing such a faithful following isn't easy, and Christians shouldn't strive for fame or popularity. Yet I can't help but wonder if support for such creative work might actually increase if Christian artists spoke more boldly about their beliefs without fear and without wavering.
In other areas of society, there are big markets for unapologetically conservative businesses and media entities. Theologically conservative Christians are thirsty for like-minded organizations, ministries, and artists to support. They'll want to support Christian artists who frame faith positively, as something beautiful they're proud of and that's good for the world, rather than Christian artists who are embarrassed by or try to distance themselves from the "C" label.
Imagine Christian artists who don't merely speak out against abortion but beautifully celebrate the miracle, joy, and sanctity of life through their creative endeavors. Imagine Christian artists whose work explores the beauty of intact, healthy families not broken apart by divorce and infidelity. Rather than merely defending traditional Christian sexual ethics in the face of LGBT+ pride, what would it look like for Christian art to highlight the sacred beauty of sexuality within the bond of a Christ-centered marriage?
Take the Long View
Christians must take the long view. Our abandonment of the arts won't be reversed overnight. It might take centuries for us to become a pivotal part of the arts once again. However, there are steps that artists of faith can start taking now to help Christianity reclaim a position of influence in the arts.
1. Make good art worth celebrating.

Much contemporary Christian art is average at best. Much of it is plain bad. Christians often strive to evangelize or mimic secular counterparts so much that we overlook the power of beautiful craft as its own value apart from the "message" we want to communicate. Christians need to be more literate in the languages of the arts. We need to craft original, arresting works that force audiences to pause, reflect, and glimpse eternity—rather than make derivate copies of what secular artists have made.
2. Aim for faithfulness over popularity and success.
We need to craft original, arresting works that force audiences to pause, reflect, and glimpse eternity.
Put in the hours to be excellent. Be diligent to persevere even if your work isn't an overnight sensation. Be faithful in creating good art, faithful in being rooted in the church, and faithful to Christ in everything. Success (whatever that means) will work itself out, whether that involves garnering a small or large platform. Faithfulness, not worldly success, is key for the Christ follower.
3. Use the tools at your disposal.
The good news for Christian artists is that we no longer live in a world dependent upon record labels, agents, art curators, and other gatekeepers to get work from our imaginations into the hands of audiences. Social media, streaming platforms, and various other tools have lowered the barrier to entry.
Are you a painter or a sketch artist? Create an Instagram for your work. Are you a songwriter? Record your own songs at home and release them straight to streaming platforms. Get to work, and don't be discouraged by the difficulty of getting the worldly attention you think you deserve. Press on and push yourself to excellence, not for the applause of man but for the glory of God.
Get a FREE eBook to strengthen your family discipleship!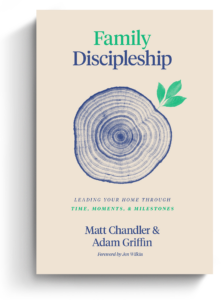 The back-to-school season is stressful for moms and dads. New rhythms of school, sports, and other extracurricular activities can quickly fill up a family's already busy calendar. Where do busy parents look for resources on discipling their family well? Aside from prioritizing church, what else can Christian parents do to instill healthy spiritual habits in their household?
Matt Chandler and Adam Griffin cover these questions and more in Family Discipleship: Leading Your Home through Time, Moments, and Milestones. And we're excited to offer this book to you for FREE as an eBook today.
Click on the link below to get instant access to your FREE Family Discipleship eBook now!