Editors' note:
The weekly TGCvocations column asks practitioners about their jobs and how they integrate their faith and work. Interviews are condensed.
Kurt Earl is a teacher and a coach at Lincoln Christian School in Lincoln, Nebraska. He and his wife, Da'Nelle, have been married for 11 years. Kurt started Compete4Christ and wrote Same Game | Different Fame. You can follow him @KurtEarl14 or @Compete4Christ.
---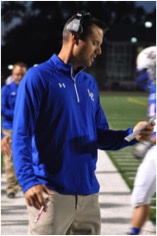 How would you describe your work?
As the offensive coordinator for the school's football team, it's my job to create an offense, scout the opponent's defense, create a game plan, structure offensive practice periods, and call the plays during the game. I also teach physical education and Bible and serve as the head track and field coach. A few years ago, as an extension of my vocation and some work I was doing with the Fellowship of Christian Athletes, I started Compete4Christ, a platform that enables me to encourage coaches and athletes all over the country to be ambitious for God's glory in competition.
As an image-bearer of God, how does your work reflect some aspect of God's work?
Crafting an offensive system and understanding the best ways to use that system against different opponents is a highly creative process. The best offensive coordinators use formations, shifts, motions, ever-evolving blocking schemes, and even the tempo of play to their advantage. One of our greatest strengths at LCS is our no huddle, full throttle approach. The journey from two-a-days to scouting opponents to calling plays and watching the team execute on the field is a journey only a group of image bearers can travel.
How does your work give you a unique vantage point into the brokenness of the world?
In America, wearing your pride and anger on your sleeve within the context of sports (in particular, football) is perfectly acceptable, if not encouraged. As a coach, I have the opportunity to watch the circumstances of the game reveal the true character of the players, coaches, and fans. The "Friday night lights" of high school football have a way of bringing us up close and personal with our own sins and the sins of others.
Jesus commands us to "love our neighbors as ourselves." How does your work function as an opportunity to love and serve others?
If the only thing our players have learned from us as coaches is how to play the game well, we've done them a disservice. To truly love our players is to teach them how to play the game of football for God's fame. If we can teach them how to compete to the glory of God on the gridiron, they'll be able to apply those same principles to every circumstance for the rest of their lives.
With the Super Bowl coming up, I need to ask: What makes for a good offensive strategy, and what will each team have to do on Sunday in order to win?
I believe the best offenses have two things: (1) An identity. They know who they are and play to their strengths unashamedly. (2) A system. They have a collection of schemes that fit together in such a way that they always have an answer for potential defensive adjustment. Too many teams have a collection of random plays that don't complement each other at all.
In championship games, the first five to eight minutes of each half are critical. Whoever wins those minutes will likely win the game. Another critical factor in the NFL are halftime adjustments. The coaching staff that best uses their unique creative ability as image bearers will position their team to win.