Stepping into a new church for the first time, even if you're a churchgoing person, can be intimidating.
Where should I park? Which door is the front entrance? Is there a place to hang my coat? Where's the bathroom?
For those who don't regularly attend, the anxiety can be even more acute. Is this the right place for me? Will anyone talk to me? Are there going to be strange rituals I don't understand? Should I even be here? Wouldn't it be easier to turn around and leave?
Some of those concerns can be eased in simple, practical ways, according to Sara Joy Proppe. She's the founder of Proximity Project, which helps North American churches think about creative ways to use their physical space to engage with neighbors.
TGC asked her how we can make opening the door to church—literally—a little bit easier.
We know many churches around the world don't have the luxury of implementing this advice. However, if your church is located in a more affluent context, these tips may be helpful for making your guests feel welcome.
1. Decorate outside.
In most places in America, the first impression of your church doesn't come from your sanctuary, but from your landscaping. The ground around your church can be an important way to invite curiosity, Proppe said.
"Think about stores on main street that sometimes put merchandise outside," she said. "Studies show that increases sales a lot because people don't have to walk through the door to be able to browse. But then once you start browsing outside, you're more likely to go inside."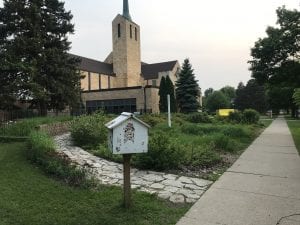 Active edges make active interiors, she said. At a church, this can mean adding outdoor benches or art sculptures or a garden—anything that will invite activity on the property.
One caution: Don't leave them unused and rusting. Give them life by moving some of your activities outdoors.
"Park your coffee cart outside after services on nice days," she said. "Or have your vacation Bible school games outside." This could even apply to meetings: "If it's nice outside, why are you all crouched around a table in the basement?"
If you have a little space and a little more risk tolerance, playgrounds are also worth considering. Nature-based playgrounds aren't as expensive as traditional swings and slides, and they "invite imagination and engagement," Proppe said.
She also suggests putting visual cues—such as artwork, banners, or flags—to mark the liturgical calendar.
"We're very rhythm-based as people," she said. "People in the neighborhood may not know what it all means, but they could say, 'Oh, yeah, the purple bunting is out. It's Easter.' That creates a rhythm for the neighborhood that is valuable. Children particularly are very aware of those rhythms, and it sparks that curiosity: 'Hey, that purple thing is up again. What does that even mean?'"
2. Mark a sidewalk in the parking lot.
Parking lots are designed for "the best and fastest path for cars," Proppe said. Some churches even have welcoming committees to direct traffic.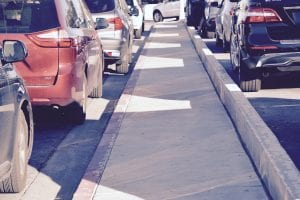 But after the car is stopped, people have to dodge drivers and skirt around vehicles to make it to the building. This can be tricky, especially if you're walking with quick-moving children or slower-moving elderly adults.
Churches may want to create a clear pedestrian walkway, especially if the parking lot is sizable so the walk is long.
"You can have lines, or an alternate color on the pavement, or borders of flowers or planters," Proppe said. Having a designated path "does mentally give you a sense of safety and that's really important."
Signs or arrows pointing the way are also helpful, she said. If possible, parking lots should be "human-friendly and self-explanatory."
3. Make the front door obvious.
As soon as people pull up to a new church, they're "already mapping out how they're going to get to that entrance," Proppe said. They can feel a little anxious if they don't see a door—or if they see multiple doors. Which one should they choose?
"It's important to see the main entrance as soon as you see the building," she said. "You're already wondering where to park. Having to figure out the right entrance adds another layer of mental anxiety."
With clear signs or an open door or some people standing outside, make the main entrance obvious.
4. Think about the threshold transition.
"The experience of entering a building influences the way you feel inside the building," Proppe said. "If the transition is too abrupt, then the inside fails to be an inner sanctum."
It's the reason the front door on your home doesn't lead to your master bedroom. You need to first move through a public space like a living room or kitchen, then probably down a hallway or up some stairs, before getting to intimate spaces like bedrooms or private bathrooms.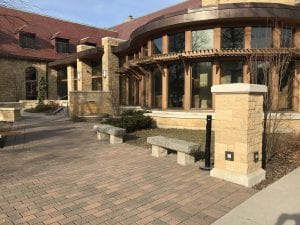 Moving into a church sanctuary is the same experience. "If you walk immediately into the most intimate space, that will feel uncomfortable," she said. "Look at the way the temple was designed. You moved from the outer courts gradually into the holy of holies."
Think about creating those "courts," beginning outside. (To be clear, there is no theological significance to this; it's simply an aesthetic analogy.) As the sidewalk approaches the church, perhaps the pattern could change or the gravel path could become concrete. If the way is long, consider placing visual cues along the way.
"Our minds set our sights on one point and then the next," Proppe said. A planter with flowers, a piece of art, or a small fountain can be a smaller "goal," signaling the transition to the next part of the journey.
Once inside, churches can signal different "courts" by paint color or by moving from tile to carpet—subtle cues that you're getting closer to the inner sanctum.
5. Put something obvious—a bench or a piece of art—right outside the door.
"Say you're meeting somebody to go to an event together," Proppe said. "There's always the question, 'Where am I meeting you?'"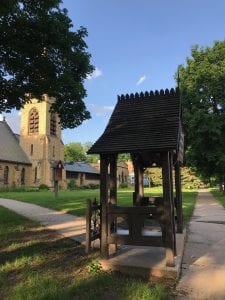 Having a clear destination—the bench or the welcome desk or the front door—"takes away a layer of anxiety for the person coming for the first time," she said.
It's better if the identifier is something large and unique enough to be immediately obvious—a fountain or a sculpture or a bench that's a different color from the rest. And it's even better if that object is just outside the door.
"When you walk over the threshold, suddenly you're committed to the space, and it feels like all eyes are on you," Proppe said. "It's the experience you have when you go to a neighborhood joint where only locals go and you're the only outsider. When you walk in the door, everybody turns and looks at you. It can be super daunting."
Meeting your friend first, then walking in together, can make that experience a lot more comfortable.
6. Decorate for warmth and beauty.
Stepping into a church should be a beautiful experience.
"Windows help with that," Proppe said. She tries to move churches away from just ceiling lighting in the lobby—"a string of white twinkle lights are trendy but so warming." Even a few living room lamps can make the room appear softer and warmer.
She also likes little groupings of lamps and chairs.
"Movable seating anywhere is always better than benches or fixed seating," she said. "People like to be able to shape their own space. Studies show people sitting down at a table in a café usually move their chairs. Even if it's only an inch, something about situating it yourself is satisfying."
Another benefit is that you can always drag another chair over for a newcomer.
7. Offer something to do during the wait.
When you're new, waiting for a service to start can be awkward.
"What do I do with myself?" Proppe asked. Especially if you don't have a friend to talk to, "you get the sense that everybody is looking at you."
It's helpful to have things in the lobby that people can engage with during that time, she said. From interesting art to refreshments to creative games—make "places where people feel free to linger."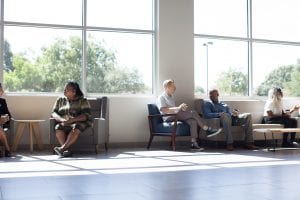 In fact, "have multiple things to do or experience in the same place," she said. "Imagine if you're waiting at a bus stop. You aren't going to engage with the person standing next to you. You'll both pull out your phones because it's awkward and there's nothing to talk about. But if there's something to talk about or experience, suddenly that opens up conversations between people."
Church leaders may also want to consider posting a "question of the week," with chalkboards or a Twitter hashtag to capture answers, Proppe said. That requires regular attention from the staff, but offers members and visitors something to use to engage those near them.
"What you want," Proppe said, "is to find ways to get people to talk and to stop only looking at their phones."
8. When in doubt, put up a sign.
"I work with so many churches that have terrible signage," Proppe said. "If you're new, you're like, 'Where do I go?'"
Erring on the side of making something too clear is better than not clear enough, she said.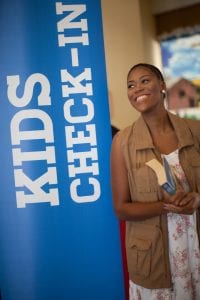 "I worked with a church recently that had a welcome desk, but the sign that said 'welcome' was too low—when people were standing there, you couldn't see it," she said. Having lots of clear signage—to the coat room, to the sanctuary, to the bathrooms—is even more important than having a person shaking hands at the door, she said.
"The first thing we do is orient ourselves to a space," she said. "Having a person there can be a little intimidating. Many of us like to be anonymous until we figure things out."
For larger churches, she also recommends putting a building map on the church's website, at the welcome desk, or in the bulletin.
"And if you are a church that can be accessed by multiple modes of transit, put that on your website," she said. People may come via car or train or bus or sidewalk. For those who may come by bike, consider bike racks for your property.
"We make a lot of assumptions that everybody drives, and at many churches, most people will," she said. "But giving more information removes an extra layer for people trying to access the church."
9. Don't worry if you're on a budget.
"So often I've found that people immediately think they need to spend thousands of dollars on their space, and that immediately becomes a dealbreaker, since most churches most don't have that capacity," Proppe said. "So instead they assume, 'We can't do anything.'"
She tries to show them that incremental improvements can make a big difference.
For example, if your church wants to provide an outdoor option for music and gathering, instead of installing an amphitheater, hammer together some painted wood pallets for a makeshift stage and seating area. And if that goes well, maybe next summer you build a more permanent deck out of wood, she said.
Church leaders should recognize members and visitors as human beings, and care about their experience in the physical space.
Churches can also resist physical improvements because it seems the money would be better spent on programs.
There should be room for both, Proppe said. "Church leaders should recognize members and visitors as human beings, and care about their experience in the physical space. God create us a physical people and gave us senses for a reason."
Creating a beautiful and welcoming space is worth doing, she said. And you don't necessarily have to hire an interior designer for that to happen.
"Think about places you really like going," Proppe said. "Try to identify the things that make you like them. Then take some of those elements and put them in your church."
Especially if you're not spending much, feel free to experiment, she said. "Try things out. Rearrange. Scrap some ideas. Don't be afraid to do some test runs."
10. Stay on mission.
When Proppe works with a church, she first asks leaders to explain their vision.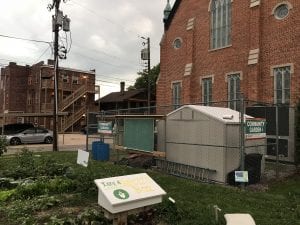 "I like to think through how the built space reflects the vision," she said. "I try to help them home in on the geographic context of where they're located, the types of programs they house, what is driving them."
An urban church might engage its neighborhood with a community garden or a shelter for those waiting for public transportation. A rural church may celebrate creation by creating a walking path with signs explaining the plants and wildlife.
"Think about what is important to you as a church and listen to neighborhood needs," she said. "Then explore how to reflect and meet those things with your property."