Editors' note:
Darrin Patrick, TGC Council Member and lead pastor of The Journey Church, is the chaplain to the St. Louis Cardinals. For this interview Patrick talked with Mike Matheny, manager of this historic professional baseball team, about how Matheny found faith in Jesus Christ and how he relates the members of his team and staff who are not Christian.
DP: One of the metaphors in Scriptures, we see in the life of Jacob, is wrestling with God. How did God win in your life?
MM: I'm glad he won. I grew up in strong Christian family and became very religious. Once a challenging guest speaker visited our church and asked the usual Christian crowd, "Do you know who Jesus is? Who is he to you?" And those questions kept haunting me. I was wrestling with God. I realized I had been riding on the coat-tails of my parents. I was in the routine of religion, but there was no relationship there. My parents were there to open up the Bible and lead me through the gospel, and I responded with faith on my own.
How did it change your life?
It became real instead of routine, even as a young kid. I wasn't walking through the public school high schools with my Bible, preaching. But all of a sudden, there was a sense of rightness—that's where I was supposed to be. I felt guidance through every day and accountability—through the Spirit's hand—giving me a slap in the back of the head when I was going in a direction I shouldn't. God was an ever-present guide, my peace and joy. It was the package deal promised to us in Scripture.
I'll never forget, it was the National League Championship Series in 2013. It was before the game, we're doing our prayer time, like we did before every home playoff game, and I walked in and saw you playing and worshiping.
It might have been the last game against Los Angeles. And you came in and were blown away. You actually took a picture and said, "I want to show my wife what you do to prepare for a game!" I do a lot of praise and worship. And it helps the time go by on the road, but I don't do it a lot at home. But that was special how that group got together before every game. And it started out as a few guys, and ended up with 20-plus guys in this room. We just stopped and gave God a little bit of our time. Let's slow down and realize how cool it is that we are where we are right now and not praying necessarily, "Let's win." We just prayed that we would go out and do things the way we're supposed to do it.
How would you encourage and challenge Christian men?
Christian men in our country need to lead. We need to lead our families. And hopefully that begins with a relationship with Christ. And then lead the way our wives and children are wanting us to. There are things that we need to fight for. We need to know what is right and be able to find it—a moral compass that hopefully is pointing to the cross of Christ.
Mike, you are in this position now: you're a Christian, and you have players who are not Christians. You have staff and people you work with who aren't Christians. How do you go about your life as a Christian man in those relationships?
First, my faith has been clear and open. Every year at spring training I explain to my guys I stand for certain things as a follower of Christ. But you're never going to hear me preach this at you or hold you to any sort of moral obligations that I try to hold for myself. That opens a door so when they ask me a question, they know the foundation of the majority of my answers. It opens some great opportunities. There are eyes on me non-stop, and important conversations pop-up. We talk a lot more about life than we talk about baseball. We're together so much that we have an opportunity to go through life together. I believe that's one of my main jobs. Part of that is being available when those questions of faith come up. But once again, I don't believe my job is to force feed these guys anything. So I give them their space. But those opportunities come because life happens. I think people see these jerseys on these guys, and they think they're superhuman and above some of the trials and issues that come to people. They're not.
Get a FREE eBook to strengthen your family discipleship!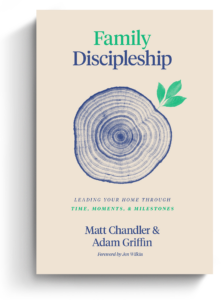 The back-to-school season is stressful for moms and dads. New rhythms of school, sports, and other extracurricular activities can quickly fill up a family's already busy calendar. Where do busy parents look for resources on discipling their family well? Aside from prioritizing church, what else can Christian parents do to instill healthy spiritual habits in their household?
Matt Chandler and Adam Griffin cover these questions and more in Family Discipleship: Leading Your Home through Time, Moments, and Milestones. And we're excited to offer this book to you for FREE as an eBook today.
Click on the link below to get instant access to your FREE Family Discipleship eBook now!