Editors' note:
We are asking various TGC Council members a simple question: Who was the first person who showed you the beauty of Jesus?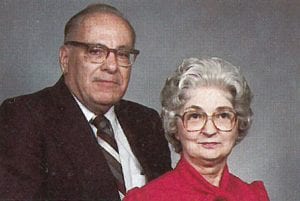 Gene Mintz will have a forever impact on my life. When I was a shrimp of a third-grader, this mountain of a man, whose hand could have enveloped about 10 of mine, closed his heart around my life. At the time, I didn't know that my family was one that pastors talk about behind closed doors as "troubled."
My father was a lay minister, responsible for preaching on a three-state circuit of minuscule, one-room churches in an equally minuscule Baptist association. No church in the association had a sufficient number of people, or a sufficiently available preacher, to justify weekly services. So each church met once a month, allowing my father (who worked as a farm manager and real-estate appraiser) to manage the preaching of his far-flung flocks by driving many hours across the three states.
For our family to have a more regular church experience, my mom and siblings attended a local independent church where my father did not preach. As a child, it all seemed normal, but I learned in my adolescence that the reason for the pattern was more than church consistency for the children. My mother and father had significant problems that presented themselves as denominational differences, but were actually symptomatic of more significant marriage issues. My father going his way to church, and my mother going her way with the kids, was my parents' way to keep the peace—most of the time.
Mountain of Calm
Gene Mintz inserted himself into my life without invitation, and without ever hinting that he was aware of the way our family foundations were shaking. He was simply a mountain of calm and tenderness for a child who didn't know that the occasional upheavals in my family were the early signs of deep relational fissures—cracks in a marriage that were already apparent to pastors and would eventually become the earthquake that would shake my life and faith.
All I knew, as a third-grader in a Sunday school class, is that this huge man was kind to me. He asked questions about what I was reading, commended my answers and encouraged my love of books, and asked how I was growing spiritually. As a child, it all seemed normal.
Even after I left that class, when I would pass Mr. Mintz and his wife, Betty, in the hallways of that huge church, he would always stop, bend to me, extend that gigantic hand, and greet me: "Bryan, how are you doing? How is your walk with the Lord? I am praying for you."
He did not cease to greet me, long after I was out of his class and no longer his official responsibility. Several years later, after more hallway greetings from Mr. Mintz than I can recall, my family moved away from that town and church. My father's company transferred him. He continued to drive to his circuit of churches, but my mom gathered her children in another church in the new town, as her relationship with my dad continued to crumble.
Faithful Letters
Though I was out of the sight of Gene Mintz, I was not out of mind—nor far from his heart. Though I was no longer his responsibility nor in his region, he would write me during my high school years: "Bryan, how are you doing? How is your walk with the Lord? I am praying for you."
When I went to college, the letters slowed down, but still—maybe once a year—the letter would come: "Bryan, how are you doing? How is your walk with the Lord? I am praying for you."
When I entered seminary, another letter: "Bryan, how are you doing? How is your walk with the Lord? I am praying for you."
And, when—after years of pastoring—I eventually became the president of that same seminary, another letter: "Bryan, how are you doing? How is your walk with the Lord? Betty and I have been praying for you all of these years."
One Who Availeth Much
There came a day when I learned that time and age had claimed the life of the mountain man who had often reached toward heaven on my behalf. The ministry for which he'd prayed had taken me temporarily out of the country, so I could only write those who gathered to memorialize the one who had so faithfully shepherded my soul.
I wrote that one day in heaven I believe I will have the privilege of seeing how much Mr. Mintz's outstretched hand really held me in God's plan, how much his heart taught me of God's heart, and how much his prayers strengthened me for God's calling.
But, until that day, I simply have the privilege of telling you that there was a man named Mr. Gene Mintz who befriended a child named Bryan, by greeting him, and writing him, and not forgetting him, and praying for him for many years. There have been more able scholars and more powerful preachers along my course, but no one has been more influential than the man who really taught me, "The effectual, fervent prayer of a righteous man availeth much" (James 5:16). Thank you for teaching me this truth, Mr. Mintz, and thank you, Jesus, for Mr. Mintz.
---
You can read previous installments in this series.