In the mid-1990s, singer-songwriter Adam Duritz of Counting Crows was feeling the weight of this world and all its complexity. A dear friend was suffering in a nearby hospital. The harsh winds of winter bore down on his body and soul. The end of a difficult year filled his mind with regrets, yet paradoxically, inspired glimmers of hope as he looked to the future.
Duritz captured his thoughts in a soul-searching, somber tune, "A Long December" [YouTube], which became one of the band's greatest hits. His lyrics wove together the complicated emotions we often feel at the end of a hard year: "It's been a long December and there's reason to believe maybe this year will be better than the last."
Considering all we have endured in the last 12 months, measured optimism seems appropriate. Much of 2020 was a long December, but maybe this year will be better. Only two months in, perhaps even that possibility feels a bit naïve. Obscured by a barrage of discouraging news, discomfiting realities, and shocking revelations, the hopes of a new year have yet to be realized. Many of our friends are still suffering, many of our churches are still reeling, and winter just keeps coming, leaving us with "the feeling that it's all a lot of oysters, but no pearls."
Yet as Christians we have so much more. Our hope is not naïve. This world may be full of oysters, but we have found our pearl (Matt. 13:45–46), and it shines brighter than our darkest days.
Our hope is not naïve. This world may be full of oysters, but we have found our pearl, and it shines brighter than our darkest days.
"Through our Lord Jesus Christ," the apostle Paul declared, we have both "access by faith into this grace in which we stand" and a hope that "does not put us to shame" (Rom. 5:2, 5). This hope is often most precious when cast against the stark contrast of bleak despair.
Duritz was on to something: "The winter makes you laugh a little slower, makes you talk a little lower." For Christians, it should also cause us to dig a little deeper to recognize how the hope we have in Christ transcends our suffering. Hard times invite reflection, but only for Christians do trials lead to rejoicing (Rom. 5:3; James 1:2–4).
Steeled for Hope
In the middle of the 18th century, another world-weary songwriter put this paradox to words in "A Reflection on a Winter Evening." Like Duritz would more than 200 years later, the British hymnist Anne Steele (1717–78) saw in the wintry landscape a metaphor for her soul. She too anticipated better possibilities on the horizon, but she possessed a lasting hope rooted in something more profound. The contrast between their reflections highlights the distinctive character of Christ-centered hope.
First composed as a poem and later shortened into a hymn, Steele's lyrics reflected on the weight of winter's "icy chains" on the world around her. In the dark, barren landscape outside, Steele saw a picture of her inner life: "And drooping, lifeless nature seems / an emblem of my heart." This sobering realization transformed her perspective. For, even as she gazed upon a desolate scene, Steele knew that spring was just around the corner, when the sun would once again "cheer the mourning earth."
But here is where the beauty of Christian hope shines so brightly. Steele's confidence did not rest in a vague sense that new seasons could bring better fortunes, but in a bold promise from the One who presides over every season.
She rested in the truth that her soul could be warmed by a "bright sun," who possessed an "all-enlivening smile." Looking to Christ, Steele was resolved, turning her hopes into a pointed prayer:
Return, O blissful sun, and bring,
Thy soul-reviving ray;
This mental winter shall be spring,
This darkness cheerful day.
Steele's hope was rooted in a powerful Savior, to whom she turned in the midst of her "mental winter." She recognized that the rays of his light can revive the soul and turn the darkest nights into cheerful morns (Pss. 19:7; 30:5).
What is more, even as the seasons changed, Steele recognized that winter could always invade her soul. Such is the burden of a fretful heart in a fallen world. So, she concluded by looking to the world to come:
O happy day, divine abode,
Where spring eternal reigns;
And perfect day, the smile of God,
Fills all the heavenly plains.
Great source of light, thy beams display,
My drooping joys restore,
And guide me to the seats of day,
Where winter frowns no more.
A century later, following an unexpected snowstorm in the early days of 1866, Charles Spurgeon recited this hymn to his London congregation, declaring, "Steele's verses will just suit your mournful yet hopeful state." Indeed, even now, her words capture the paradox of persevering hope.
Look Beyond the Calendar
It's been a long December, and winter is far from over, but there will be a last December someday. Maybe this year will be better than the last. Maybe it will be worse. But, Christians do not look to the calendar for hope.
Through each passing season, alongside each hurting friend, beyond each frigid day in the forecast, we look to a land where "spring eternal reigns." May we be guided and gladdened by the bright rays of that land "where winter frowns no more."
---
For more about Anne Steele's poem-turned-hymn, see Alex Webster's Refuge of My Weary Soul: Selected Works of Anne Steele. This particular hymn, which appeared in various songbooks throughout the 19th century, is found on p. 304–5.
Get a FREE eBook to strengthen your family discipleship!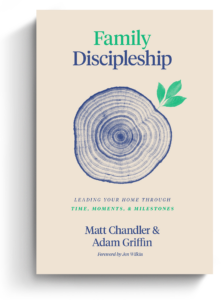 The back-to-school season is stressful for moms and dads. New rhythms of school, sports, and other extracurricular activities can quickly fill up a family's already busy calendar. Where do busy parents look for resources on discipling their family well? Aside from prioritizing church, what else can Christian parents do to instill healthy spiritual habits in their household?
Matt Chandler and Adam Griffin cover these questions and more in Family Discipleship: Leading Your Home through Time, Moments, and Milestones. And we're excited to offer this book to you for FREE as an eBook today.
Click on the link below to get instant access to your FREE Family Discipleship eBook now!