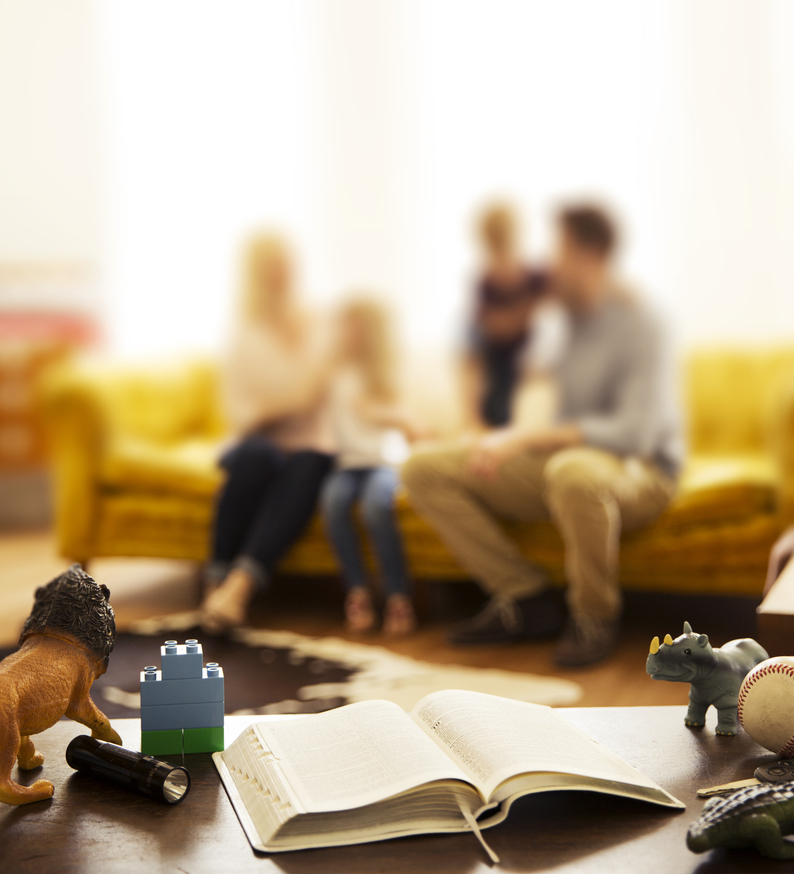 Just about everyone I know feels overwhelmed. Most are busier than they've ever been before, especially if they have children at home.
Pair that with my observation that most Christians I know would affirm that family worship—if they're familiar with it—would probably be a worthwhile practice if they were to make time for it.
If these things are true for you, then my prayer is to persuade you, despite the many demands on your schedule, to make a priority of family worship. And I hope to persuade you regardless of your family's size—even if you've never had kids or no longer have them in your home—by means of the following five reasons.
1. God deserves to be worshiped in our homes by our families.
This is the Bible's teaching. While there's no direct command regarding family worship, it's implied throughout. When Isaac asked his father Abraham, "Where is the lamb for a burnt offering?" (Gen. 22:7), he knew something was missing in the worship because Abraham had led Isaac and the rest of the family in worship before.
Moreover, after any of Job's grown children held a feast, he'd send for them and offer a burnt offering of worship in their presence. "Thus Job did continually," we read (Job 1:5).
The apostle Peter exhorts husbands to live with their wives "in an understanding way" (1 Pet. 3:7). One reason Peter says this is so that "your prayers may not be hindered." He's not just referring to the husband's prayer; he's referring to mutual prayer. Peter assumes Christian couples pray together in their home.
If you've believed the gospel, I hope you're convinced by both Scripture and the Spirit that God—by virtue of who he is and what he's done for us—deserves to be worshiped in our homes by our families.
2. There's no better way to speak the gospel into the lives of your family each day.
The grit in our souls and the grind of life puts us in need of rehearsing the glorious truths of the gospel daily. Jerry Bridges has reiterated so helpfully the need for us to "preach the gospel to ourselves every day." Family worship gives us the opportunity to do that for the entire household.
If you have children, are you sure they're clear on the gospel message? Even if they've not yet embraced it savingly, are you confident they can articulate the essence of what God has achieved in the life, death, and resurrection of Jesus? Don't assume others will explain and ensure they grasp it. In the context of family worship, you can be certain they know the only message by which we're reconciled to God.
3. There's no better way to provide a regular time for your kids to learn the things of God from you.
Certainly you want your children to learn Scripture and how to live as a Christian from your pastor and others who teach in your church. That's essential to Christian parenting. But you don't want to outsource to the parents of other children all the Christian teaching your children receive.
Besides, the opportunities your kids have with these teachers each week is limited in comparison to the time you can spend with them each day. Family worship is the best and most consistent way for you to transmit your core beliefs to your children.
4. There's no better way for your kids to see the ongoing, positive spiritual example of their parents in real life.
During daily life in your home, your children see you at your worst. They often see you when you aren't acting like a Christian. Make sure they see you at your best, too, when you live like a follower of Jesus in their presence.
Let them see you—a man or woman they know to be imperfect and sinful—return relentlesly to the Bible and to the centrality of Christ in the home. Let them see, not a hypocrite who attempts to partition their sin from their faith, but someone who regularly comes to God in family worship and humbly acknowledges their sin and need for a Savior.
Those who do will also discover how family worship fosters the times of confession, forgiveness, and restoration that all healthy families need.
5. Isn't this what you really want to do?
Should it be necessary to persuade any genuine Christian to want to worship God in his or her home with the family? Doesn't God himself plant that desire in the heart of all those who love him?
So do what you really want to do. Begin the worship of God with your family in your home tonight.
---
Editors' note: Donald Whitney has partnered with Crossway to offer a free five-day video course on family worship. Click here and sign up at the bottom of the page with your email address. After you sign up, you'll get an e-mail each day for five days. Each will contain a brief (three- to five-minute) video with practical tips about how to begin and sustain family worship.