A few months after beginning a new pastorate, I began to have concerns. Talk about love in our church seemed superficial. The Christian buzzwords didn't match the way church members treated one another. As a young pastor, I felt inadequate to address these concerns and work toward change. So, I leaned on expounding God's Word, engaging in gospel conversations, and gathering with a few burdened members to pray for renewal. The only way out of our church's spiritual shallowness was—and always is—by Word and Spirit.
Superficial Christianity in the church has been repeated throughout Christian history. Thankfully, so has the divine remedy in renewal. Fourth-century churches grew comfortable with Constantine's "Christian state." The result was spiritual paralysis. Because cold orthodoxy and ritualism had sapped the vibrancy from Reformation churches, German Pietists and English Puritans sought to restore it. Both these groups recognized that, as Richard Lovelace notes, "reforming doctrines and institutions in the church was futile unless people's lives were reformed and revitalized."
Whether we call it revival, revitalization, or spiritual renewal, the church in every age is called to seek vital union and communion with Jesus Christ. But what is required for walking in communion with Christ in our secular age? To answer that question, we must ask two questions: What is spiritual renewal? And how do we pursue it?
What Is Spiritual Renewal?
Living as a Christian in this fallen world is a struggle. Indwelling sin afflicts us (Rom. 7:22–23). The present evil age squeezes us (1 John 2:15–17). Satan oppresses us (1 Pet. 5:8–11). Increasing secularism has brought new twists today, but the same powers at play in the 20 centuries before us persist. The call to renewal is the same as well. It's a call not to conform to this world but rather to be transformed (Rom. 12:1–2), a call to purify ourselves because of what we will be in the coming age (Rom. 12:1–2; 1 John 3:1–3).
Living as a Christian in this fallen world is a struggle. Indwelling sin afflicts us. The present evil age squeezes us. Satan oppresses us.
In Romans 8:29–30, Paul uses the past tense to describe glorification as a finished work with present and future dimensions. As David Peterson makes clear, "Renewal is the present experience of glorification through the Spirit, anticipating the glorification that will come with the resurrection of our bodies. It is being conformed to the likeness of Christ, who is himself the image of God" (see Eph. 4:20–24; Col. 3:5–11).
How Do We Pursue It?
So, if spiritual renewal is a foretaste of future glory, how do we pursue it? There are three necessities upon which a vital Christian life depends, what J. I. Packer calls, "a three-legged stool of spiritual renewal."
1. Rehearsing Doctrine
When it comes to seeking renewal, we must start with gospel declarations. The indicatives, or declarations of what Jesus has accomplished for his people, are foundational to the imperatives, the commands about how to live as Jesus's followers. The truth of our identity in Christ enables our obedience to him.
Paul's command to "present your bodies as a living sacrifice" and to "be transformed by the renewal of your mind" (Rom. 12:1–2) are both rooted in the "therefore" at the beginning of verse 1, which looks back to the whole of God's purposes revealed in the gospel the apostle presents in chapters 1–11. Paul doesn't command action without explaining the basis for that action in union with Christ (cf. John 15:1–17). He's calling for active obedience because of the divine provision for transformation: God the Father chose and called us by the Word and the Holy Spirit to become conformed to Christ's image (Rom. 8:28–30). Jesus has justified, redeemed, and given believers hope that perseveres. The Holy Spirit has poured out God's love into our hearts to empower us to walk faithfully as Christians (Rom. 3:19–26; 5:1–5). These roots of redemption, stated as indicatives, give Christians the power to obey God's commands.
We can observe similar patterns in other epistles like Ephesians, Colossians, and 1 Peter. In each case, the actions demanded flow out of gospel truth that's already at work. Reminding ourselves of who we are in union with Christ (Col. 3:1–4) is the first step toward putting on the new self, "which is being renewed in knowledge after the image of its creator" (3:10). Rehearsing such doctrinal realities spurs us on to a renewed, obedient life.
2. Preaching Regeneration
There's no vitality without the work of the Holy Spirit. He brings dead hearts to life and darkened minds to the light of faith (John 3:1–8; Eph. 2:1–10). As Paul explains, salvation takes place apart from works, "by the washing of regeneration and renewal of the Holy Spirit, whom [God] poured out on us richly through Jesus Christ our Savior" (Titus 3:5–6). This regenerating and renewing work of the Spirit must be both proclaimed and prayed for.
There's no vitality without the work of the Holy Spirit. He brings dead hearts to life and darkened minds to the light of faith.
That's what evangelist George Whitefield recognized as missing in the sterile atmosphere of 18th-century British and colonial Christianity. He knew that unless the Spirit brought sinners to life and indwelled them, they might go through the motions of the Christian religion but not experience salvation. So, as Michael Haykin observes, Whitefield insisted "on the vital necessity of conversion and the work of the Holy Spirit in the heart." It was his primary message on both sides of the Atlantic.
3. Practicing Obedience
Imperatives without the indicatives lead to legalism, but neglecting imperatives (under the guise of Christian liberty) leads to libertinism. Both ensnare. But when believers are rehearsing the truth of Christ's redemptive work (indicatives) and have experienced the regenerating work of the Holy Spirit, they're equipped to put God's commands (imperatives) into practice.
What does this look like practically? Sinclair Ferguson finds a model in Colossians 3:1–17. He calls it the "new rhythm" of life in union with Christ, "an expression of powerful gospel logic." Here is my summary:
We've been given all the privileges of union with Christ, and our new identity is determined by what he's done for us. Through faith we are new men and women in Christ, people with a totally new identity. Since this is so, we must get rid of everything inconsistent with that new identity—all that belonged to the old life in Adam. And in addition, we must grow in the graces that are the hallmarks of our life in Christ.
Out of the indicatives—what Christ has done and our new identity in him—Christians now, by the Spirit, actively put off what doesn't resemble Christ and put on his character and relational life. By the Spirit, we practice our faith.
Renewal in Every Age
Once while traveling to preach in an international church, I sat with a pastor friend, looking over my sermon notes. Suddenly, the plastic chair where I sat collapsed! A chair leg broke, and I fell flat. All the legs were needed to stay upright. One broken leg brought a fall.
All the legs of the three-legged stool are necessary for renewed Christian living. Doctrine, experience, and practice uphold spiritual renewal in every age, including ours.
Get a FREE eBook to strengthen your family discipleship!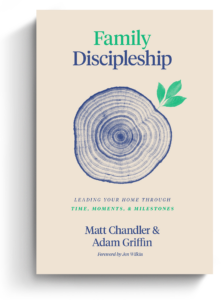 The back-to-school season is stressful for moms and dads. New rhythms of school, sports, and other extracurricular activities can quickly fill up a family's already busy calendar. Where do busy parents look for resources on discipling their family well? Aside from prioritizing church, what else can Christian parents do to instill healthy spiritual habits in their household?
Matt Chandler and Adam Griffin cover these questions and more in Family Discipleship: Leading Your Home through Time, Moments, and Milestones. And we're excited to offer this book to you for FREE as an eBook today.
Click on the link below to get instant access to your FREE Family Discipleship eBook now!