"You will be the same person in five years as you are today except for the people you meet and the books you read."
This aphorism by Charlie ("Tremendous") Jones (1927–2008) has long been a favorite of mine, one that has often rung true in my experience. People and books shape us in significant ways—probably in more ways than we're aware of—and that's why publishing is a key part of what we do at The Gospel Coalition. Along with our local and national events, we labor to publish books, curriculum, articles, and reviews that
offer gospel-centered argument and application;
include faithful and foundational use of Scripture, both Old Testament and New Testament;
foster spiritual discernment of contemporary trials and trends; and
encourage efforts to unite and renew the church.
And this is the same criteria we use for our annual TGC Book Awards. Each year we review around 300 titles between our academic journal Themelios and our regular book reviews section, so at the end of the year it's good to take stock of the most helpful titles from 2017.
Working with Council members and key contributors, our editors have each identified one winner and one runner-up book in an area they regularly cover for TGC. We solicited nominations from various publishers, considered them alongside other noteworthy titles, narrowed the finalists to four for each category, sent those titles to the judges, and awaited their decisions.
Congratulations to the winners of our TGC Book Awards in 2017. We encourage you to take up and read these books, then share them with family, friends, and fellow church members.
---
Christian Living
Winner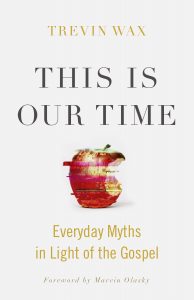 Trevin Wax. This Is Our Time: Everyday Myths in Light of the Gospel. Nashville, TN: B&H Books. 240 pp. $16.99.
This is Our Time offers a thoughtful analysis of the myths pervading our culture—whether they're about our smartphone habits, entertainment intake, or views of shopping, sex, marriage, politics, and life's purpose—and then wisely applies the truth of the gospel to them. Wax not only enlightens believers by exposing the myths, but equips them to faithfully engage these and other myths with the longing-lie-light framework. In all, This Is Our Time is a valuable resource for faithful living that's broadly applicable to believers of all ages, stages, and circumstances.
Runner-Up
Brett McCracken. Uncomfortable: The Awkward and Essential Challenge of Christian Community. Wheaton, IL: Crossway. 224 pp. $15.99. 
Judges: Ivan Mesa, Melissa Kruger, Winfree Brisley, Justin Dillehay
---
Bible & Theology
Winner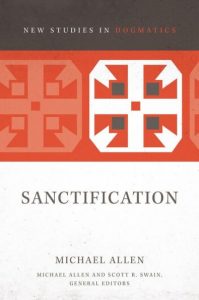 Michael Allen. Sanctification (New Studies in Dogmatics). Grand Rapids, MI: Zondervan. 302 pp. $34.99.
The third installment in Zondervan's promising New Studies in Dogmatics series, Sanctification is a needed and welcome contribution on a widely misunderstood topic. Michael Allen's treatment is a tour de force: solidly researched, clearly structured, historically engaged, theologically rigorous, and pastorally helpful. His analysis is broad-ranging and penetrating without being overly technical or pedantic. Read and treasure God's work not only for you in the past (transferring you positionally into the realm of the holy) but also in you in the present (transforming you progressively into the image of his beloved Son)—as you await the day your faith vanishes into sight.
Runner-Up
James K. A. Smith. Awaiting the King: Reforming Public Theology (Cultural Liturgies). Grand Rapids, MI: Baker Academic. 256 pp. $22.99.
Judges: Matt Smethurst, Kirsten Birkett, Jarvis Williams, Andrew Wilson
---
Ministry
Winner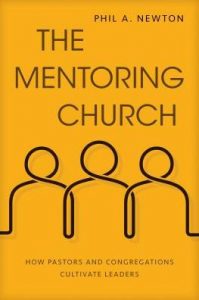 Phil A. Newton. The Mentoring Church: How Pastors and Congregations Cultivate Leaders. Grand Rapids, MI: Kregel. 240 pp. $18.99.
This volume is the product of more than three decades of identifying and training up leaders in the trenches of local church ministry. Newton—who has served in pastoral ministry for more than 35 years—weds biblical, theological, and pastoral wisdom with a thorough examination of church history. The result is a church-oriented manifesto and manual for raising up leaders within the local church. With theological education in crisis, Newton's copiously-researched and well-written book is both timely and needed. Churches must be ready to step into the breach. This book will get them ready for that crucial task.
Runner-Up
David Murray. Reset: Living a Grace-Paced Life in a Burnout Culture. Wheaton, IL: Crossway. 208 pp. $14.99.
Judges: Jeff Robinson, Jason Cook, David Schrock, Mike Bullmore 
---
History & Biography
Winner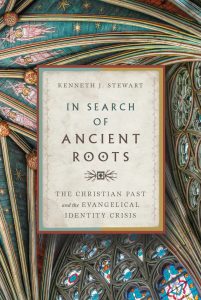 Kenneth J. Stewart. In Search of Ancient Roots: The Christian Past and the Evangelical Identity. Downers Grove, IL: IVP Academic. 304 pp. $30.
Kenneth Stewart demonstrates that evangelical Christianity is far older than the modern evangelical movement—in fact, as old as the faith itself. Gospel-centered evangelicals who long for a richer sense of tradition and liturgy than contemporary evangelicalism so often manifests don't have to leave evangelicalism for high church traditions that are often less clear when it comes to the supreme authority of Scripture or the gospel. The pathway to faithful catholicity is through our evangelical identity, into the Great Tradition, in pursuit of what Timothy George often calls retrieval for the sake of renewal.
Runner-Up 
John M. Perkins. Dream with Me: Race, Love, and the Struggle We Must Win. Grand Rapids, MI: Baker. 224 pp. $19.99.
Judges: Jeff Robinson, Nathan Finn, Diana Lynn Severance, Eric Washington
---
Evangelism & Apologetics
Winner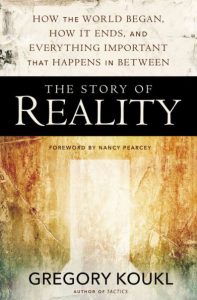 Greg Koukl. The Story of Reality: How the World Began, How It Ends, and Everything Important that Happens in Between. Grand Rapids, MI: Zondervan. 208 pp. $15.99.
From cavemen to cosmopolitans, who hasn't sought answers to life's deepest questions? We all want to know if there's a method to the madness, if there's a sense to our stories. Greg Koukl believes there is, which is why he wrote The Story of Reality. More than an intro to worldview studies, this book offers a surprisingly useful model for personal evangelism in our post-Christian, postmodern culture.
Runner-Up
Andy Johnson. Missions: How the Local Church Goes Global. Wheaton, IL: Crossway. 128 pp. $14.99. 
Judges: Alex Duke, Sam Allberry, Dan DeWitt, Rosaria Butterfield
---
Public Theology & Current Events
Winner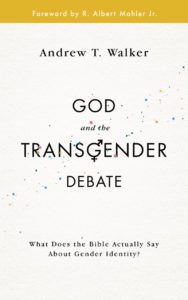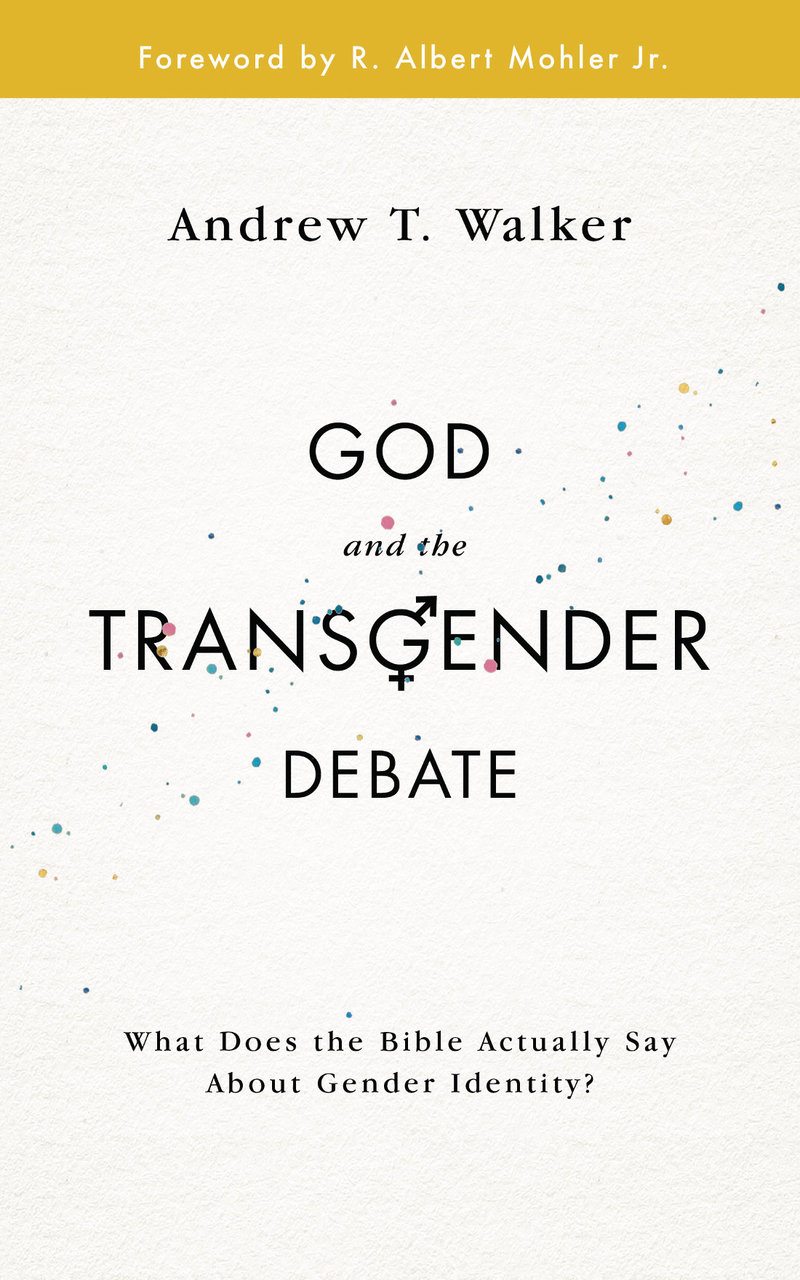 Andrew Walker. God and the Transgender Debate. Purcellville, VA: The Good Book Company. 144 pp. $14.99. 
Over the past few years transgenderism has quickly become one of the most contentious and confusing subjects in American life. In God and the Transgender Debate, Andrew Walker has given us one of the most readable and immediately helpful books on this controversial topic. Walker helps us clearly understand the transgender issue and gives the clear biblical teaching needed to guide our thinking and actions. This book thoroughly explains what is meant by the new terminology of gender identity and equips Christians to engage the conversation in a respectful, Christ-like manner that accurately represents what the Bible says about human sexuality and gender roles. God and the Transgender Debate conveys the kind of loving tone and compassion that's needed in how we practically interact with our transgender neighbors.
Runner-Up
Tom Nelson. The Economics of Neighborly Love: Investing in Your Community's Compassion and Capacity. Downers Grove, IL: IVP Books. 192 pp. $16.
Judges: Joe Carter, Vermon Pierre, Jacqueline Isaacs, and Bruce Ashford
---
Children's
Winner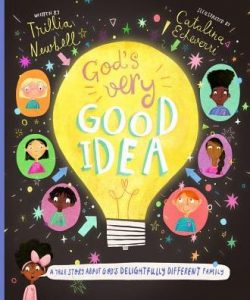 Trillia Newbell, illustrated by Catalina Echeverri. God's Very Good Idea: A True Story of God's Delightfully Different Family. Purcellville, VA: The Good Book Company. 32 pp. $14.99. 
Is any issue in our country more fraught than race? Trillia Newbell has thoughtfully taken the tragedy of racial division and set it in the context of God's redemptive story. With delightful illustrations by Catalina Echeverri, the book skillfully walks through God's original plan for diversity, showing that though the world has been dreadfully marred by sin, God has provided a remedy through the gospel. God's Very Good Idea will help readers (young and old) appreciate God's good design.
Runner Up
David Murray. Exploring the Bible: A Bible Reading Plan for Kids. Wheaton, IL: Crossway. 224 pp. $14.99. 
Judges: Betsy Howard, Megan Hill, Erik Raymond, Blair Linne
---
First-Time Author
Winner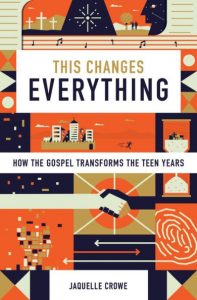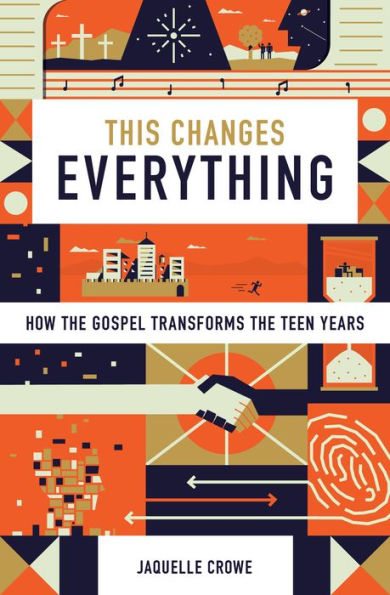 Jaquelle Crowe. This Changes Everything: How the Gospel Transforms the Teen Years. Wheaton, IL: Crossway. 160 pp. $14.99.
With biblical fidelity, theological clarity, and compelling practicality, Jaquelle Crowe winsomely and wisely helps the teen (and adult!) see how the breathtaking gospel of Jesus changes every aspect of our lives. This book is evergreen: you'll be able to share it with teens in your church and family for years to come. At a time when we're tempted to complain about younger generations, Crowe shows us a better way to guide them in grace and truth as we walk together in the light of Christ.
Runner-Up
Rich Perez. Mi Casa Uptown: Learning to Love Again. Nashville, TN: B&H Books. 232 pp. $15.99.
​Judges: Collin Hansen, Julius Kim, Gaye Clark, Trillia Newbell
---
TGC Publications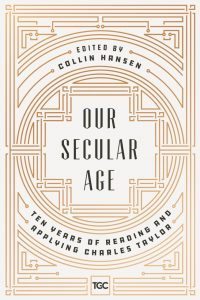 Colin Hansen, ed. Our Secular Age: Ten Years of Reading and Applying Charles Taylor. Deerfield, IL: The Gospel Coalition, 2017. 176 pp. $15.99. 
How did faith go from assumed to assaulted?
Probably no book published in the last decade has been so ambitious as Charles Taylor's A Secular Age. He seeks nothing less than to account for the spread of secularism and decline of faith in the last 500 years.
Now a remarkable roster of writers—including Carl Trueman, Michael Horton, and Jen Pollock Michel—considers Taylor's insights for the church's life and mission, covering everything from healthcare to liturgy to pop culture and politics.
Nothing is easy about faith today. But endurance produces character, and character produces hope, even in our secular age.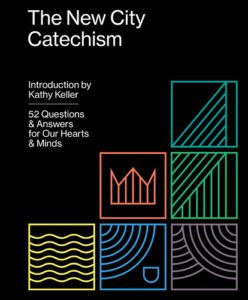 The New City Catechism: 52 Questions and Answers for Our Hearts and Minds. Wheaton, IL: Crossway, 2017. 128 pp. $7.99. 
Throughout the history of the church, catechisms have been written to be memorized and used for Christian growth and training. The New City Catechism is a modern-day resource aimed at reintroducing this method of teaching to Christians in today's culture.
This short book lays out fifty-two questions and answers in two versions—both a shorter children's answer and an extended adult's answer—about God, human nature, sin, Christ, the Holy Spirit, and more. The questions and answers can be used devotionally, recited orally, and memorized over the course of a year.
Families, churches, small groups, and Christian schools will find this to be a valuable resource for developing the building blocks of important concepts in the minds and hearts of youth and adults alike.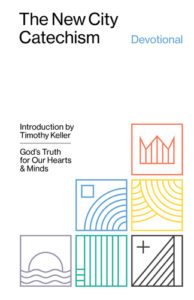 Collin Hansen, ed. The New City Catechism Devotional: God's Truth for Our Hearts and Minds. Wheaton, IL: Crossway, 2017. 240 pp. $19.99. 
The New City Catechism Devotional is a gospel-centered resource that sets forth a summary of important Christian doctrine with related devotional content. Rooted in a method of teaching that has been significant to church throughout history, this resource is written in the form of fifty-two questions and answers meant to be memorized and recited over the course of a year.
Each question and answer is followed by a Scripture passage, historical and contemporary commentaries, and a short prayer. Families, churches, small groups, and Christian schools will find this to be a valuable resource for helping adults and children alike learn important Christian beliefs.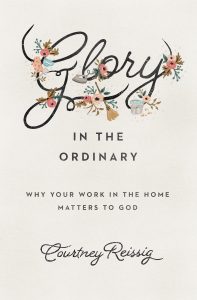 Courtney Reissig. Glory in the Ordinary: Why Your Work in the Home Matters to God. Wheaton, IL: Crossway, 2017. 160 pp. $14.99.
For stay-at-home moms, it's easy to view other people's work as more valuable to God, dismissing the significance of seemingly mind-numbing, everyday tasks. In this life-giving book, Courtney Reissig encourages moms with the truth about God's perspective on their work: what the world sees as mundane, he sees as magnificent. Discussing the changing nature of stay-at-home work and the ultimate meaning of our identity as image bearers, Reissig combats common misunderstandings about the significance of at-home work—helping us see how Christ infuses purpose into every facet of the ordinary.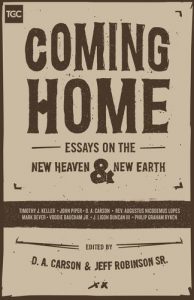 D. A. Carson and C. Jeffrey Robinson, Sr., eds. Coming Home: Essays on the New Heaven and New Earth. Wheaton, IL: Crossway, 2017. 176 pp. $18.99. 
The Bible has a lot to say about Christ's return—it is mentioned more than three hundred times throughout the New Testament. We often downplay this doctrine because the precise details are debated. However, these passages are in Scripture to build our hope and joy in the here and now.
This compilation of expository messages from eight leading Bible teachers, including Tim Keller, John Piper, and D. A. Carson, explores the theme of redemption from Genesis to Revelation—stirring up within us a longing for our future home and filling us with joyful hope in light of Jesus's return.
Curriculum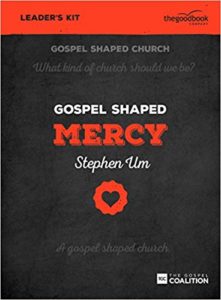 Stephen Um. Gospel Shaped Mercy. Purcellville, VA: The Good Book Company, 2017. $79.99.
How is mercy linked to the gospel and how should it effect the local church?
This seven-week track explores what it means to be a community engaging with the world with compassion and justice.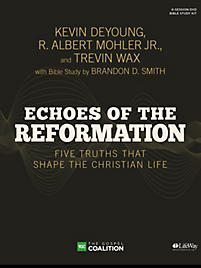 Albert Mohler, Kevin DeYoung, Trevin Wax, and Brandon Smith. Echoes of the Reformation: Five Truths That Shape the Christian Life. Nashville: LifeWay, 2017. 144 pp. $59.99. 
It has been five hundred years since Martin Luther nailed his 95 Theses to the door of the All Saints' Church in Wittenberg, Germany. Luther's theses called for the reform of the church and served as the catalyst for the Protestant Reformation. Its impact is still felt today.
This Bible study examines the five core truths that came from the Reformation, now referred to as the solas. Group members will explore these essential convictions of the faith and emerge more immersed in the gospel of Jesus Christ.
Get a FREE eBook to strengthen your family discipleship!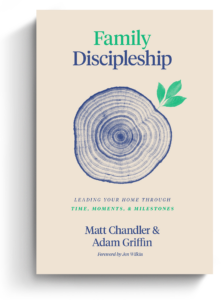 The back-to-school season is stressful for moms and dads. New rhythms of school, sports, and other extracurricular activities can quickly fill up a family's already busy calendar. Where do busy parents look for resources on discipling their family well? Aside from prioritizing church, what else can Christian parents do to instill healthy spiritual habits in their household?
Matt Chandler and Adam Griffin cover these questions and more in Family Discipleship: Leading Your Home through Time, Moments, and Milestones. And we're excited to offer this book to you for FREE as an eBook today.
Click on the link below to get instant access to your FREE Family Discipleship eBook now!