Editors' note:
The album from last year's Getty Music Worship Conference released this week. It features predominantly new settings of psalms for churches to sing, and TGC is glad to offer three free song downloads (including sheet music) as an exclusive resource for your church. Enjoy!
When we think of the Psalms, most of us think solely of reading them. But we should also sing them, particularly in the gathering of the church. Indeed, for 3,000 years the Psalter has been the songbook of God's people.
Here are 10 reasons why it's important to sing the Psalms in your church today.
1. The Bible Tells Us To
That's the strongest argument we've got. And it's a good one! When we don't take the Psalms seriously, our commitment to the Bible is called into question as well.
2. Psalms Are the Word of God
The Holy Spirit is the songwriter of the Psalms: They're pure Scripture. One of the joys of focusing on Psalms for the last year is the amount of time I (Keith) have spent in Scripture. I also have the joy of listening to my little daughters running around the house singing Psalm 8 and Psalm 139.
3. Psalms Are the Songs Jesus Sang
As a boy Jesus would have memorized and learned many if not all of the Psalms. The book of Psalms is the songbook of the Bible. They would become the soundtrack of his life. They can be the soundtrack of your life, too.
4. They Give Us a More 'Authentic' Picture of God
For all that contemporary people apparently crave "authenticity in worship," if we follow contemporary trends we'll succumb to the bias of our church leaders or the movements they follow. For example, only 3 percent of modern worship songs mention anything eternal, and they rarely take on themes of God that make us uncomfortable. The Psalms, meanwhile, make us wince when we sing of God's judgment and wrath. They also give us a far bigger, more beautiful, breathtaking picture of God's glory.
5. Psalms Are Christological
Look at how often the New Testament uses the Psalms to speak of the life of Christ. Do you want to know what Christ felt like on the cross? Read Psalm 22.
6. They Speak to the Depth and Breadth of Human Emotion
Psalms perfectly balance theology with emotion, justice with evangelism, the personal with the collective. One young woman told me (David) that she came to our church because we allowed her to be depressed. While "the church that allows you to be depressed" may not be the best advertising slogan in the modern world, I understood what she was saying. She struggled with depression, and we sometimes sang songs that gave voice to that depression and allowed her to express it.
Despite the strong emphasis on public emotion in modernizing worship, the church often significantly truncates the human emotional experience.
Despite the strong emphasis on public emotion in modernizing worship, the church often significantly truncates the human emotional experience.
7. They Transform Family Worship
The Psalms will revolutionize your private and family worship. Many years ago, not long after I (David) became a Christian, I visited a friend's house in Tain in the Scottish Highlands. When we finished our meal, the father in the home announced: "Now we'll have the books." The books? What did he mean by that? I soon found out. Someone came in with Bibles and Psalm books. We read the Word, we prayed the Word, and we sang the Word.
It was a profoundly moving experience and gave me an insight into why that particular family was full of such strong and godly Christians. Ever since, the Psalms have become the DNA of my life. I read or sing one at least every day. My small red Psalm book goes with me everywhere. In 2011, as I was seriously ill going in and out of a coma in the hospital, my family didn't know what or how to pray. I was in great distress. So every night they sat and prayed a psalm with me. A consultant friend laminated Psalm 91, among others, and stuck them to the wall beside my bed. They sustained me.
8. They Will Unify Our Church Families
In our modern church culture, where "worship wars" abound and people come from disparate church backgrounds (and no church background!), the Psalms unify all of Christendom. They are also "premodern" and "postmodern," which unifies generations.
9. They Will Revolutionize Your Church Family
Your congregation is what they sing. We memorize what we sing. If you sing the Psalms, your congregation will have a vast amount of Scripture stored in their minds and hearts. Last night at our church, we sang the Getty version of Psalm 8 (we also sang parts of Psalm 107 and Psalm 25). It was beautiful. Some think our church's unique selling point is our psalm-singing. One impeccably orthodox man wryly remarked, "I just can't get my head 'round that psalm-singing thing!"
Why not, though? I don't understand why every evangelical church doesn't sing psalms. If you want to worship in Spirit and truth, would it not help to use the songbook that the Spirit of Truth himself inspired?
10. They Are Missional
Psalms are superb for evangelism in today's world. One middle-aged hippy wandered into our church a few years ago. Afterward he said, "Dave, I loved that, man. Especially the plain chant. Singing 3,000-year-old words from Palestine . . . cool!" The Psalms are poetry in emotion that speak to the hearts of all peoples.
Sing Psalms in Your Church
So how can we improve our churches this Sunday?
The Sing movement isn't about the next big thing in worship. As we aspire to educate and inspire churches in singing, we're more interested in going back—and the Psalms are the oldest and most biblical songs we have.
Here are five things we can all do that will help us reclaim the Psalms:
Read the Psalms every day in your home. We started this three years ago, and it has been transformational. We highly recommend Tim Keller's The Songs of Jesus as a devotional to help you think, pray, and sing to the Lord each day.
Fill your homes with the songs of the Psalms—let them fill your minds, hearts, mouths, imaginations, and souls.
Read the Psalms every Sunday in your services, using them as calls to worship and getting your whole church to read a psalm, perhaps responsively, if you don't have liturgy.
Pray the Psalms. Use the Psalms to fill your prayers.
Sing the Psalms. Try some of these modern psalms, or perhaps older hymns inspired by psalms.
The psalmist says, "I have hidden your word in my heart" (Ps. 119:11). We can "hide" God's Word in our hearts by singing it, and we can proclaim that "hidden" Word to the world and the angels by singing it. What are we waiting for?
In a season of sorrow? This FREE eBook will guide you in biblical lament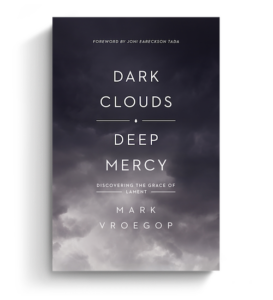 Lament is how we bring our sorrow to God—but it is a neglected dimension of the Christian life for many Christians today. We need to recover the practice of honest spiritual struggle that gives us permission to vocalize our pain and wrestle with our sorrow.
In Dark Clouds, Deep Mercy, pastor and TGC Council member Mark Vroegop explores how the Bible—through the psalms of lament and the book of Lamentations—gives voice to our pain. He invites readers to grieve, struggle, and tap into the rich reservoir of grace and mercy God offers in the darkest moments of our lives.
Click on the link below to get instant access to your FREE Dark Clouds, Deep Mercy eBook now!