How eagerly we turn men into gods, and especially dead men.
Recently, a member of Venezuela's Socialist Party took it upon himself to reboot the Lord's Prayer. Delegates at a conference offered up the words, "Our Chávez, who art in heaven. . . ." The country's Roman Catholic Church was duly horrified, objecting to this idolatrous veneration of a human being, and irony-spotters everywhere called it a night.
As medievalist Richard Fletcher notes in The Barbarian Conversion, Saint Patrick is "a famously difficult subject for the historian"—and for this very reason. In the years after his fifth-century death, the hagiographers went to work. Word by word, the mantle of near-deity settled like snowflakes on his shoulders.
This is partly what makes The World of Saint Patrick such a revealing read. The glacial process of deification is caught in the act.
The title is slightly misleading, as this isn't a biography. Philip Freeman, chair of classical languages at Luther College in Decorah, Iowa, says that his aim is "to gather together for the first time the most important sources on early Irish Christianity." What this means in practice is that only two of the eight documents in The World of Saint Patrick are firmly attributed to Patrick himself: Letter to the Soldiers of Coroticus and Confession.
But Freeman does include Muirchú's hagiography Life of Saint Patrick, written in the late seventh century, 200 years after Patrick's death. It's at this point that the reader begins to see how much can be Photoshopped in just two centuries.
Patrick's Own Pen
The portrait emerging from Patrick's own Letter and the Confession is more inflected, and all the more fascinating for it. "I am Patrick," begins the Confession, "a sinner and a very unsophisticated man. I am the least of all the faithful and to many the most despised." This pre-emptive strike on his own educational shortcomings is more than a cute medieval convention. As Fletcher observes, his Latin is "simple, awkward, laborious, sometimes ambiguous, occasionally unintelligible."
Happily, the translations are lively and immediate. The documents are left largely to fend for themselves, prefaced simply by Freeman's crisp and informative introductions. There are also plenty of contextual notes and Scripture references, but they're clumped at the end; so be prepared to lose your place, or at least your momentum.
The glimpse we get of Patrick from his own writing is arresting, though brief as a backyard from a bullet train. He emerges as a Pauline figure, a bold evangelist who sees himself as a wretched sinner saved by grace, undergoes great hardship for the sake of the gospel, faces persecution at every turn, weeps for those who reject his message, and ascribes wholly to Jesus any success he may have enjoyed in ministry. For these two documents alone, Freeman's book is worth reading.
Frustrated by Hagiography
Though Patrick is the headliner, the latter half of the book is filled out with The Life of Saint Brigid (seventh century) and The Voyage of Saint Brendan, a medieval bestseller from the ninth century, along the lines of Homer's Odyssey or Virgil's Aenid.
The former in particular provides an example of why hagiographies can be so frustrating to the modern reader. The writer intends to present an object neatly packaged for veneration rather than preserve the inconvenient mess that is real-life humanity. As a result, The Life of Saint Brigid reads as little more than a catalogue of decontextualised miracles. Brigid is described as hanging her cloak on a shaft of sunlight. She tames wild animals to her service. She turns water into beer rather than wine, which will please hipsters everywhere. And then (more troublingly) she terminates the pregnancy of a young nun who has strayed from the path of chastity by laying hands on the woman's midriff.
Uniqueness of the Fourfold Witness
So why are these miracles hard to swallow? What makes them different from the miraculous content of the four Gospels?
Perhaps it's partly because the authors seem so transparently intent on provoking misplaced worship. How different from Paul in Lystra (Acts 14). When he miraculously heals a crippled man, and the crowd starts offering sacrifices to him, he is horrified. Tearing his garments, he pleads with them: "Men, why are you doing these things? We also are men, of like nature with you, and we bring you good news, that you should turn from these vain things to a living God" (Acts 14:15). Paul knows that miracles are meant to point us to the power of the triune God, not to his servants. The hagiographers, by contrast, create molds into which molten devotion can all too easily flow.
But there's another reason we feel resistant to these accounts of the miraculous. Even the tin-eared can hear the difference between these writings and the documents contained in the New Testament. As C. S. Lewis wrote: "I have been reading poems, romances, vision-literature, legends, myths all my life. I know what they are like. I know that not one of them is like [the Gospel accounts of Jesus]."
Read The World of Saint Patrick then, and gain a sense of just how high above hagiography the biblical Gospels really are.
Get your FREE 7-day devotional!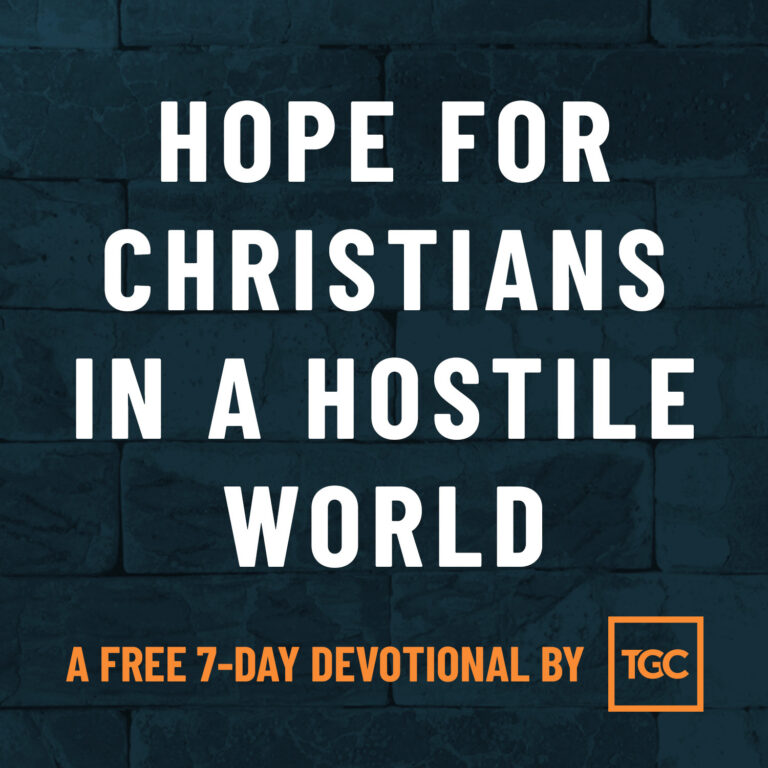 God's people have always been strangers and sojourners in this world. Do you feel that way, too?
You're not alone. Since the church's beginnings, Christians have often felt ostracized. And the Bible offers great encouragement for how to live with hope.
If you're feeling the weight of cultural exile today, our new 7-day devotional, Hope for Christians in a Hostile World, will encourage you.
If you sign up for this FREE resource, we'll send you an email each day for a week with a daily devotional featuring Bible readings and reflections written by TGC staff and friends.