Clive Marsh is senior lecturer and director of learning and teaching at the Institute of Lifelong Learning, University of Leicester. Vaughan Roberts is vicar of Collegiate Church of St Mary in Warwick, England. Both self-professed "music lovers," Marsh and Roberts partnered to write Personal Jesus: How Popular Music Shapes Our Souls, a title only loosely connected to the subject matter. They offer their main contention in the brief introduction: "Ensuring the critical study of religion in relation to how people listen to contemporary popular music will foster appropriate understanding of the music itself. It will help us understand how religions do (and must) work in society today. More fully exploring the function of music as a form of popular culture will be good for society as a whole" (p. xv).
The book is structured in three main parts with a brief postscript at the end. Part 1 is called "Music and Religion." It seeks to place the book in its proper cultural (ch. 1) and theological contexts (ch. 3). To pave the way forward, they develop a theoretical framework called the Magisteria-Ibiza Spectrum (ch. 2) and the notion of "affective space" to which they refer frequently. They argue that it is in this space, and not "religion," where many of life's big questions and issues are explored and worked out (pp. 26–27). Additionally, Marsh and Roberts side with several other theologians who hint that Christians have moved from denouncing popular music as "sin" to seeing it, even if vaguely, as sacramental (p. 32).
In part 2, "Living by Pop Music," Marsh and Roberts strive to understand just how people are listening to popular music. Drawing from the work of Ian S. Markham and his "theology of engagement," this is an act of "overhearing" or "being open simply to what is there" (p. 128). Each chapter in part 2 focuses on a different active use of popular music—capitalism (ch. 4), the body (ch. 5), transcendence or the "tingle factor" (ch. 6), ritual (ch. 7), and "personal canon" (ch. 8). While seeking to "let the music speak for itself" (p. 124), Marsh and Roberts do not intend for religion to be left behind. Rather, by taking this very approach, the authors show how closely connected popular music and religion are. The chapter on transcendence highlights this most effectively.
Part 3, "Pop Music and Theology," makes the turn to their theological reflections and implications. Along with the "theology of engagement" mentioned above, Marsh and Roberts argue in chapter 9 that "listening to popular music can be viewed as a spiritual practice," meaning "a practice in and through which people actively work on their development of an inner life" (p. 133). Chapter 10 attempts to pull all the work together in a systematic-theological framework, borrowing from Kelton Cobb. The result is a lucid chart (p. 159) that provides a way forward for comparing and contrasting systematic theology, their work in part 2, and Litvin's six songs examined earlier in the book (pp. 22–25). Chapter 11 is the culmination of all of this work. The authors focus on three theological themes for further reflection and analysis: incarnation, church, and sacraments. This final major chapter reflects the fruit of the authors' labors, drawing out excellent insights into each theme.
I would like to comment briefly on the definition of terms, particularly of "popular music." Marsh and Roberts make no attempt early in the book to define "popular music." The terms "popular music," "pop music," and the generic term "music" are used interchangeably without clarification. This confuses anyone who is familiar with the formulaic, industry-driven genre of "pop music." Only in chapter 10 do they explicitly address a definition of "popular music," stating, "Popular music is much more a type of music with multiple forms that people enjoy and use for a range of purposes" (p. 140). This is a surprising oversight for a text mainly aimed toward the academy. First, why wait until chapter 10 to state this explicitly? In an academic text, one would expect this in the introduction, especially as it is the primary medium examined. Second, why call it popular music at all if the definition is that broad and subjective? Any and all music should be included and explored if that is the case.
Nevertheless, many good aspects stand out in this book, but one above all. The method of Marsh and Roberts is the book's greatest strength. Few theologians venture into this type of cultural engagement, especially at this level of critical analysis. They take pains to be patient with developing any significant theological conclusions, and even those are just scratching the surface. One sees this vividly regarding their brief, but perceptive, case study of Lady Gaga in the final chapter (pp. 172–73). Instead of denouncing her as "demonic," as many in the church have done, they are able to explore her songs (e.g., "Born This Way") and her fans ("little monsters") in fresh ways that denote general cultural efforts (albeit, without the light of the gospel) that long for the realization of astonishingly wonderful themes of "justice-seeking" and "connectedness/church"; Marsh and Roberts provide examples for how Christians can listen to her and others on their terms.
In other words, the book is an excellent lesson on not merely engaging culture, but listening well to popular culture before speaking. This is where the church, the Christian academy, and ordinary Christians all have much room to grow. Personal Jesus is a solid step in that direction, although approaches that might labor more intentionally and explicitly to show how Jesus subversively fulfills these cultural impulses and narratives would be even more welcome in addition to this book's work.
Get a FREE eBook to strengthen your family discipleship!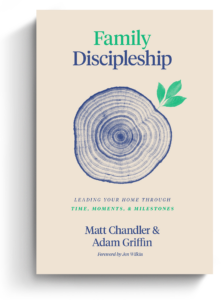 The back-to-school season is stressful for moms and dads. New rhythms of school, sports, and other extracurricular activities can quickly fill up a family's already busy calendar. Where do busy parents look for resources on discipling their family well? Aside from prioritizing church, what else can Christian parents do to instill healthy spiritual habits in their household?
Matt Chandler and Adam Griffin cover these questions and more in Family Discipleship: Leading Your Home through Time, Moments, and Milestones. And we're excited to offer this book to you for FREE as an eBook today.
Click on the link below to get instant access to your FREE Family Discipleship eBook now!