The apostle Paul lived, taught, and ministered in a world different from our own. If we're to have a full grasp of his mission and message, we need to understand his world. Paula Fredriksen, a scholar of early Christianity and late antiquity, has undertaken that project in Paul: The Pagans' Apostle. For Fredriksen, to see Paul in light of his first-century Mediterranean and Jewish worlds is to challenge many cherished conceptions of the apostle. Paul: The Pagan's Apostle affords readers the opportunity to submit their own understandings of Paul to critical scrutiny.
For Fredriksen, Paul is a product of first-century Judaism. Looming over Paul and his fellow Jews were the apocalyptic, eschatological promises of the biblical prophets. The Day of the Lord would come, attended by "a final battle . . . the resurrection of the dead, the judgment of the wicked . . . the vindication of the righteous . . . [the] reassembl[ing of] Israel," and "the entire world, human and divine, . . . acknowledg[ing] and worship[ing] the god of Israel" (27).
Within this matrix of expectation, Jesus had come proclaiming the "kinetic proximity" of the kingdom of God (6). That is to say, while the kingdom hadn't yet arrived, its arrival was imminent. The conviction of Paul and other early Christians that Jesus had risen from the dead persuaded them that the kingdom was poised to break into the world. With the dawn of the kingdom, they believed, would come the return of Jesus and the resurrection of the dead (132). The early church fervently believed that Jesus's return would take place in their own lifetimes (167). For this reason, the apostles determined "to spread Jesus's message of the coming kingdom outside of the homeland to Israel in the Diaspora" (167). This movement carried the apostle Paul into the broader Mediterranean world.
Paul's Homelands
If Scripture constituted Paul's "textual homeland," then the "multiethnic, thus multireligious, Greco-Roman city" constituted his "social homeland" (61). The Mediterranean world was inescapably religious. Each dimension of "civic life" served to "facilitat[e] the regular, vital, and necessary transactions" between "citizens" and "gods" (33). The "cult" of the gods and civically rooted "ethnicity" gave "expression" to one another (34).
Fredriksen argues that, as the apostolic mission made its way into the Greco-Roman cities of the Mediterranean basin, something surprising and unforeseen—but not unwelcome—happened. Gentiles began to respond favorably to the message of the impending kingdom. They "renounced their own gods and made an exclusive commitment to Israel's god" (146). Paul saw these "ex-pagan pagans" as the "eschatological gentiles" of prophetic hope (147, 146).
This social movement occasioned persecution for Paul and other early Christians. Pagans were distraught at their neighbors' renunciation of civic, ethnic, and cultic ties and their adherence to a god of another people, the Jews. Synagogues, attentive to these "disrupted . . . relations between heaven and earth" and consequent "alien[ation of] both local gods and their humans," saw their "place within their cities . . . unsettl[ed]" (147, cf. 80–93). As a result, they too persecuted Jewish followers of Jesus.
Scripture and the Greco-Roman city are the two "homelands" that compose the terrain in which Paul's epistles reside. According to Fredriksen, the distinction between Jews and Gentiles was one Paul labored to maintain within the church. He neither "erases" the distinction nor "redefines 'Israel' so that it means (and means only) the followers of Christ" (114). Paul did, however, expect ex-pagan pagans to "Judaize" by worshiping the Jewish God exclusively and by living, in the power of the Spirit, in keeping with at least some parts of the Jewish law (117). The Pauline formula "justification by faith" refers, according to Fredriksen, to this new lifestyle of law-keeping (121–2). For this reason, "'law' and 'faithfulness' . . . are complementary and synergistic, not contesting and contrary" (130).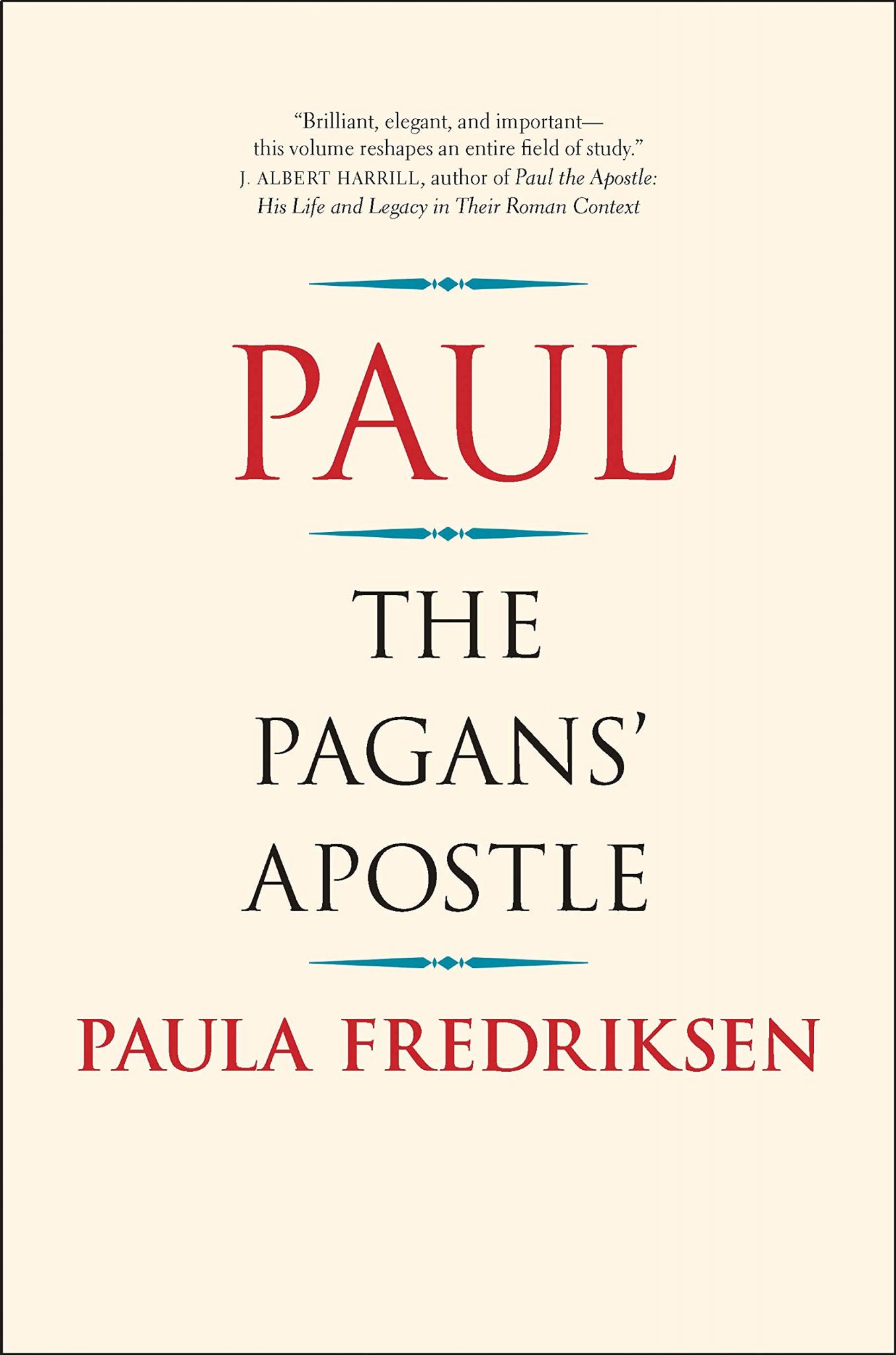 Paul: The Pagans' Apostle
Yale University Press (2017). 336 pp.
Often seen as the author of timeless Christian theology, Paul himself heatedly maintained that he lived and worked in history's closing hours. His letters propel his readers into two ancient worlds, one Jewish, one pagan. The first was incandescent with apocalyptic hopes. The second teemed with ancient actors, not only human but also divine. Both worlds are Paul's, and his convictions about the first shaped his actions in the second. Only by situating Paul within this charged social context of gods and humans, pagans and Jews, cities, synagogues, and competing Christ-following assemblies can we begin to understand his mission and message. This original and provocative book offers a dramatically new perspective on one of history's seminal figures.
The expectation that Jesus would return in Paul's lifetime was unmet. In a brief concluding section, Fredriksen reflects how Paul's teaching and, in particular, his stance towards Judaism was altered—and betrayed—by subsequent generations of Christian thinkers. The messages of Acts and of the disputed Epistles are said to have "de-Judaized" Paul (169). Law and gospel, works and grace became "polarized opposites" (173). Realized eschatology and a rationale for "the kingdom's evident delay" made their way into these writings (169). It's therefore only when we "move aside the veils of later ecclesiastical tradition" and place ourselves "into the full-hearted eschatological conviction" of the apostolic generation that we may appreciate Paul for the "visionary" he was (174).
Paul in Context
Frederiksen's work is valuable in its efforts to set Paul within his literary, religious, and social context. Her overview of the prophetic passages that were particularly salient to Second Temple Jews is concise and insightful. Her account of the complexities of the relationship between ancient Jews and their pagan neighbors during the Second Temple period repays careful study. Her description of the place of cult or religion within the ancient city is especially instructive.
As a reading of Paul, however, Paul: The Pagans' Apostle is ultimately unsatisfactory. For the biblical Paul, the kingdom isn't merely a future expectation; it's already broken into history at the resurrection of Jesus. The kingdom realities of "righteousness and peace and joy in the Holy Spirit" are presently experienced by each believer through faith in the crucified and risen Savior (Rom. 14:17; cf. Rom. 3:21–26; 5:1). In light of this reality we grasp how Paul can speak of the kingdom community of believers as eschatological Israel (Gal. 6:15–16).
Further, while Fredriksen's account of Paul doesn't deny that sin and salvation were concerns, it places those concerns at the periphery of Paul's priorities. Fredriksen fails to explain why Paul himself could summarize his message in terms of the cross of Christ (1 Cor. 2:2; Gal. 3:1; 6:14; 1 Cor. 15:1–4). Christ's return surely lent urgency to Paul's preaching. It did so because of his conviction that Christ's return would lead immediately to the final judgment of all humanity. No human being can stand righteous, on his own, before that throne (Rom, 3:9–20). But the stunning news of the gospel is that sinners can stand righteous before God from the moment they put their faith in Christ, whose righteousness is counted to them for justification (Rom. 3:21–26). While believers must keep God's law, their obedience in no way contributes to their justifying righteousness, which alone consists of Christ's perfect obedience and full satisfaction for sin (Rom. 4:4–5; 5:12–21).
But Paul: The Pagans' Apostle raises a more basic problem. Were one to grant that Paul expected Jesus to return in his own lifetime, then one is compelled to conclude that events proved Paul wrong. On this reading, not only was Paul mistaken in a matter central to his teaching, but his teaching was grossly misunderstood by those thought to be his immediate successors: the authors of the so-called Deutero-Pauline Epistles. Why, then, does Paul's teaching merit more than a footnote in any account of the development of Christian thought?
But if Paul didn't teach that Jesus would necessarily return in his own generation, and if the disputed letters aren't only faithful to Paul's teaching but are in fact his own compositions, we're in a better position to appreciate his towering and constructive influence in the history of the church. We're able not only to concur with Fredriksen's summons to admire the apostle, but also to understand why the church in every age has thanked God for the "wisdom given . . . our beloved brother Paul" (2 Pet. 3:15).