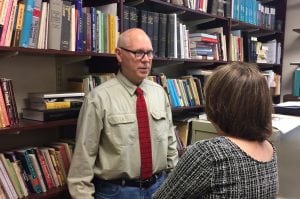 There is probably no book that has been more helpful to me in the book I've been writing this past year than Greg Beale's A New Testament Biblical Theology. It's big, it's detailed, and at times (at least to me) mind-blowing. So there are a million things I would like to talk to Beale about. But since I'm considering teaching through Colossians at my church, and he'd just turned in the manuscript for a book on Colossians, it seemed Colossians was the book to discuss. His insight did not disappoint.
Anyone who has read books by Beale will not be surprised that in Colossians he finds allusions to the temple as well as the theme of the new creation breaking into our lives in the now. In our conversation, Beale discusses the false teaching at the heart of the book, Christian maturity as the point of the book, and union with Christ as the key to the book.
Recommended Resources on Colossians:
You can listen to the episode here.
Related: