I always like to know a little something about an author before I sit down and open up his or her book. Today, I interview my good friend and fellow TGC editor Quina Aragon about her new children's book, Love Gave: A Story of God's Greatest Gift. I absolutely loved Quina's first book, Love Made, and this new book is its poetic and powerful continuation. Love Gave releases on February 2nd, but you can pre-order it today and receive a free audio download of Quina beautifully performing the book at LoveGaveBook.com!
---
Can you tell us a little bit about yourself?
I'm wife to Jon, mom to Jael, and church member at Living Faith Bible Fellowship in Tampa, Florida. I'm also an assistant editor at TGC, as well as an author and spoken-word artist. So, happily, most of my work revolves around words.
I'm Filipina, Puerto Rican, and Jamaican, so I'm designed for tropical climates and beach trips.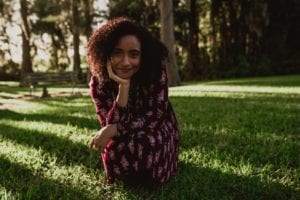 When did you first start writing? What do you enjoy about it?
Thankfully my mom made it a point to keep my writing assignments from grade school, as well as the notes I'd write to her—reminding her with very specific instructions to sign my school papers and place them back into my backpack (and to zip up the backpack when she was done). I've always had an inclination to bring clarity (and specific direction, apparently) through my words. When class was over and the other kids ran off to recess, I wouldn't leave my seat until my writing assignment was completed and satisfactory to my own standards. 
I sometimes don't enjoy writing. It can feel something like experiencing labor contractions—interrupting my thoughts and other responsibilities until a piece is finally birthed. Or it can feel like tumbleweed blowing through the empty, dusty road of my listlessness. Other times, though, it's a six-foot wave of thrilling inspiration I have to catch before it's gone. 
Ultimately, I most love having written, not always the writing itself.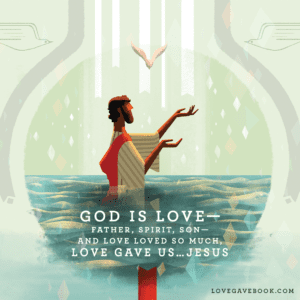 What led you to write Love Gave? 
Love Gave is the sequel to my first children's book, Love Made. Whereas Love Made poetically retells the story of creation through a Trinitarian lens, Love Gave continues the biblical story by introducing sin, the incarnation of Christ, and the good news of his death and resurrection—all through that same Trinitarian lens.
I wanted to help children hear the gospel message in language they can understand and enjoy. It gives me goosebumps to think about the children and adults who will unintentionally memorize the poetic content of this book, which is the gospel—the greatest news in history. 
What's the central message you hope readers will take away from your book?
I want little (and big) readers to appreciate how radically God loves them—enough to send his Son to pay for their sins! Or as I say in the book:
"Jesus died and rose again
to take away all our sins
and make us His
forever friends."
How has writing Love Gave changed your own practice?
Writing Love Gave helped me better appreciate the simplicity of the gospel message. While the gospel is complex and deep, studied by people much smarter than me, it's also simple enough for my 5-year-old to grasp it. The gospel is so simple (and so humbling) that we, in a very real sense, have to become like children to truly believe and appreciate it. And perhaps that's one of the most profound things about it. 
Writing, memorizing, and even performing Love Gave has allowed me to communicate the gospel message in a way that my daughter and her friends can enjoy it, interact with it, and even recite it back to me. That's one of the benefits of employing art (in this case, poetry by me and gorgeous illustrations by my friend Rommel Ruiz)—it makes the communication of truth digestible, emotive, and, well, fun. 
For a sneak peek, here is the book trailer for Love Gave (featuring some adorable kids from Quina's church):  
Here are some endorsements: 
"A God-exaltingly clear and beautiful presentation of the gospel that every child needs. And some grown-ups, too." 
— Ruth Chou Simons, mom of 6, bestselling author of GraceLaced and Beholding and Becoming
"We're grateful for this powerful and poetic gospel presentation. We pray that little readers everywhere will follow the thread and receive the gift of grace!" 
— Emily Jensen & Laura Wifler, coauthors of Risen Motherhood: Gospel-Hope for Everyday Moments 
"There is no greater mission field than the little hearts of our children. Their souls our strongest stewardship and their joy our reward. And books like Love Gave equip us for that gospel task. We are always in need of this kind of faithful, creative, and impactful gospel reading for our little ones. Quina's work is a gift to our homes—and we are glad."
— KB, Christian recording artist 
"We Christian parents long for our children to believe in Jesus. Love Gave by Quina Aragon makes it easy for us to share the gospel with them. Thank you, Quina, for helping us love our kids so meaningfully!"
— Ray Ortlund, Renewal Ministries, Nashville
"This little book beautifully and biblically explains the gift of salvation. Love Gave shows children their need for Jesus and just how much he really loves them. I want every kid I know to read it!"
— Hunter Beless, host of the Journeywomen Podcast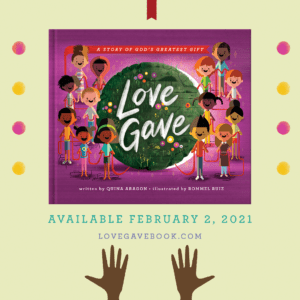 When will Love Gave be coming out?
Love Gave releases on February 2, 2021. But if you pre-order it now, you can get a free audio download of the book at LoveGaveBook.com.
If you had an afternoon to do whatever you'd like, where would we find you?
You'd definitely find me at the beach swimming, playing volleyball, eating snow cones, and chasing my daughter.