It's a strange time to be preparing to release a book, especially a book called Growing Together: Taking Mentoring Beyond Small Talk and Prayer Requests. Living in the new world of social distancing, it seems unwise—maybe even inappropriate—to talk about doing anything together.
However, I know my time apart from others has made me long all the more for time together. I'm looking forward to being able to grab a friend's hand in prayer and not feel like I need to immediately go and wash my hands. I want to go for a walk with a friend in person and not awkwardly try to keep six feet of distance at all times.
'Growing Together' is meant to be one way to help women go deeper in their relationships.
I also want to be purposeful about going deeper in my friendships. I'm hoping for more than surface-level, catch-up conversations. I want to hear what my friends are learning, how they're growing, and what they're thinking about God. These social-distancing days have made me look forward to gathering with others in life-giving ways.
Hope of Growing Together
Growing Together was written with the hope of deeper, more purposeful relationships in mind. In the ten years I worked in women's ministry, I regularly heard from women who desired a spiritual mentor. They wanted to grow in their faith and were looking for someone to help guide them.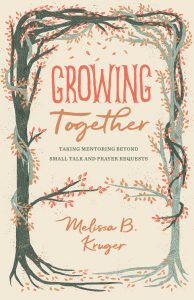 At the same time, I heard from older women that they wanted to invest in younger women, but felt unsure or ill-equipped. They didn't know what to do or what questions to ask.
The good news is that there's no set formula for spiritual mentoring. Mentoring can look vastly different in different seasons of life and between different people. Growing Together is meant to be one way to help women go deeper in their relationships. It's not primarily a book about mentoring, but a book that two women can use in a discipleship relationship to help discuss a variety of topics. It's meant to be one way to get the conversation started, but by no means is it the only way to mentor.
If you're looking for a place to begin, I hope it will be a helpful resource. Growing Together releases on June 9, and you can preorder now.
Format of Growing Together
The first two chapters briefly explore the concept of mentoring, provide scriptural examples of mentoring, and offer practical considerations about developing a mentor relationship. These two chapters set the foundation for the discipleship relationship so that both participants have similar expectations as they begin.
Discipleship is how the early church began and it is how the church will continue to thrive.
The next nine chapters provide a curriculum of sorts to help guide your time together. Entire books have been written on each of these topics, so these chapters are intended to help start the conversation, not cover the topic fully. Since these are introductory-level chapters, an appendix provides further reading for each topic if you want to dive deeper into one particular subject.
To encourage balanced spiritual growth, these chapters are arranged in a way to help foster a person's relationship with God, the church, and the world.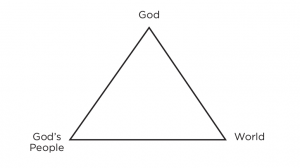 The goal is to cycle through each of these areas on a rotating basis. Topics about our relationship with God (Bible reading, prayer, and contentment) are interspersed with chapters about living in community as believers (church, family, and service), as well as with chapters about our engagement in the world (evangelism, temptations, and discernment). The hope is that balanced discipleship will lead to growth in each of these important areas.
Each of these chapters follows a general pattern:
Wisdom for Life: What does the Bible say about this topic? Why is it important?
Wandering in Unbelief: Why do we struggle to follow God's teaching in this area?
Walking by Faith: How do I live these truths in light of the gospel?
At the end of each chapter, there are questions to discuss together, as well as resources for each topic. These chapters are meant to be a springboard for conversations that center on spiritual growth.
Challenge of Growing Together
Life-on-life discipleship is slow and faithful work. Jesus spent the majority of his ministry years investing in 12 disciples. They ate together, traveled together, and did ministry together. Discipleship is how the early church began, and it is how the church will continue to thrive. We may not have opportunity to travel the world, but we can choose to invest in others one life at a time. And, then we can encourage others to do the same.
So, my challenge for you today is a simple question, "Who will you disciple in the coming year?" Start with prayer, asking God to guide you. And, then go forth, making disciples, teaching them to obey all that Jesus has commanded. Don't wait for a less busy season. Today's the day: "Look, I tell you, lift up your eyes, and see that the fields are white for harvest" (John 4:35).
My challenge for you today is a simple question, "Who will you disciple in the coming year?"
Over the next two months, I'll share a variety of interviews with women about the women who have mentored them in the faith. Their stories exemplify the importance and uniqueness of these life-giving relationships.
I hope that we'll soon be meeting up at coffee shops, going on walks, and sharing meals—together. I also hope that we'll use these moments to encourage one another as we grow in faith alongside one another.