This list is not meant to assess the thousands of Christian books published each year, let alone every interesting book published in 2013. I read a lot of books, but there are plenty of worthy titles that I never touch (and never hear of). This is simply a list of the books (Christian and non-Christian, but all non-fiction) that I thought were the best in the past year.
When I say "best" I have several questions in mind:
•    Was this book well written and enjoyable to read?
•    Did I find it personally challenging, illuminating, edifying, or entertaining?
•    Is it a book I am likely to reread or consult often?
•    Do I see myself frequently recommending this book to others?
The books that score well in all categories are "best" and make their way on Top Ten lists. This year's list–probably because of my doctoral studies–is heavy on history.
Honorable Mentions
John Frame, Systematic Theology (P&R)
Peter Lillback and Richard B. Gaffin Jr., Thy Word is Truth (P&R)
ESV Gospel Transformation Bible (Crossway)
Bradley J. Longfield, Presbyterians and American Culture: A History (WJK).
Top Ten
10. Kate Bowler, Blessed: A History of the American Prosperity Gospel (Oxford). As a version of Bowler's Ph.D. thesis, this is a learned, yet readable, book with a pile of appendices and endnotes. The strength is not in Bowler's theological evaluation (there is none), but in her dispassionate historical work connecting the major themes and figures in one of America's most significant (and unfortunate) homegrown religious movements.
9. Thomas Fleming, A Disease in the Public Mind: A New Understanding of Why We Fought the Civil War (De Capo). In this fascinating book, Thomas Fleming, a well respected historian and author of more than fifty books, argues that the Civil War was fought because  of "a disease in the public mind" (a phrase used by President James Buchanan in 1859). The "disease" refers broadly to the tendency toward extremism and implacable winner-take-all attitudes on both sides of the Mason-Dixon Line.
8. D.G. Hart, Calvinism: A History (Yale). Although I disagree with the way Hart often pits confessionalism against pietism and the awakenings, he is a first class historian with an ear for readable prose. This is a significant work that can serve well as an introductory textbook, while also filling in some historical gaps for even the most learned Calvinists. Just don't expect to find much about Reformed Baptists.
7. Mary Eberstadt, How the West Really Lost God (Templeton). Eberstadt makes a compelling case that the decline of the family has not only paralleled the decline of Christianity in the West, but that it has also been a contributing factor. Her thesis (despite a few egregious swipes at the Reformation along the way) is provocative, timely, and, at least to my amateur ears, convincing.
6. David Gibson and Jonathan Gibson, eds., From Heaven He Came and Sought Her: Definitive Atonement in Historical, Biblical, Theological, and Pastoral Perspective (Crossway). A massive work that manages to be both erudite and irenic. Along with Owen's The Death of Death in the Death of Christ, everyone who wishes to defend, doubts or despise definitive atonement will have to deal with this sturdy volume. People will be consulting this book for many years.
5. Matthew C. Mitchell, Resisting Gossip: Winning the War of the Wagging Tongue (CLC). It's hard to believe there isn't already a book like this, but if there is I haven't seen it. In the age of social media could there be a more besetting sin for the church than gossip? Every Christian needs to wrestle with the Scripture verses expounded in this book; everyone will be helped by Mitchell's gentle, firm, and wise words.
4. Mark Jones, Antinomianism: Reformed Theology's Unwelcomed Guest? (P&R). Don't let the small size fool you, this is a legitimate scholarly work. In fact, my only beef is that I wish the rich feast in these pages were put on a lower shelf. Nevertheless, Jones has done us a tremendous favor by digging through the historical record and making a compelling case that antinomianism has frequently bedeviled the Reformed community and that it continues to mislead many Christians today.
3. Jonathan V. Last, What to Expect When No One's Expecting: America's Coming Demographic Disaster (Encounter). In this brisk and intelligent book, Last details the falling birthrate in America (and in the world) and explains why Very Bad Things inevitably follow population decline. Importantly, Last concludes that if there is hope for avoiding the Very Bad Things the book outlines it will be found in the children of religious families. The basic reason countries stop having children is because they've come to see offspring as a liability rather than a source of hope.
2. Sam Allberry, Is God Anti-Gay? (The Good Book Company). Allberry, a pastor in the UK who himself struggles with same-sex attraction, has written the perfect book to hand to skeptics and wobbly believers. The tone is irenic, the content firm, and the length manageable (less than 100 pages). Buy several copies and be prepared to give them away.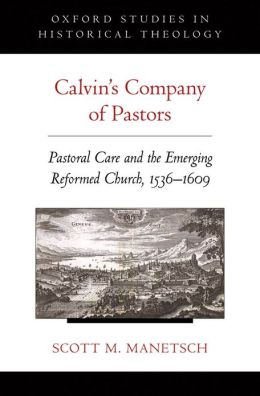 1. Scott Manetsch, Calvin's Company of Pastors: Pastoral Care and the Emerging Reformed Church, 1536-1609 (Oxford). This is one of the finest examples I've come across of first class, well written scholarship which also serves the church. Calvin scholars, Reformation scholars, and social historians will not be able to ignore Manetsch's excellent contribution to the field. At the same time, I can't imagine pastors not being edified as they read about the Venerable Company's hard work, pastoral faithfulness, endurance, and normal human failings.