Historian Gary Scott Smith of Grove City College has edited a monumental three-volume reference work, entitled American Religious History: Belief and Society through Time (ABC-CLIO, 2020). [The set is priced for library acquisition at $335 but as of this morning, it is on sale at Amazon for $35.61. I'm not sure how long that will last!]
I was honored to write the entries on Dwight Moody, William Jennings Bryan, Billy Graham, John Piper, and Rick Warren.
The publisher has given me permission to post my entry on Jennings below. (I have added the images for purposes of this post.)
---
Bryan, William Jennings (1860–1925)
William Jennings Bryan was a popular progressive Democratic politician who lost three elections for the presidency, a pacifist statesman who served as Secretary of State under Woodrow Wilson, a fundamentalist Presbyterian elder who attacked evolution in dozens of speeches and his 1922 book In His Image, an ardent social reformer, and a lawyer who prosecuted the trial of the century despite not having practiced courtroom law for three decades.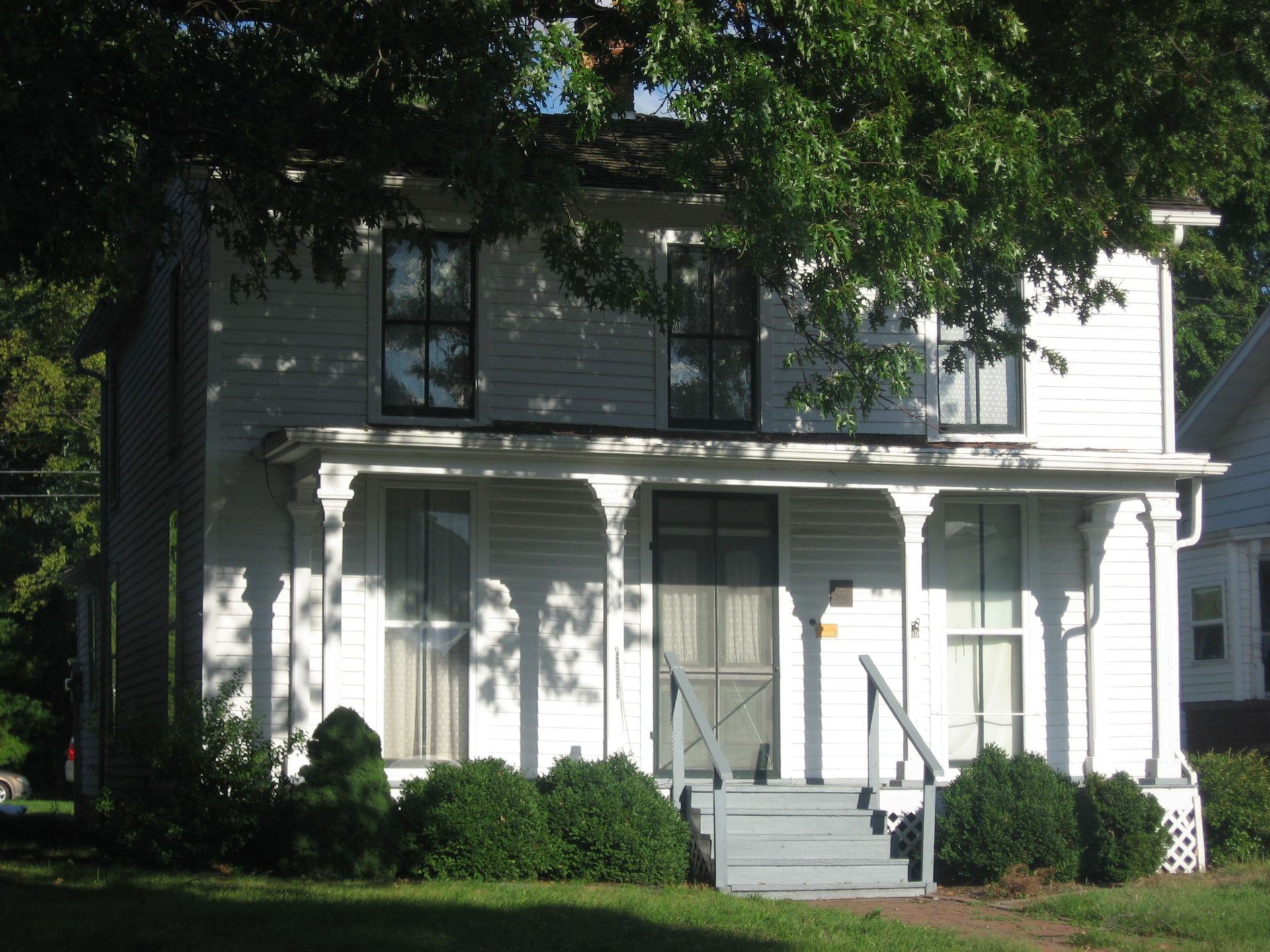 Bryan was born in Salem, Illinois, on March 19, 1860, two months before Abraham Lincoln who lived in Springfield, 110 miles north, was nominated to be president of the United States. He was the fourth of ten children born to Silas Willard and Mariah Elizabeth (née Jennings) Bryan, and one of only five who survived to adulthood. In his Memoirs Bryan expressed pride in his upbringing and identity: "I was born in the greatest of all ages. . . . I was born a member of the greatest of all races . . . I was born a citizen of the greatest of all lands" (quoted in Russell 1976, 175).
Bryan's father, an ardent Jacksonian Democrat, served as a state circuit judge and was narrowly defeated when he ran for Congress in 1872. William was homeschooled through elementary school by his mother in their ten-room house on a 520-acre farm north of Salem.
Young Bryan attended Sunday school in the morning with his Methodist mother and Sunday school in the afternoon with his Baptist father, sowing the seeds for his later ecumenism. At the age of thirteen, Bryan made a personal profession of faith in response to the preaching at a revival of a traveling Cumberland Presbyterian minister. He would later call this the most important day of his life.
At age fifteen Bryan was sent to a private school in Jacksonville, Illinois, 125 miles from home. He stayed there through college, graduating from Illinois University in 1881. After earning a law degree from Union Law College in Chicago, Bryan returned to Jacksonville to work in a law firm.
Bryan met Mary Elizabeth Baird in 1879 and married her five years later. She bore him three children: Ruth (b. 1885), William Jr. (b. 1889), and Grace (b. 1891). To support her husband, Mary enrolled as the only woman at Union Law College, graduating third in her class and then passing the bar exam.
In 1887, the Bryans moved to Lincoln, Nebraska, where he founded a law firm. Four years later, running as a Democrat, he was elected to the U.S. House of Representatives, and he narrowly won reelection two years later. After losing a race for the Senate in 1894, Bryan worked for two years as the editor-in-chief of the Omaha World-Herald newspaper.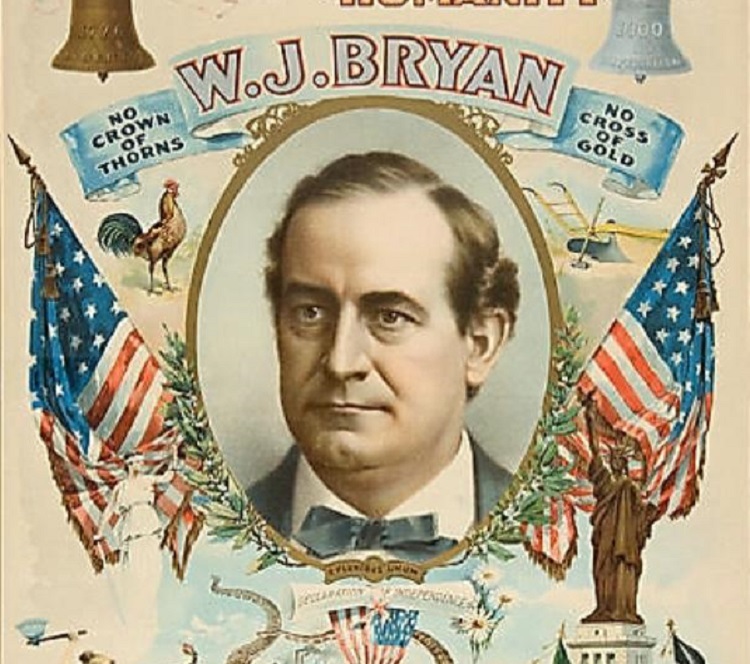 After securing the Democratic nomination for president, Bryan was defeated in 1896 by pro-business Republican William McKinley. The day before his nomination, he delivered one of the most famous speeches in American political history, titled "Cross of Gold," at the Democratic National Convention in Chicago, making the case for bimetallism, or the free coinage of silver, to help increase prosperity in America. He famously responded to the Republican demand to maintain a gold standard by intoning in biblical language, "You shall not press down upon the brow of labor this crown of thorns, you shall not crucify mankind upon a cross of gold" (quoted in Kazin 2006, 61).
After serving as a U.S. Army colonel in the 1898 Spanish-American War, he ran two more unsuccessful presidential campaigns, losing again to McKinley in 1900 and then to Republican William Howard Taft in 1908.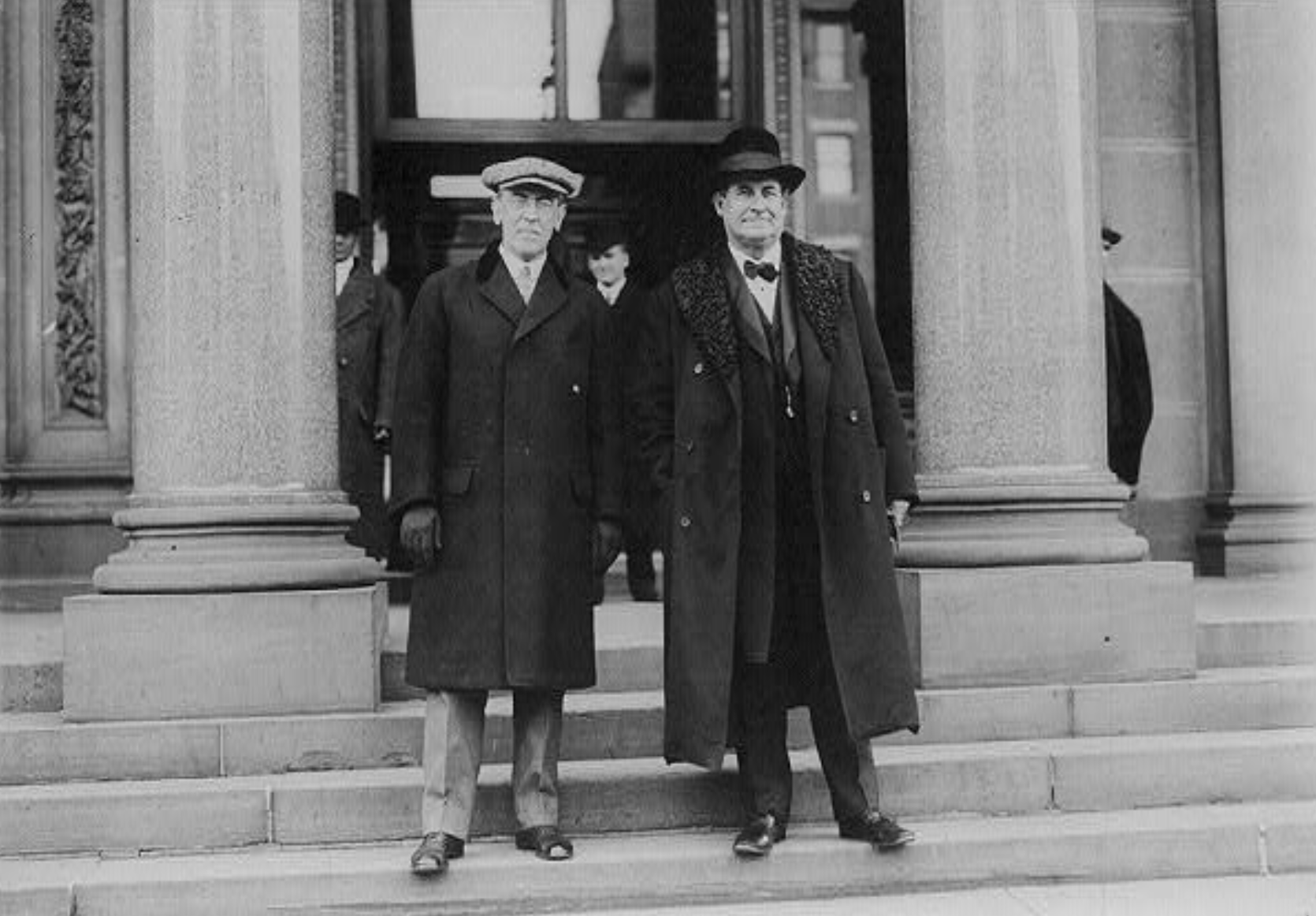 After switching his support to Wilson at the 1912 Democratic convention, which helped secure Wilson's nomination, President Wilson rewarded him with a cabinet position as Secretary of State, where the pacifist negotiated peace treaties with over thirty nations. It was his proudest achievement in office, though "Hardened, sophisticated diplomats were privately amused at Bryan's simple faith in man's moral progress as a force dominating all others in the life and future of the world" (Koening 1971, 511). Bryan resigned on June 9, 1915, because of his inability to persuade Wilson that the U.S. should remain neutral in World War I.
From 1916 to 1925, Bryan actively traveled the country as an orator, lecturer, author, publisher, and public philosopher. In 1921, the Bryans relocated to Florida because of his wife's health. Bryan led a large Sunday school class at First Presbyterian Church of Miami, which eventually met outdoors where he addressed thousands of listeners each week. Bryan became more closely aligned with fundamentalism, as he was increasingly concerned about the inroads that theological liberalism, or modernism, was making into the home and church. He especially protested that the teaching of evolution was undermining confidence in the authority of the Bible as the moral foundation of the nation. The fundamentalists, in turn, were pleased to have such an accomplished statesmen and powerful rhetorician on their side.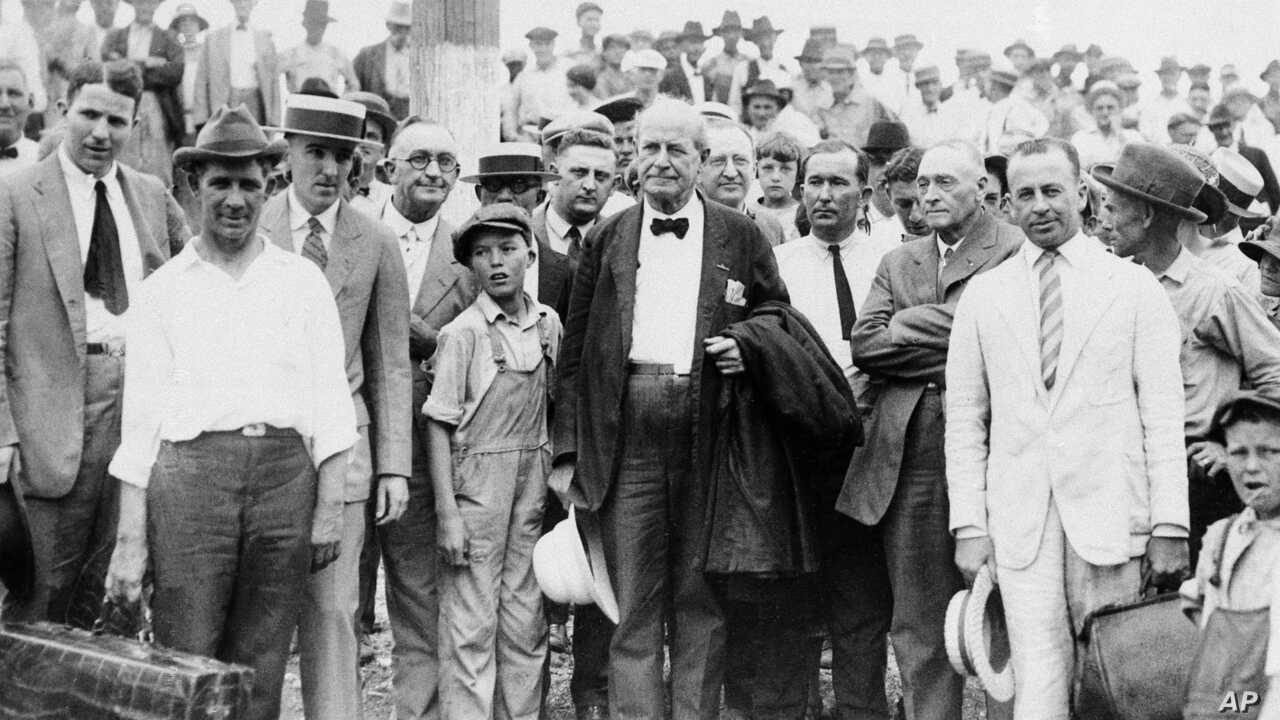 In May of 1925, on a speaking tour in Pittsburgh, Bryan received a telegram from William Bell Riley, a Baptist pastor in Minneapolis who founded the World Fundamentalist Christian Association in 1919. Riley invited him to join the prosecution team for a case in the small town of Dayton, Tennessee, where the ACLU was defending a local high school teacher, John T. Scopes, who had agreed to test a recent ban on teaching that humans originated through evolution rather than through divine creation. Despite being thirty years removed from trying a courtroom case, Bryan agreed to join the team without remuneration. Meanwhile, the famed defense attorney Clarence Darrow—a lapsed Catholic and an agnostic—volunteered to join the other side.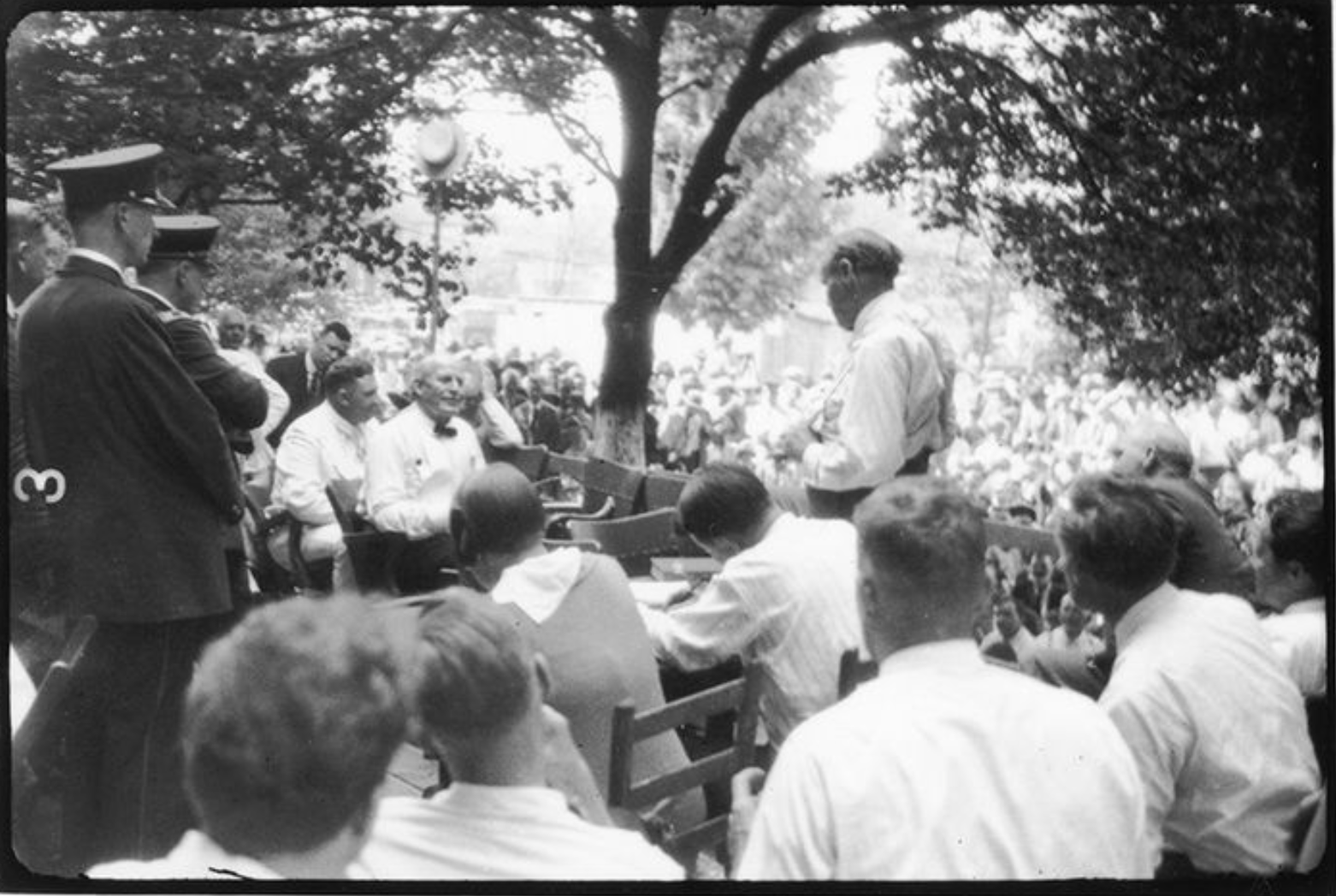 On the next to last day of the eight-day trial held in mid-July, Darrow called Bryan to the stand for cross-examination. During his testimony, Bryan declared, "The only purpose Mr. Darrow has is to slur at the Bible," with Darrow retorting, "I am examining you on your fool ideas that no intelligent Christian on earth believes" (quoted in Larson 1997, 190). The next day, Darrow successfully asked the court to bring in the jury and declare his client guilty, which kept Darrow from appearing on the witness stand and prevented Bryan from delivering his long-awaited closing address. The jury deliberated for nine minutes, delivered a guilty verdict, and the judge fined Scopes $100.
Five days later, after leading a prayer at the First Southern Methodist Church in Dayton, Bryan died in his sleep at the age of sixty-five. His funeral was held at New York Avenue Presbyterian Church in Washington, D.C., and he was buried atop a hill in Arlington National Cemetery. Flags, by President Calvin Coolidge's order, were flown at half-mast.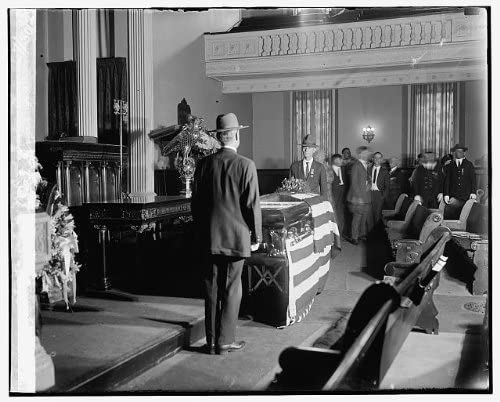 Bryan has not fared well in popular historical memory; he is largely remembered as the only major-party nominee in U.S. history to have lost three presidential elections. The 1960 film Inherit the Wind was an ahistorical morality play that critiqued McCarthyism by using a fictionalized Scopes trial. The character Matthew Harrison Brady represented Bryan, leaving viewers with the impression that the Democrat was a pompous and hypocritical anti-intellectual.
Lost in these distortions is Bryan's unique role as a conservative Christian, deeply concerned about the eroding moral values in his country (exemplified by his opposition to evolution and his adherence to strict Sabbatarianism), along with a populist and progressive form of politics that championed social reform and the role of government to serve the common man (hence his staunch support of woman's suffrage, prohibition, popular election of U.S. Senators, transparency in campaign contributions, and his work that led to the establishing of the Department of Labor and the Federal Reserve Act). His leading biographer argues that "only Theodore Roosevelt and Woodrow Wilson had a greater impact on politics and political culture during the era of reform that began in the mid-1890s and lasted until the early 1920s" (Kazin 2006, 135).
The timing of Bryan's death, immediately after the media spectacle of the Scopes trial, obscured full consideration of his legacy. "If he had died a year earlier, the public undoubtedly would have remembered him as the political and social reformer that he was—for good or ill, depending upon one's evaluation of individual reforms—rather than as the zealous defender of a literalist interpretation of the Scriptures" (Russell 1976, 176). Uniting all of his endeavors was his reputation as the "Great Commoner" who supported common laborers and farmers over manufacturers and industrialists and defended traditional morality and Christian faith.
Justin Taylor
See also Fundamentalist-Modernist Controversy; Scopes Monkey Trial
Further Reading
Kazin, Michael. 2006. A Godly Hero: The Life of William Jennings Bryan. New York: Knopf.
Koenig, Louis W. 1971. Bryan: A Political Biography of William Jennings Bryan. New York: G. P. Putnam's Sons.
Larson, Edward. 1997. Summer for the Gods: The Scopes Trial and America's Continuing Debate over Science and Religion. New York: Basic Books.
Russell, C. Allyn. 1976. "William Jennings Bryan: Statesman-Fundamentalist," in Voices of American Fundamentalism: Seven Biographical Studies, 162–89. Philadelphia: Westminster Press.