Sean Martin is the events editor for PGATOUR.COM. He writes about the PGA TOUR's tournaments and players, and helps plan coverage of golf's biggest events. His most recent piece—and one of his all-time favorites—"Behind the Trick Shots," was featured at The Bryan Brothers. Sean became a Christian in 2011, at the age of 28. He and his wife, Abby, attend Christ Church East (PCA) in Jacksonville, Florida.
---
What do you do every day?
I have a variety of responsibilities at PGATOUR.COM, but my overall goal is to inform and entertain our fans by letting them know more about the PGA TOUR's players and tournaments. There are about 200 players on the PGA TOUR, and we conduct 47 tournaments a year, so there are plenty of stories to tell. I love writing features that help our fans get to know players beyond what they see on TV, and historical pieces that draw on the game's rich history and context.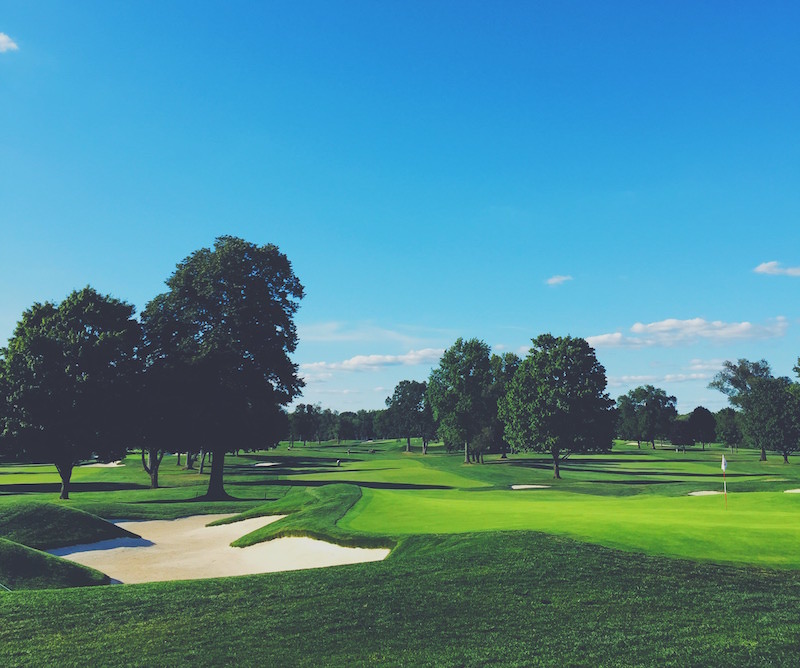 How does your work give you a unique vantage point into the brokenness of the world?
Before coming to the PGA TOUR I worked at newspapers and magazines, where there's an emphasis on getting "the scoop" and exposing information that isn't publicly available. This is sometimes done by dedicated journalists in a way that promotes justice, but it can also encourage trading in gossip and rumors. In covering golf, I'm usually not revealing injustice; my work at PGATOUR.COM is about celebrating the sport and its players.
Brokenness can be seen, though, when players try to find their ultimate happiness in the game and their performance. The life of a PGA TOUR member may seem perfect, but there are times when players reveal that their souls still thirst—even after achieving all of their lifelong goals.
One golfer, just days after winning the U.S. Open, told his friend that he was already "thinking about winning the next one." His satisfaction with the biggest accomplishment of his career was short-lived. Another guy went into a career slump after he won the British Open; he lost his passion for the game because the victory, which he'd dedicated his life to achieving, didn't deliver the satisfaction he thought it would. He'd reached the pinnacle of his career, but he said that on the flight home he was thinking, "Is this all there is?"
How does the gospel help you in such a sport?
Golf is a game of failure; you hit more bad shots than good ones, and even the best players in the world only win about 10 percent of the tournaments they play. Learning to recover from bad shots or bad tournaments is a vital skill for a professional golfer. Success can be fleeting in this game.
Ben Crane, one of the TOUR's Christian players, summed this up perfectly a few years ago. He was having a tough year on the course. One of his friends asked how he was doing in the midst of his struggles. He replied:
I think he expected me to say I was really struggling because the golf wasn't all that good. I just said, "You know, I'm doing great, because the rough season of golf has brought me closer to God. Golf was becoming too important to me. . . . These last few weeks I've just said, you know what, golf is not everything."
Two years ago, Crane was injured and thought he may have to retire from the game, even though he was only 38 and keeps himself in good health. He surprisingly won a tournament a few months later.
"I had to finally become okay with golf not being in the picture," he said, reflecting on how to find an identity apart from golf. But the gospel got him to the place where he could pray, "Lord, if it's not golf, I will love you. But if it is, that would be really fun." Golf was no longer his idol; he could enjoy it for what it is—a gift of grace.
Do Christians on the PGA TOUR stand out?
There's a tight-knit Christian community on the PGA TOUR, including a Tuesday night fellowship that includes Bible study and worship. Tournaments run Thursday to Sunday, so it's often hard for players to attend church on Sunday. This is their form of Christian community away from church.
When unable to travel with their families, a lot of the guys will travel together and rent houses together instead of staying in hotel rooms alone. They'll play practice rounds together and go to dinner in large groups. It's easy to isolate yourself on the road, but they enjoy being in community with each other, and it shows.
Additionally, Christians are often known as guys who give wise counsel. Even non-Christians will come to them to them for advice. They might not yet be seeking Jesus, but they know these guys love them and will listen.
There are a couple ministries that are regulars on the PGA TOUR. I have become especially close with some of the members of College Golf Fellowship (CGF). One of their staff members, Matt Van Zandt, was the best man in my wedding and baptized me when I became a believer in 2011. CGF's president, Brad Payne, and vice president, Stephen Bunn, are fixtures on the TOUR. They know a lot of the players and staff. They help provide counsel, discipleship, and fellowship to players while they're on the road. They've been an invaluable resource to me when I'm away from home, and they exposed me to good teaching when I first became a Christian.
---
Editors' note: TGCvocations is a weekly column that asks practitioners how they integrate their faith and their work. Interviews are condensed and edited.