In one of the lesser-known travels of Gulliver, author Jonathan Swift brings him to the floating island of Laputa. He finds that the people of this land have an advanced knowledge of science. But with a particular interest in astronomy, they're also in constant fear of the end of the world through some unlikely cosmic event. They know that comets hit the earth, so they worry that the next time will be a direct hit and reduce them to ashes. Or, observing the orbit of the earth around the sun, they fear that one day the earth will be swallowed up into it. So sure the shoe is going to drop at any minute, they're unable to enjoy any of the pleasantness of their lives. 
These People are under continual Disquietudes, never enjoying a Minute's Peace of Mind; and their Disturbances proceed from Causes which very little affect the rest of Mortals. Their Apprehensions arise from several Changes they dread in the Celestial Bodies. . . . They are so perpetually alarmed with the Apprehensions of these and the like impending Dangers, that they can neither sleep quietly in their Beds, nor have any relish for the common Pleasures or Amusements of Life. 
Writing in the early 1700s as the age of science was stretching its muscles, Swift, one of the greatest English satirists, was allegorically describing the dangers of over-dependence on science, not the least being the prediction of danger and doom when it was hardly in sight. Though secure in a land of plenty, floating high above the problems of the rest of the world, the Laputans worried about the improbable because they knew it was possible. Much to Swift's credit, it turns out that this can be a problem for us all. 
In this day and age, we may not fear the next comet (or do we?), but we do worry about something less rare: the report of an abnormal medical test. Having delivered the news on numerous occasions, it's hard to curb the anxiety created by an uncertain result. Often there is little connection between the likelihood that something bad will happen and the reaction it engenders; whether the person actually has cancer or the screening test is abnormal but the chance of cancer is extremely small, the word cancer is enough to turn life upside down. Curiously, the more in control a person feels before the news, the more it disrupts his world. 
Often we find patients of lower socioeconomic status, already with limited control or predictability in life, accepting the news with little change. But the one whose calendar is organized for the next six months is overwhelmed with fear. Like the Laputans, the more we know and the more secure life seems, the more we fear what remains outside our control, no matter how small the likelihood. 
Our Unique Age
At face value, we wouldn't expect that fear would increase as danger decreases. Yet for many in our age, worry about health grows as the likelihood of sickness and death shrinks. Though the irrational power that can conjure up great fears from meager sources may be enough to explain it, let's consider a unique contribution that has come as our modern view has evolved into our late-modern perspective. 
Modernity's confidence in human progress leading to continual world improvement has fallen on hard times lately. For many, hope in reason and science bringing millennial fulfillment has been tempered by the excesses and evils of the 20th century. From world wars to the threat of nuclear holocaust to genocides of unspeakable horror, the many tragedies of the last 100 years have shaken us. The world refuses to get better despite all the progress we have made. 
From world wars to the threat of nuclear holocaust to genocides of unspeakable horror, the many tragedies of the last 100 years have shaken us. The world refuses to get better despite all the progress we have made.
But our faith in the control wrought by science has not been discarded wholesale. In the face of persistent chaos and terror on the world stage, many of us have chosen to withdraw and restrict our efforts to the control of a smaller, more subjective world. Retreating into our buffered selves, instead of global stability we'll settle for personal control; instead of limitless possibilities for world improvement we hope for limitless possibilities of self-improvement. Though the world beyond remains unpredictable, we can still control what is close and near as the part of the world that most matters. In these later days of modernity, our demand for certainty and control hasn't changed as much as the sphere in which we expect it. 
Whether we ask science to give us control of a world big and global or one small and near, godlike efforts to control our circumstances will fall short, leaving us with false hope and floating fear, as political philosopher Peter Augustine Lawler points out in his critique of individualism and biotechnology: 
The true scientific myth must actually be "Promethean"; its strength must come from giving people "blind hopes" that all that they long for can be achieved through scientific progress and liberation. The original Prometheus, Wilson remembers, "caused mortals to cease foreseeing doom." Blind hopes can cure or at least deaden the symptoms of that specifically human "sickness" of foresight. 
The chaos of the world has not succumbed to our "rage for order" on a global scale, nor have we been able to "cease foreseeing doom" from the safety of our buffered self. Still haunted in our dreams, the best we can do is to hide the reality from our conscious selves. 
Instead of limitless possibilities for world improvement we hope for limitless possibilities of self-improvement.
In many ways we're successful with this ruse. Though Enlightenment optimism has given way to post-Enlightenment pessimism, many of us still generally know the vigor of healthy bodies; the provision of health-care insurance; the assurance of food, clothing, and shelter; and a relatively peaceful town. But our peculiar preoccupations today are that there are powers lurking constantly just beyond our range of vision, waiting to break in upon us. Worst of all, we know that disaster may strike us just when we're most secure, when we've never felt better, and the phone rings to tell us our test is abnormal and we may have cancer, which we are now sure we do. 
Monsters of Our Fragmented Age
As far back as 1950, theologian Romano Guardini predicted the end of the modern age and the fear, threat, doubt, danger, and anxiety we would feel in an age he saw coming but felt unable to name: 
All monsters of the wilderness, all horrors of darkness have reappeared. The human person stands before the chaos; and all of this is so much more terrible, since the majority do not recognize it: after all, everywhere scientifically educated people are communicating with one another, machines are running smoothly, and bureaucracies are functioning well. 
He was far more accurate than he could have known. We may have hidden the monsters in the closet—but they're still there. And outside, in our quest for health control, we continue to hope that medical science will deliver us from the horrors of darkness that threaten us with chaos and uncertainty. 
Offers to make certain what are by nature contingent and mysterious realities are causing too much distortion for our own good.
As buffered and autonomous self-authorizing creatures, we work hard to convince ourselves that if our world is small enough, we can make it safe and secure. But our failure to accept uncertainty in life is producing a great imbalance in our health-care systems. More importantly, we're misplacing our trust upon a pseudoscience that reduces all of life to mechanical functions that can be measured and controlled. But offers to make certain what are by nature contingent and mysterious realities are causing too much distortion for our own good. As poet, novelist, and cultural critic Wendell Berry suggests, we need to see the pattern of the whole that holds the pieces together and absorbs uncertainty as an essential part of who we are: 
We seem to have been living for a long time on the assumption that we can safely deal with parts, leaving the whole to take care of itself. But now the news from everywhere is that we have to begin gathering up the scattered pieces, figuring out where they belong, and putting them back together. For the parts can be reconciled to one another only within the pattern of the whole thing to which they belong. 
We need a view of life and health that can respond to the tragedy of cancer that fails treatment, the unfaithfulness of a spouse who has given his wife a sexually transmitted disease, or the birth of an imperfect child. We need a story that can embrace contingency without running away, even finding a way to make it meaningful. We need a "pattern of the whole thing" that accepts the basic reality that we are dependent, frail, and fragile.
In a season of sorrow? This FREE eBook will guide you in biblical lament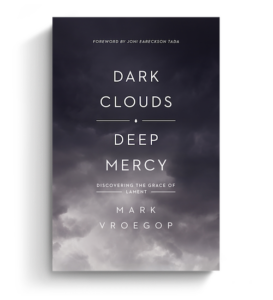 Lament is how we bring our sorrow to God—but it is a neglected dimension of the Christian life for many Christians today. We need to recover the practice of honest spiritual struggle that gives us permission to vocalize our pain and wrestle with our sorrow.
In Dark Clouds, Deep Mercy, pastor and TGC Council member Mark Vroegop explores how the Bible—through the psalms of lament and the book of Lamentations—gives voice to our pain. He invites readers to grieve, struggle, and tap into the rich reservoir of grace and mercy God offers in the darkest moments of our lives.
Click on the link below to get instant access to your FREE Dark Clouds, Deep Mercy eBook now!