The Way Back is another solid sports movie from writer/director Gavin O'Connor, who previously mined the intensity of hockey (2004's Miracle) and MMA fighting (2011's Warrior) to explore the larger dramas of life. But even as it releases in the basketball-saturated month of March, The Way Back should not be construed as a mere "basketball movie." It's one of the best movies of 2020 so far, period. Like all the best sports movies—from Friday Night Lights to Hoosiers to Field of Dreams—this one has more on its mind than the game clock and the scoreboard. 
As its title would suggest, The Way Back is a story about second chances, redemption, and renewal; the path back to life after descending to the depths—not just for a sports team that has fallen on hard times, but also for a man and his family who have fallen into despair.
Back From the Brink
The film follows Jack Cunningham (Ben Affleck), a middle-aged alcoholic who was once a great basketball player (offered a scholarship at the University of Kansas but turned it down). Separated from his wife (Janina Gavankar) and working construction as the film begins, Jack's life is in a bad place. But then he receives a phone call, out of the blue, with an offer to coach basketball at his high school alma mater. Will this new opportunity provide a pathway ("the way back") to a healthier life for Jack, or will his demons get the best of him? This question echoes the tension of Dennis Hopper's "Shooter Flatch" character in Hoosiers, which remains the gold standard of high school basketball movies.
Though the film has its fair share of sports movie cliches, it never veers into indulgent sentimentality. It's a gritty, non-cheesy film (rated R for language) and one that channels Affleck's own personal angst and mirrors his recovery journey. The actor has struggled with alcoholism himself and reportedly came directly from rehab to the film's set. Jack's search for the way back is probably a search Affleck can relate to, as can anyone who has found themselves in bouts of addiction or cycles of self-destructive behavior.
Human and Divine Fathers
Fatherhood is central in The Way Back, played out among various characters and in various ways. Jack's father is absent in the film, but his love (or lack thereof) looms large in his story. "It wasn't me that he loved," Jack says of his father. "It was what I could do." And so he quit basketball and left a bright future behind—so wounded was he by his father's performance-based affection. Some of the high school basketball players in the film also struggle with their fathers, and Jack becomes a surrogate of sorts (as coaches often do)—loving them into flourishing on the court and off. Jack's own experience as a father also figures prominently in the film, underscoring the extent to which human sons and fathers make messy and indelible marks on one another. 
But looming in the background of the film is another father—an unseen heavenly Father who is there, watching, intervening, even if the characters don't feel his presence or believe it. The team prays to this Father before games (it's a Catholic high school). The team chaplain (Jeremy Radin) and assistant coach (Al Madrigal) try to model this Father's loving discipline as they walk with Jack on his path of growth and recovery. Jack doesn't really seek out a relationship with this Father. But this Father has his eye on Jack. 
Suffering and Sovereignty
O'Connor is familiar with exploring faith and fatherhood in his films, but it seems especially foregrounded in The Way Back, even if it is not always overt. For example, it's significant that Jack's life—hopelessly stuck in a rut of sin—begins to turn with a seemingly divine intervention. He literally gets a phone call from a priest named "Father Devine" (John Aylward) who offers him the coaching job. Fr. Devine has no logical reason to hire Jack, who is a drunken, has-been player with no coaching experience. His choice of Jack is an act of pure grace—undeserved, illogical, but intentional nonetheless. 
That thread weaves through the movie: the unexpected, illogical nature of grace. It shows up when you least expect it, sometimes through circumstances that at first feel cruel. One of the film's big questions is the hardest question in theology: Why does God allow such terrible suffering? Why should we believe in the goodness of a God who lets kids die of brain tumors? If God seemingly could care less about so many awful things happening in the world, why would he care about our own little moral choices?
Father Devine's choice of Jack is an act of pure grace—undeserved, illogical, but intentional nonetheless.
Jack struggles with these questions, and yet he comes to see—and the film beautifully shows—that maybe God is working behind the scenes after all, for our good. Sometimes our good isn't what we want. Sometimes our pain is part of God's design for another's flourishing. God in his sovereignty uses us to shape other's lives in ways we can never fully see or comprehend. And even if we can't understand the suffering, perhaps we are shaped by it in ways that are good—wise ways only God knows. 
For our part, maybe it's not for us to languish in the past or agonize over what might have been as much as to move forward and grow, repenting for what we've done and accepting the grace of a fresh start. Maybe it's about acknowledging that there's a Fatherly coach who knows better than we do what it means to flourish, even if we don't like his rules and wish we could call the shots. His game plan, even if sometimes painful, is always perfect. Trusting that plan is the start of the way back for Jack, and for all of us.
Get a FREE eBook to strengthen your family discipleship!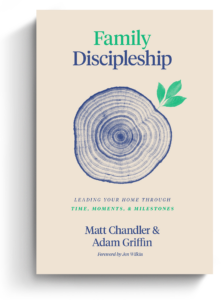 The back-to-school season is stressful for moms and dads. New rhythms of school, sports, and other extracurricular activities can quickly fill up a family's already busy calendar. Where do busy parents look for resources on discipling their family well? Aside from prioritizing church, what else can Christian parents do to instill healthy spiritual habits in their household?
Matt Chandler and Adam Griffin cover these questions and more in Family Discipleship: Leading Your Home through Time, Moments, and Milestones. And we're excited to offer this book to you for FREE as an eBook today.
Click on the link below to get instant access to your FREE Family Discipleship eBook now!