John Michael McDonagh's film Calvary, new in theaters this month, is not about the Catholic sexual abuse scandals. That is the context, the field of the narrative, but it is not the subject. Calvary is rather about a man, a good Irish priest trying to stand tall as the tide of his life seemingly washes out further and further from him and from God.
Father James Lavelle (Brendan Gleeson) is the kind of priest who visits those absent from the last Mass just to let them know they were missed. He observes what looks like bruises on a woman and confronts the husband, who says it wasn't him but her latest boyfriend. Lavelle's parishioners are thoroughly postmodern; they seem to relish informing (not confessing) their priest of their latest sins. Another man invites Lavelle over with the pretense of doing penance, only to get drunk and urinate on a piece of art in front of him. We perceive that Lavelle is a serious man who is not taken seriously.
Why? The answer to this question takes us to the heart of Calvary, which begins in the confessional as an unseen voice whispers to Lavelle (in graphic terms) that he was raped by another priest as a boy for five years. The priest is dead, the voice goes on, so no justice can be delivered. "What would be the point of killing him?" the voice asks. "But killing a good priest—that would be shocking. I'm going to kill you, Father." The close quarters allow us to watch Lavelle as he hears. We can see fear, doubt, and empathy in his eyes, but neither anger nor flight. He must face this man.
Lavelle knows he doesn't have to face him. The attacker grants him a week to "get your affairs in order," but Lavelle uses this time not to flee or fight. Instead, he remains faithful to his calling and service of others. He continues meeting his dysfunctional parishioners, including a ridiculous young man who wants to join the Army to outlet his sexual frustration. Most of his people, though, laugh off Lavelle's religious speech. The church has lost credibility and trust, and Lavelle is stuck with the bill. We realize that this flawed yet humble priest is bearing the sins of many, including his fellow priests' abuse. This is his calling, his purpose. When his daughter (Lavelle was widowed before he became a priest) visits him after her attempted suicide, they confront their regrets and reconcile as father and daughter. Their dialogue has a tender urgency; he wants her to know his love before it is too late.
Left Behind Hope?
Calvary is a strong film, directed with quiet ferocity. Director McDonagh gets the most from his talented supporting cast, and the cinematography takes full narrative advantage of the tempestuous beauty of the Irish coast. The towering figure is of course Gleeson, who should expect an Oscar nomination come January. His is a flawless and full-blooded performance. Casual American moviegoers familiar with Gleeson's work in the Harry Potter films (as "Mad Eye" Moody) will be transfixed by him here.
Calvary invites the audience—all of us, not just Roman Catholics—to consider whether we live in a world that has left behind the hope of hearing from God. Have the crimes of those who bore the name of Christ made faith itself impossible? This is an important question for all Christians. We live in a modern age in which sin, abuse, and scandal seem omnipresent among Jesus's church. Even as we drop our heads in shame and repent and try to embrace the innocent who have been fed to the guilty, we feel our own hearts wavering. It is one thing to reach out for the holy during the dark night of the soul; it is another to do so when souls are being crushed by the viciousness of "holy men."
"I'm beginning to think forgiveness is the greatest virtue of them all," Lavelle says. For Christians, the name "Calvary" means the place where the innocent Christ was punished to atone for the guilty. As James Lavelle walks throughout his parish towards the fateful confrontation, we realize he too is bearing another's blame. The ending of Calvary whispers about a forgiveness and healing that might—just might—go deeper than the most grievous wounds. Gospel imagery pervades this haunted film, which makes it an opportune moment for Christians to speak about the One who bore in himself the sins of the world—including the guilt of the abuser—and offers everlasting forgiveness along with healing for the wounded.
Get a FREE eBook to strengthen your family discipleship!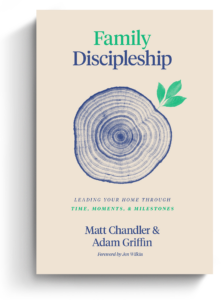 The back-to-school season is stressful for moms and dads. New rhythms of school, sports, and other extracurricular activities can quickly fill up a family's already busy calendar. Where do busy parents look for resources on discipling their family well? Aside from prioritizing church, what else can Christian parents do to instill healthy spiritual habits in their household?
Matt Chandler and Adam Griffin cover these questions and more in Family Discipleship: Leading Your Home through Time, Moments, and Milestones. And we're excited to offer this book to you for FREE as an eBook today.
Click on the link below to get instant access to your FREE Family Discipleship eBook now!