Let's get the major hurdle out of the way first. No, Charles Dickens didn't invent Christmas, and The Man Who Invented Christmas doesn't actually argue that he did. The title is a bit of hyperbole, simply meant to rouse your curiosity and draw you in.
And—regardless of how you feel about that tactic—it's worth being drawn in to Bharat Nalluri's warm and witty new film.
Based on the book of the same title by Les Standiford, The Man Who Invented Christmas accompanies the restless genius behind the classic A Christmas Carol, on a journey through his own past and present.
Old Favorites in a New Context
The Man Who Invented Christmas is no polite and placid Victorian biopic. Played brilliantly by Dan Stevens (Downton Abbey), this Charles Dickens leaps off the screen in all his charm, charisma, and complexity. He dashes through alleys, performs magic tricks, and charges up staircases like the demented brother in Frank Capra's Arsenic and Old Lace.
A strong script by Susan Coyne shows the plight of this one-of-a-kind man in ways that make him all too relatable. Writers everywhere will identify with Dickens's stratospheric highs and catastrophic lows—and human beings everywhere will relate to his frustration at the constant interruptions to his work.
A bad case of writer's block, coming on the heels of three flops in a row, plunges Dickens into despair. But a sudden inspiration for a Christmas story sends his spirits and imagination into a fever. Characters appear around him as he summons them with sudden confidence—only to take him to places in his own heart and mind he never wanted to go. Nalluri weaves these imaginative sequences into the film with a deft hand, bringing old favorites like Scrooge and Tiny Tim to life in a whole new context.
Money and Misers
Spurring this perilous journey is Dickens's increasing desperation about money. In his early 30s, the author is supporting a wife and four children (with another on the way), funding his perpetually hard-up parents, and trying to redecorate his house in high style. On top of all that, as his wife points out, he gives money to every beggar who asks it of him.
His lavishness mirrors that of his father (Jonathan Pryce), who went to debtor's prison and condemned young Charles to a horrific existence working in a blacking factory. Charles can't forgive him, but—though he's already far more successful than his father ever was—Charles also can't escape his influence or ideas.
If there are valid reasons for Dickens's resentments and fears, they nonetheless threaten to snuff out the light within him. His miserly creation, Scrooge (played with aplomb by Christopher Plummer), doesn't emerge from a vacuum. Rather, as the covetous old sinner whispers to his creator, "I'm the stain on your soul."
Thus, the struggle to write A Christmas Carol in only six weeks—and to earn back the money he's spending self-publishing it—grows into a struggle for its author's own redemption.
The Best of Dickens, the Worst of Dickens
But redemption in what sense? Unlike A Christmas Carol itself, the film gives no overt nod to "the veneration due to [Christmas's] sacred name and origin." Aside from the occasional ringing of church bells at key moments, and a few repetitions of the immortal line "God bless us, every one" by various characters, the story plays out on a purely human level rather than a divine one. The choice before our hero is simply whether to embrace the generous and forgiving side of his nature, or succumb to the selfish, exploitative side.
Those who know and love the novelist will know that—despite his own Christian beliefs—this was a battle he fought all his life, and one that he sometimes lost in spectacular fashion. Yet the film that concentrates on this brief portion of his life and career manages to offer both honesty and also a glimmer of hope. It gives us the best of Dickens and the worst of Dickens, celebrating his greatness while showing clearly—most poignantly through the eyes of his wife, Kate (Morfydd Clark)—just how hard great men can be to live with. And in conveying the clash within this man so perceptively, it inspires us to think about how our own clashes, struggles, and failure to live up to our ideals can affect others.
Dickens-eye View
In the vein of other Christmas movies like It's a Wonderful Life, The Man Who Invented Christmas concentrates on values inspired by the season—rather than the real reason for the season. Yet in doing so, perhaps it helps us see that season and those values through fresh eyes.
The film eloquently makes its case that Charles Dickens's battle with his own Scrooge-like tendencies changed his world, not only by resurrecting a nearly defunct holiday, but also by inspiring more kindness, compassion, and charity in connection with that holiday.
If this story helps renew our own dedication to those ideals, it will have achieved something desperately important in our world as well. If Christmas to many of us today has become a time to complain about cashiers' greetings and Starbucks cups, a Dickens-eye view may be exactly what we need.
Get a FREE eBook to strengthen your family discipleship!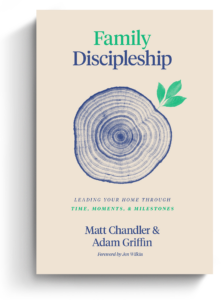 The back-to-school season is stressful for moms and dads. New rhythms of school, sports, and other extracurricular activities can quickly fill up a family's already busy calendar. Where do busy parents look for resources on discipling their family well? Aside from prioritizing church, what else can Christian parents do to instill healthy spiritual habits in their household?
Matt Chandler and Adam Griffin cover these questions and more in Family Discipleship: Leading Your Home through Time, Moments, and Milestones. And we're excited to offer this book to you for FREE as an eBook today.
Click on the link below to get instant access to your FREE Family Discipleship eBook now!