Since its release two weeks ago, Jefferson Bethke's "Why I Hate Religion, But Love Jesus" spoken word video has skyrocketed to more than 16 million views. The Seattle 22-year-old has been a hot topic of conversation—-positive and negative alike—-in the blogosphere and in news media such as The Washington Post, CNN, and CBS.
In addition to sparking important discussions about the nature of religion vis-à-vis the gospel of grace, Bethke's video has also introduced many of us to the spoken word art form. I corresponded with Christian rapper Shai Linne
(
blog
|
Twitter
)
and his wife, Blair (
Twitter
), a spoken word poet herself, about the background of spoken word, what caused Bethke's video to explode, and whether this phenomenon represents a "tipping point" for the genre.
---
To say that Jefferson Bethke's recent video went viral borders on understatement. What is it about the genre of spoken word that is so powerful and caused Bethke's video to blow up like it did?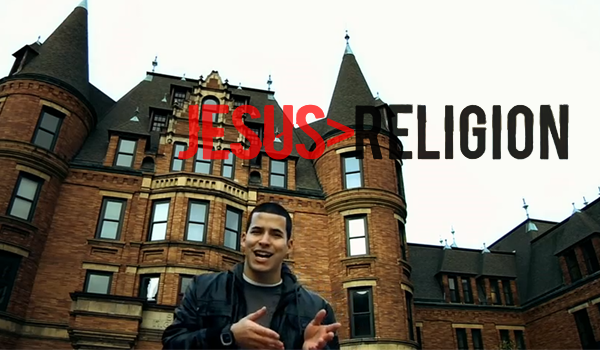 Shai: Part of the power of the genre in general and the video in particular is its ability to convey a message through the artful use of language. The video is compelling because it was shot and edited well, and the simplicity of Jeff's delivery helped the message to come across very clearly. When spoken word is done in excellence, it has an immediacy about it that almost forces the listener to engage with the points being made by the artist.
Blair: In the past several years there has clearly been an increase in the popularity of spoken word. Television shows and Broadway plays are featuring this artistic expression, and many poetry venues are springing up in arts communities around the United States. Part of the reason I think so many are attracted to spoken word is that people are drawn in by the good storytelling as well as rhythm, rhyme, and the performance element so common in the genre.
One of the wonderful aspects about using spoken word as a tool to strategically share the gospel is that you have the ability to communicate an important message in a catchy rhythmic format, which allows for many words to be expressed in a short amount of time. Also there is what is called the "Slam" element of using powerful punchlines to grab the listener's attention, compelling them to consider the thesis of your poem. Bethke clearly takes advantage of the use of punchlines as he causes the listener to rethink false religion. With more than 16 million views, this is a clear example of the spoken word platform being used to share Christ with the world.
What is the background of spoken word?
Blair: Although spoken word originally has its roots in traditional storytelling in a number of cultures, in America it was popularized as a genre during the 1960s civil rights movement. Here we see poets like Gil Scott-Heron with The Last Poets and Amiri Baraka who created political, racially polarizing poetry. The main goal of the poetic art during this time was to create politically engaging work that explored the African American cultural and historical experience. Hip-hop appeared in the 1970s as a close relative of spoken word, and with its emergence and dominance in the 80s and 90s, spoken word took a backseat, though it was still happening.
In the mid-1990s, a revival of the genre began to occur around the country, as coffee houses and night clubs began hosting "poetry slams." Spoken word pieces then began appearing on popular hip-hop albums. A film called Slam, starring well-known poet Saul Williams, was released in 1998. In it, there is a famous scene in a prison courtyard where Williams's character uses poetry to defuse a possible gang war. In 2002, HBO began broadcasting a series called "Def Poetry Jam." All of these things have contributed to the popularity of the genre.
What is the relationship of spoken word to hip-hop? What is the medium's unique contribution?
Shai: Like any culture, hip-hop is not monolithic. Within hip-hop, there are a number of different sub-genres. The sub-genre that most relates to spoken word is known as "conscious" hip-hop, which tends to emphasize issues like African American empowerment, helping the poor and fighting against racial injustice—-the very things that the founders of the genre stressed as well. So there is a definite overlap in ideology between conscious hip-hop and most spoken word. I would say that the main contribution of spoken word is that is has simply provided a platform for those who may not otherwise be heard to express their views on a wide range of topics. As we have seen with Bethke's video (and others), the genre can be used strategically for gospel proclamation.
Who are some of the best spoken word artists out there from a theological and artistic standpoint?
Shai: There are a number of really good Christian spoken word artists. Blair is excellent. (And I don't just say that because she's my wife!) I would also recommend the work of Propaganda, Odd Thomas, and P4CM among others:
Do you think Bethke's video represents a "tipping point" for the genre? Should we expect to see more of this?
Shai: I'm not sure. As Blair mentioned earlier, the genre has been popular on a mainstream level for some time now. And there were Christian spoken word artists releasing videos in a similar vein as Bethke before his went viral. It will be interesting to see if other artists follow suit and begin to release well-crafted, Christ-exalting, gospel-saturated poetry. Let's hope so!