Romans 3:21-26 is a pivotal passage that testifies to the righteousness that belongs to all who believe in Jesus Christ. We sin against a holy God, but he justifies all who have faith in Jesus. The updated NIV reads:
But now apart from the law the righteousness of God has been made known, to which the Law and the Prophets testify. This righteousness is given through faith in Jesus Christ to all who believe. There is no difference between Jew and Gentile, for all have sinned and fall short of the glory of God, and all are justified freely by his grace through the redemption that came by Christ Jesus.  God presented Christ as a sacrifice of atonement, through the shedding of his blood—to be received by faith. He did this to demonstrate his righteousness because in his forbearance he had left the sins committed beforehand unpunished—he did it to demonstrate his righteousness at the present time, so as to be just and the one who justifies those who have faith in Jesus.
How is this glorious exchange possible? How do sinners become righteous? Why does God overlook our offense? According to this passage,  grace comes through the redemption secured by Jesus Christ. He shed his blood as a "sacrifice of atonement," the NIV says in Romans 3:25. But what exactly is this sacrifice of atonement (originally hilasterion in Paul's Greek)? The NIV footnote points us to Leviticus 16:15-16 and says, "The Greek for sacrifice of atonement refers to the atonement cover on the ark of the covenant." The NLT interprets the word as a "sacrifice for sin." The NASB, ESV, and HCSB use the formal term propitiation. The word recurs in Hebrews 2:17, 1 John 2:2, and 1 John 4:10, so it's no isolated concept.
How we understand this word, then, shapes our core understanding of the gospel. And nothing is more important to Christians than this good news that Jesus died for sinners. Several scholars endeavored in the Perspectives on Translation forum at Bible Gateway to translate and even apply what the inspired apostle meant when he wrote hilasterion.
Michael Bird explained that the "noun hilasterion can refer to a type of sacrifice (propitiation or expiation) or the place of sacrifice (the mercy seat on the ark of the covenant)." He proceeded to explain why he thinks the word refers to propitiation, the appeasement of divine wrath against humans. And he referred to Leon Morris's definitive word study, which reveals the meaning of hilasterion in the LXX.
Darrell Bock appealed to NET Bible translator Harold Hoehner, who argued for this rendering of Romans 3:25: "God publicly displayed him at his death as the mercy seat accessible through faith. This was to demonstrate his righteousness because God in his forbearance had passed over the sins previously committed."
Craig Blomberg also cited Morris approvingly. He said the NIV's "sacrifice of atonement" may be the best option for replacing one Greek word, hilasterion, with a clause that makes sense to many English readers. "But I must admit," Blomberg said, "I still have a soft spot in my heart for the old NIV footnote: 'the one who would turn aside his wrath, taking away sin.'"
Praise God that he has presented Jesus Christ as a sacrifice of atonement, appeasing the divine wrath we justly incurred as sinners.
Get a FREE eBook to strengthen your family discipleship!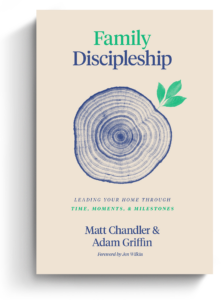 The back-to-school season is stressful for moms and dads. New rhythms of school, sports, and other extracurricular activities can quickly fill up a family's already busy calendar. Where do busy parents look for resources on discipling their family well? Aside from prioritizing church, what else can Christian parents do to instill healthy spiritual habits in their household?
Matt Chandler and Adam Griffin cover these questions and more in Family Discipleship: Leading Your Home through Time, Moments, and Milestones. And we're excited to offer this book to you for FREE as an eBook today.
Click on the link below to get instant access to your FREE Family Discipleship eBook now!