When the police came to take Beth's two children away from her, they gave her papers to explain what was happening. Her estranged husband had accused her of domestic violence for not spraying the children with mosquito repellant, which could lead them to contract West Nile virus.
And she's planning to move to Mexico, he said, even though she wasn't. She didn't even know anybody in Mexico.
In court, Beth tried to tell the judge what was happening, but she didn't have an attorney and the judge was impatient. Her husband's attorney kept objecting to everything she said.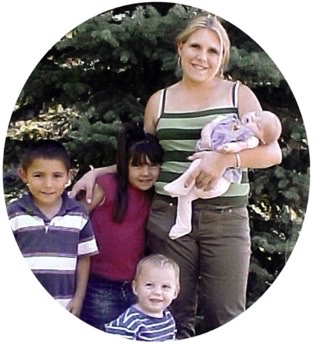 She lost the kids.
But Dad hadn't really wanted them—he had a new girlfriend—so he dropped them off at the laundromat where his mother worked. Though his daughter had special needs, he didn't give her medication.
Devastated and desperate, Beth agreed to go with her mom to a place called Administer Justice. This isn't your typical legal aid clinic—it's more of a pop-up shop in a local church. When you walk in, a volunteer church member prays with you. Another hands you a cup of coffee. Then an attorney prays with you, helps sort your problems, and tells you what to do next. At the end, a church volunteer makes you sure you know what to do, and then calls a few weeks later to see if everything is going all right.
If that sounds like a lot of volunteers—it is. Founder Bruce Strom modeled Administer Justice off the Baptist congregation he grew up in, and he rooted it in the physical buildings of local churches. He took the name from Zechariah 7:9–10: "Administer true justice; show mercy and compassion to one another."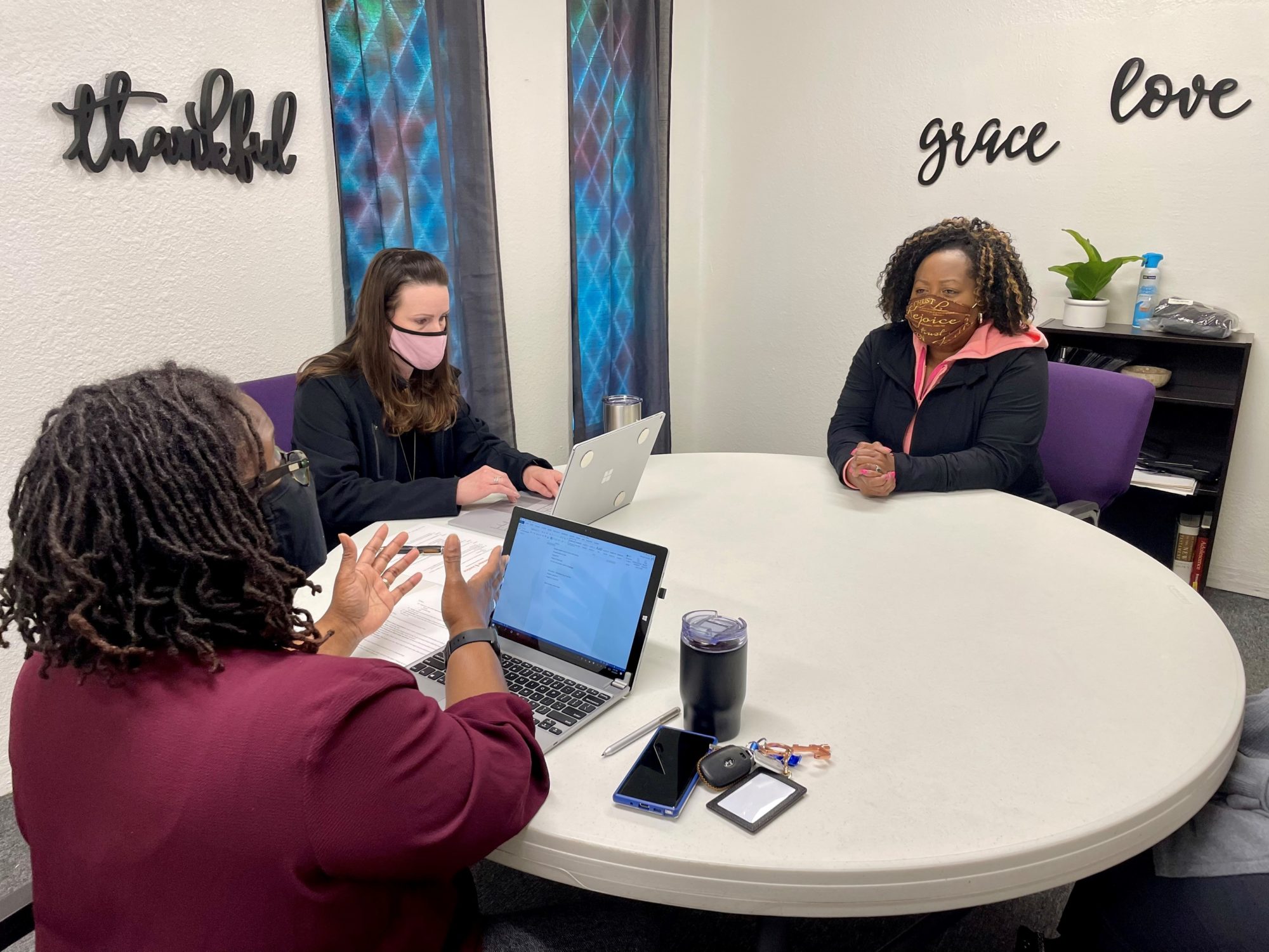 Over the past 20 years, his attorneys (mostly volunteers) have helped Mabel, an 82-year-old woman whose Social Security check was shrinking until she couldn't meet her needs. (Turns out her identity had been stolen.) They helped Juan, who was being charged 45 percent interest on his truck payments. They helped Rita, whose employer was deducting her paycheck for insurance he didn't actually purchase for her—when her husband fell ill, the bills were crushing.
And they helped Beth get her children back. Previously unchurched, now she sings in her church choir.
Administer Justice has expanded to 58 locations, which have helped about 72,000 people so far. This fall, Strom plans to expand to 10 more locations.
"I believe God wired all of us to do justice—look at Micah 6:8," he said. "A lot of people are crying out for justice right now in our country, and what they need is a gospel-centered justice—to see what that looks like and how that is lived out. The more people see it, the more they're drawn to it."
Growing Up Poor
The son of a small-town pastor, Strom knows what it is to be poor.
"You couldn't earn a living that way," he said. "People thought there was a spiritual aspect to poverty—that pastors should be poor. People would bring us food. We lived in a parsonage owned by the church."
Strom loved his dad, and loved what his dad did. But he hated the poverty. And he hated that his dad had to be available to people around the clock.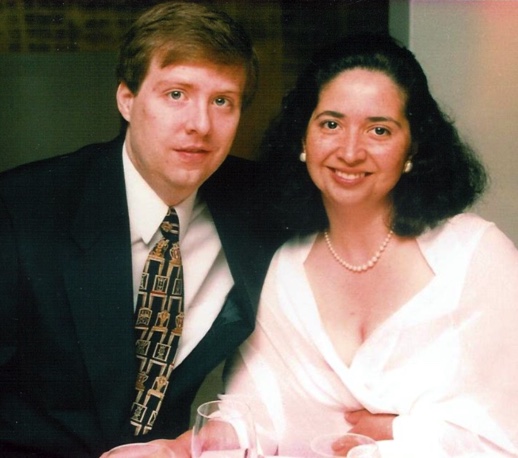 "That is literally why I went to law school," he said. And his plan worked—he graduated with distinction from Judson University, went to the University of Illinois for law school, became a trial lawyer, and started his own firm. When someone wanted to contact him outside of normal business hours, he'd charge them 25 percent more.
"I didn't want to have anything to do with poverty law," Strom said. His firm did take pro bono cases—"I'd make the other attorneys do it"—but mainly so young lawyers could learn the ins and outs of the legal system.
It wasn't that Strom and his wife, Helen, weren't generous. They'd sit down every six months with a checkbook and a pile of letters from ministries asking for support. "I thought that was going to be our future, and I loved it," he said.
Strom's life was going according to plan. He'd pulled himself up by his own bootstraps and achieved the American dream. Everything was Instagram perfect—except one thing.
"I wanted to provide for a family that I wanted God to give me," Strom said. But for seven long years, he and Helen struggled with infertility. "It's a brutal monthly roller coaster. It just wrecks you. It didn't matter how much money I had. I couldn't make us have children."
Angry with God, he started pulling away—less Bible reading, less praying, more sleeping in on Sundays. Worried about him, Helen kept praying: God, please get hold of my husband's heart.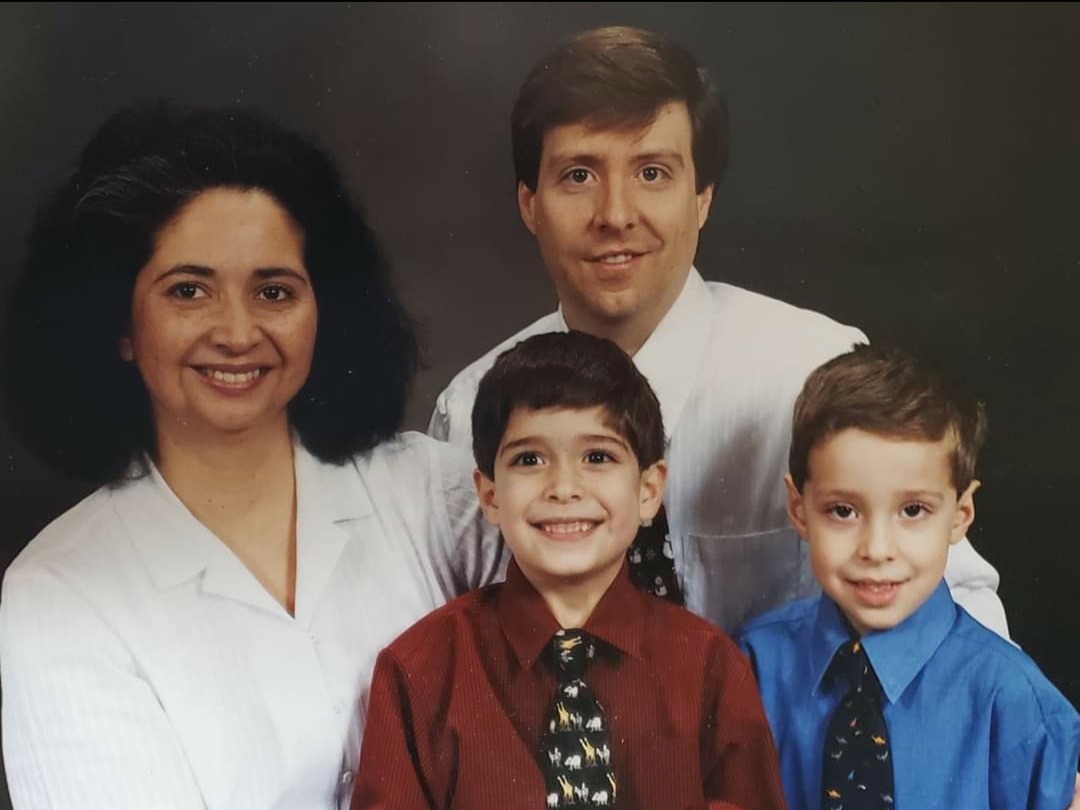 And then, twin heartbeats on an ultrasound. "Leaving the doctor's office, we saw a double rainbow in the sky," Strom remembers. "I just knew—God does keep his promises. His timing isn't ours. His ways aren't ours. But he is a good, loving, faithful God."
His faith renewed, now Strom really did have it all—the relationship with the Lord, the paychecks, the starter house, the marriage, the twins on the way. And maybe he and Helen could've been happy with that, except for all those years of painful waiting.
Because, as Tim Keller will tell you, suffering "will not leave you as you were."
John Robb
When his sons were three months old, Strom headed to a Christian Legal Society conference in Texas. There, he met John Robb, towering 6'6" grandfather of 20. An influential attorney, Robb had come to faith when he was 40 years old.
Then, the instructions in Proverbs to defend the rights of the poor and needy "reverberated for the first time like the noise of a war drum within me," Robb wrote. He wasn't one to sit around: he chaired the American Bar Association's legal aid committee, testified before Congress in favor of funding secular legal aid, and threw himself into creating and supporting Christian legal aid clinics.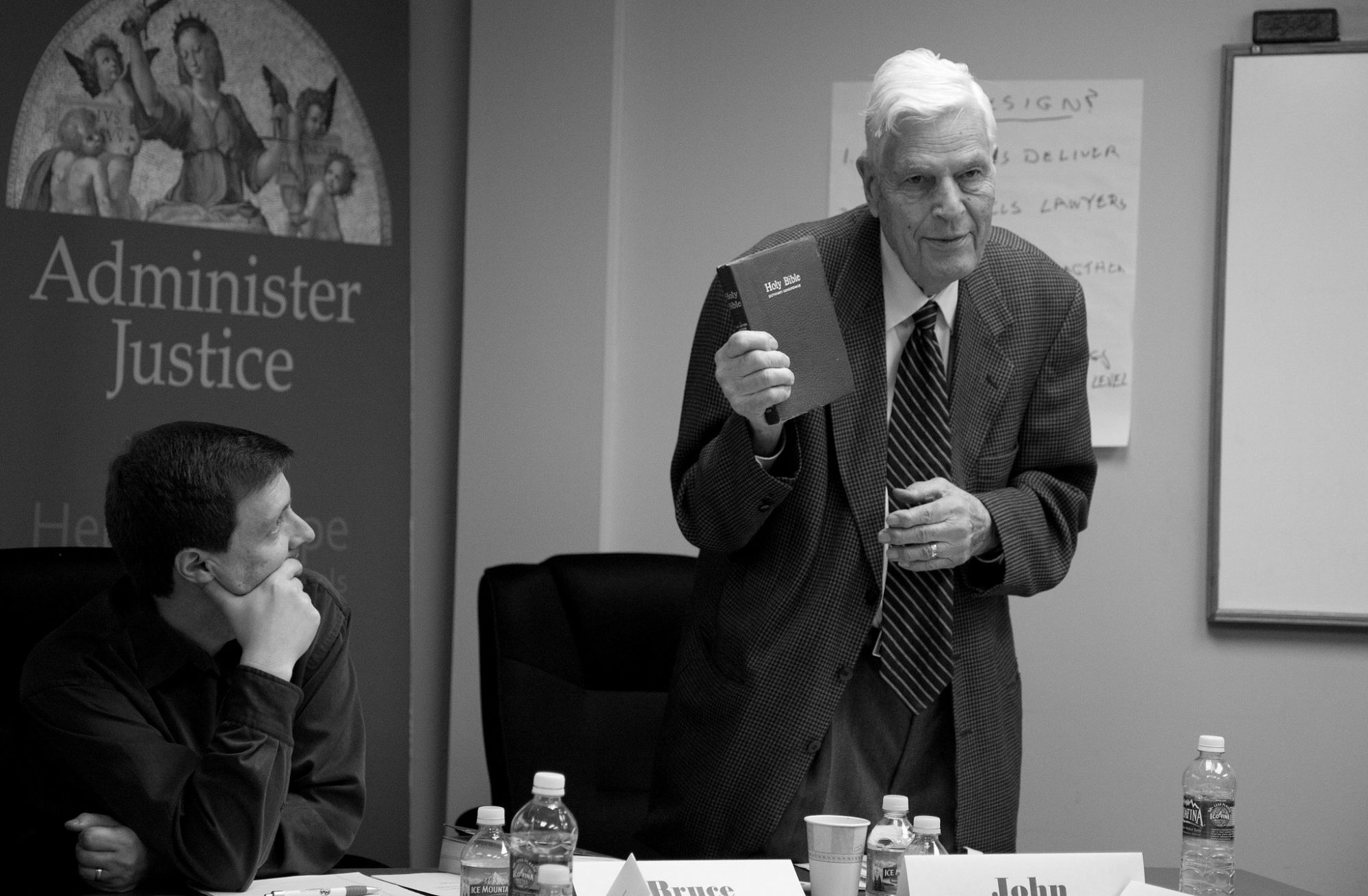 "He was 78 years old and trying to start more legal aid clinics," Strom said. "That kind of energy and excitement and enthusiasm from a guy who looked as ancient as Moses . . . that was highly contagious."
Serious about the Bible and infected with enthusiasm, Strom asked his pastor if he could hold a legal aid clinic one Saturday a month in the church building.
"I didn't know what that was," Fox Valley Church senior pastor Tom Atchison said. "So I did what any proud pastor might do. I said, 'Sounds good. Why don't you write up a plan?'"
The Plan
Strom didn't have a plan.
He headed to the two legal aid clinics he knew of—the Neighborhood Legal Clinic in Indianapolis and the Cabrini Green Legal Aid in Chicago—to see if he could find one.
"Their models were both staff heavy, like government legal aid providers," Strom said. "That would be $100,000 out of the gate, and then more. I didn't have that kind of money."
But he did know how to get along without it. "I believe in the body of Christ at work. I'd grown up in that Baptist tradition, which is very dependent on laity. It was ingrained in me. I wanted to bring that to legal aid."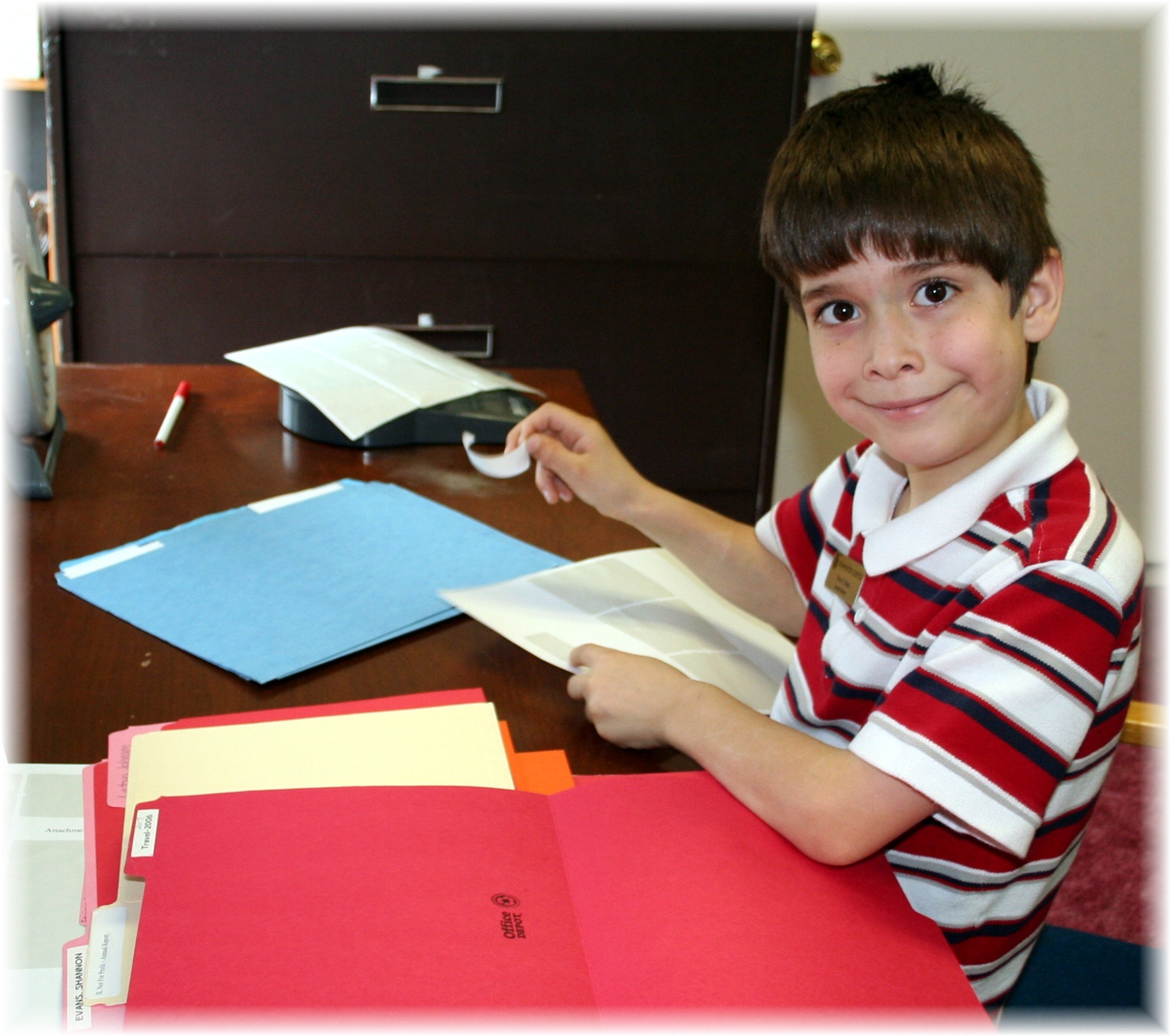 Strom's first volunteer was himself, followed by Helen. She's Puerto Rican, so it wasn't hard for her to reach out to the low-income, largely Hispanic neighborhood that the middle-income, largely white Fox Valley Church sits in. She let them know about the clinic, and that she could interpret for them.
The Stroms set up shop in the church one Saturday a month. "Almost immediately, we were overwhelmed with need," he said. "I had a separate phone put in the church, which could hold 20 messages. Within a week, it was always full and nobody else could get through."
Strom kept plugging away, helping the poor one weekend at a time. His prejudices started crumbling.
"I believed poor people were just abusing welfare," he said. "Even though I'd grown up in rural poverty, I'd run so fast from that I didn't know much about it." Then Administer Justice helped an older woman keep the income she earned from cleaning houses, a single mother win child-support payments, a disabled man prove he'd made his rent payments and shouldn't be evicted. He saw their suffering and remembered his own.
"I began to recognize God uses suffering to draw us closer to himself," Strom said. "I dwelled on Scripture that calls for justice for the vulnerable, and saw how strongly God stands with them."
Saturday after Saturday, Strom was drawn deeper into his work with the poor. But it's easier for a rich man to enter the eye of a needle than leave his lucrative career. Strom needed both a pull and a push.
From the Corner Office to a Closet
Strom's career wasn't just stable—it was stellar. His name was on the firm letterhead. He was respected by other litigation attorneys. He was even mulling over political aspirations. But after he started Administer Justice, everything at the office went to pieces.
"I was in the middle of buying two different buildings, and both fell apart," he said. "I was hiring two different attorneys, and everything fell apart there. The partners were fighting. I found myself in the middle of four lawsuits, so I'm getting sucked into depositions. Everything was falling apart."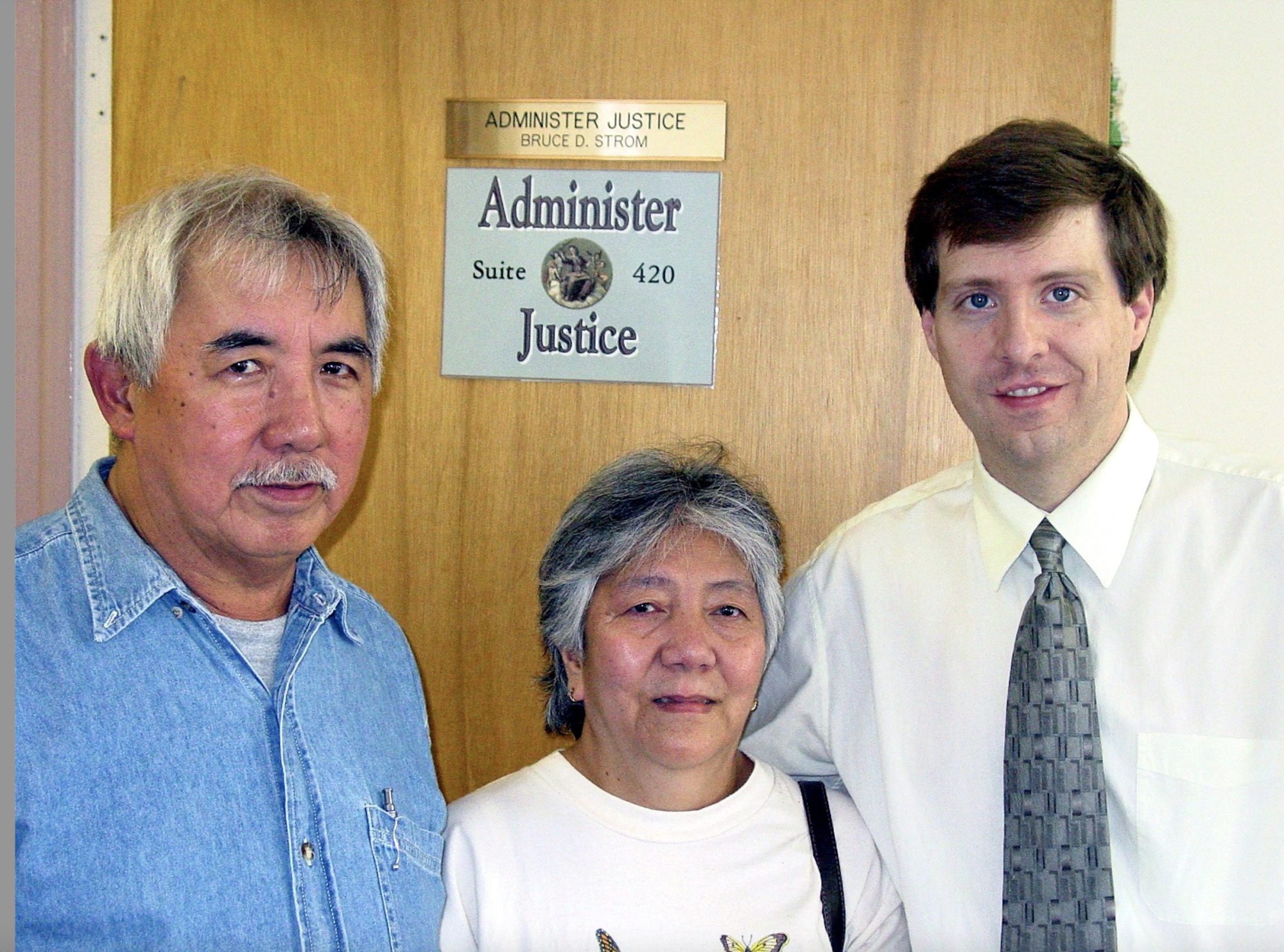 Finally, Jonah-like, Strom leaped overboard. He dissolved his firm to work full-time at Administer Justice. "When I left, everything went calm for the others associated with the firm," he wrote in Gospel Justice.
But that didn't mean things were going swimmingly for Strom. "My father was like, 'Are you crazy? I have twin grandsons, and you have $2,000 in the Administer Justice bank account. And you don't know how to fundraise!'"
He wasn't wrong. Strom was moving from beautiful offices with new technology and lots of assistants to a borrowed 8' by 10' space. He remembers standing there alone, furious because he couldn't get the printer to work on an envelope.
"I was literally shaking my fist at God, yelling to him, 'God, what am I doing here?'" Strom said. "And that was the moment that changed my life, because I sensed his answer: 'My will. For whatever you do for one of the least of these, my brothers, you do unto me.'"
God's Will
God's will doesn't usually come with step-by-step instructions. Strom struggled financially. Right off the bat, his tax bill from winding down the firm was far more than he was making.
"I probably spent a week fretting before I told my wife," he said. "We spent a day praying and literally the next day in the mail came a check from an unknown source. I had seven cents left over of what was needed to pay the bill. You don't believe it until it happens to you."
He tried to raise money through car washes, raffles, silent auctions, and mailings. "I figured out you're supposed to underline certain words—all the tricks they teach you," he said. "But honestly, none of it worked well for me. It's not how God wired me."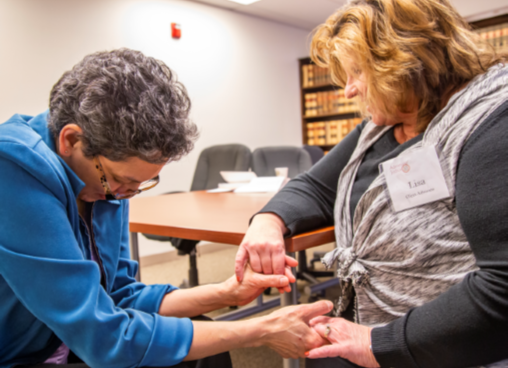 Instead, he started sitting down with people—attorneys, judges, pastors—and explaining the need. More than 70 percent of low-income households experienced a legal issue in the past year, from domestic violence to eviction to child support. Of these problems, 86 percent received "inadequate or no legal help."
"I could share what I saw God doing in the lives of his people, and the great need to bring the gospel to these problems," he said. "There is an authenticity that comes when you're doing the work."
One story he shared was that of Penny Rens, who was living in England when she met her American husband. She followed him back to Chicago, where she stayed with him for eight years.
"We had been divorced for about a year when he used an emergency order of protection to manipulate our joint parenting agreement to take my two children—ages 6 and 8—away from me," she said. Her new boyfriend was a Christian—he'd taken her to Fox Valley Church, where she'd heard and believed the gospel. The boyfriend also knew about Administer Justice.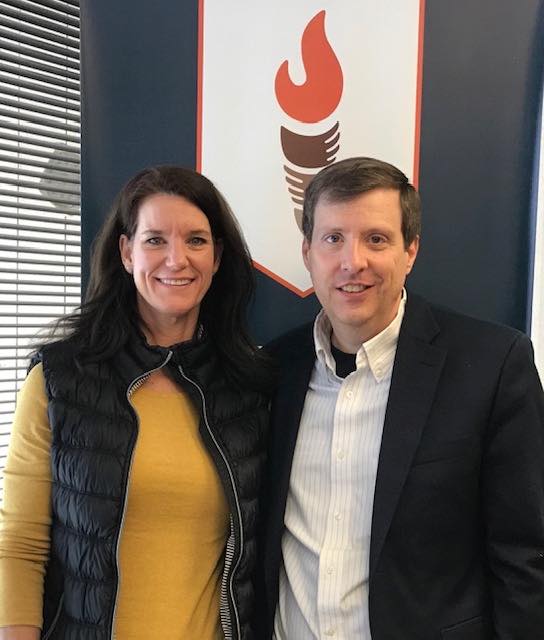 "When I first met Bruce, I was a wreck," Rens said. "I was completely overwhelmed with fear and anxiety. I could barely breathe. Unlike the other attorneys I'd met in the past, Bruce listened with compassion and understanding. I can't tell you the difference that made."
It took two months for Strom to help her get her children back. "That was one of the most difficult trials I've been through," Rens said. "But my church family was wonderful. I was able to complete a divorce recovery program through my church—that's where I learned God's plan of redemption for me, and how to live in light of my redemption in difficult relationships in my life. I'm so thankful Jesus can help us do those hard things."
Rens married her boyfriend, started volunteering for Administer Justice, and then came on board as Strom's first employee.
The Lawyers
Through trial and error, Administer Justice grew. Strom spent weekdays in his tiny office, then rotated around to different area churches for Saturday clinics. He brought on more attorneys, but not to represent clients, the way the other legal aid clinics were doing.
Here's why: if you've ever met an attorney at church or at a party, and asked for advice, you might have gotten some. But you almost certainly got some form of, "Remember, you aren't my client," "I really don't know about that area of the law," or "I'd have to see more details."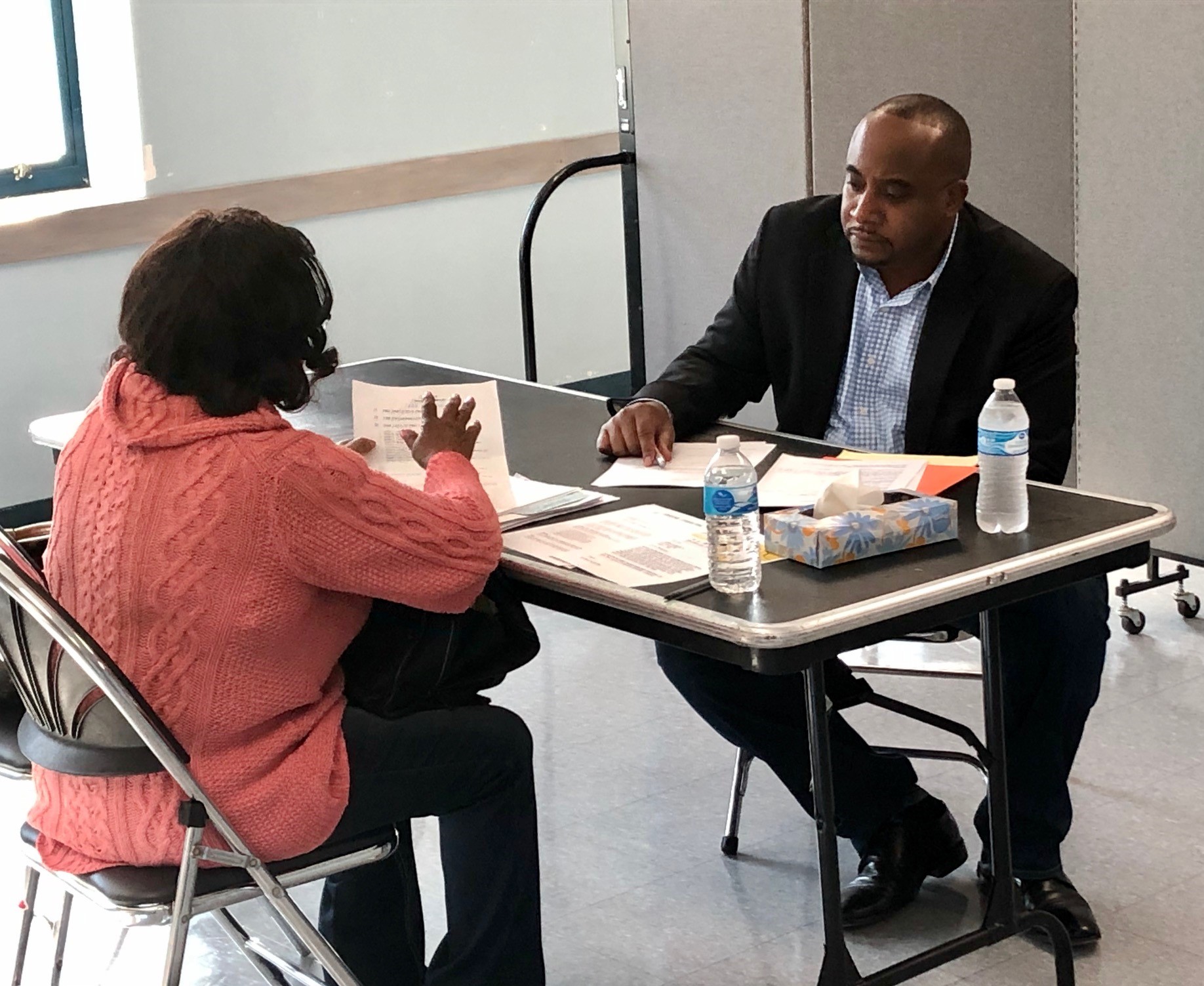 That's not because lawyers are unkind or ungenerous, but because the complexity of American law has grown more and more tangled over time. Sifting through it in a short amount of time is almost impossible. It's also because the costs for being wrong are high. Wrong legal advice can lead to lawsuits; malpractice insurance payouts are higher than they've ever been.
So when Strom brought on his attorneys for a few hours on a Saturday, he made sure they didn't have to carry the loads of those cases forward. He ran his legal aid clinic like an urgent care medical clinic—a quick visit to diagnose what was wrong and chart a path forward.
That way, he could pull in all kinds of attorneys, not just those who specialized in family law or bankruptcies. And he could reach all kinds of clients.
"I'm trying to help a large number of people who need guidance and direction," he said. "It's a small sliver of people who actually need representation in court." Just about two percent, actually—of the 150 million civil legal issues that arise every year, only 4 million are addressed in court. Most can be handled with a little direction from a lawyer on a Saturday morning.
The Volunteers
Even after the fundraising began working, it took a while for Strom to sort out a sustainable model for Administer Justice. At first, he asked the churches to pay some staffing costs, but the price tag was $15,000 a year, which meant he could only work with megachurches. So he tried other models—having Administer Justice run out of local businesses, social service agencies, or libraries.
But none of those was the right fit. So Strom slashed costs—switching out paid staff for volunteers—and raised the client copay from $20 to $30. (He's read When Helping Hurts.) He managed to get Administer Justice down to a single $5,000 starting cost, which let him root it back in local churches.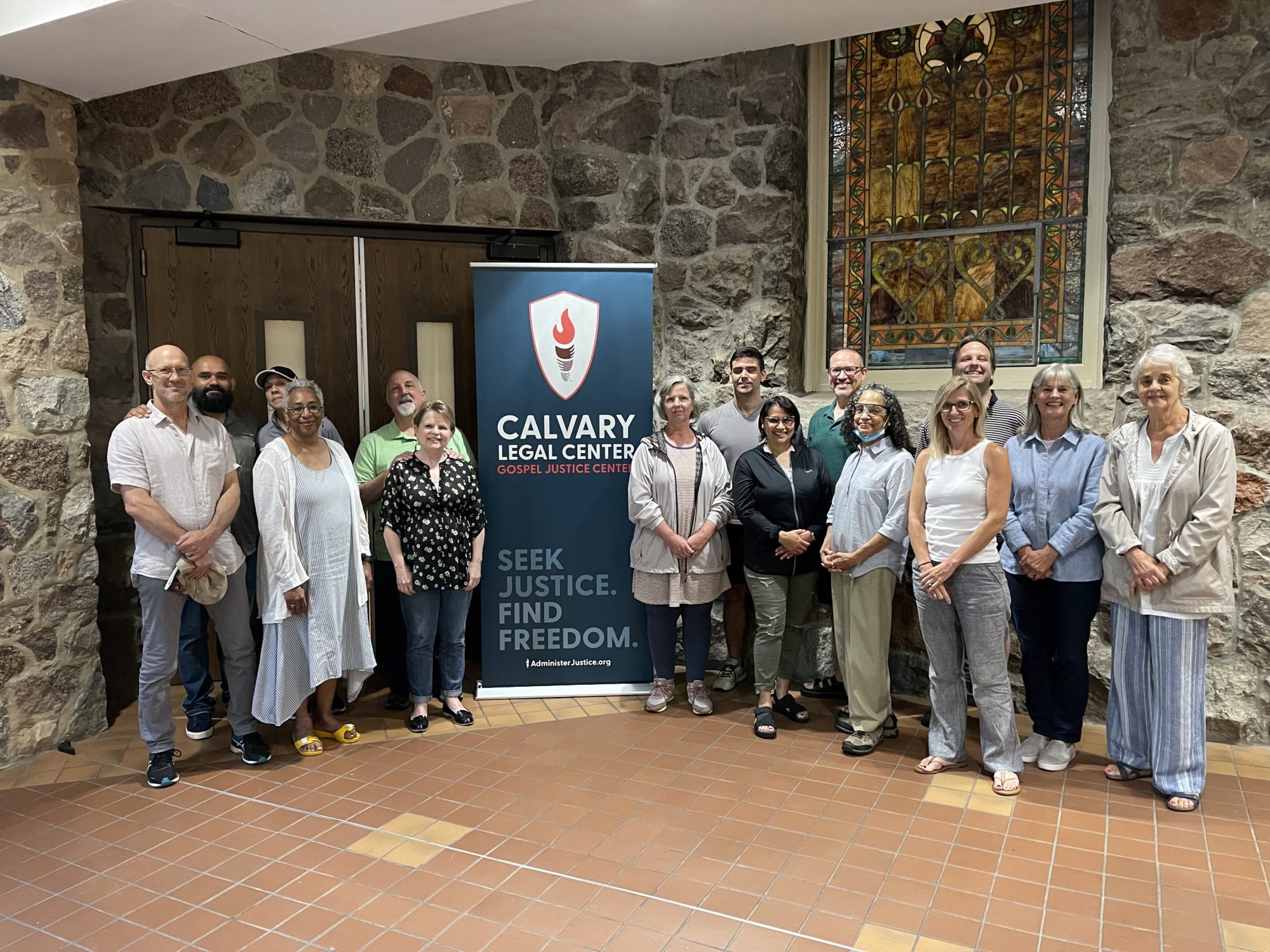 That was good, because he wanted his clients to find justice in church, close to the source of all justice. He wanted to tie churches and neighborhoods together. And he wanted those volunteers.
"One of the first things I did was get on a public bus and go around to the government agencies," Strom said. "It was the worst experience. It takes so long to get around, and then you're treated as subhuman. I wanted to go home, put on my best suit, come back and yell at people. . . . I wanted our place to be completely different."
It is. When a client comes into a church on an Administer Justice Saturday, they're greeted by a church volunteer who assures them they're in the right spot. They're offered coffee, cookies, prayer, and childcare. Another volunteer takes them to the attorney, sits with them the whole time, and debriefs with them afterward—did you understand what she said? No? Me neither. Let's go ask her again.
And then, a few weeks later, another church volunteer gives them a call to see if they've been able to follow the attorney's advice or if they've gotten stuck.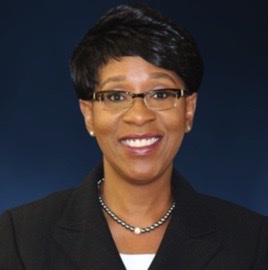 "Clients often come in a way that's hesitant," said attorney Tempia Courts, who has volunteered with Administer Justice since 2016. "They're cautious because in some cases they've tried to get help and been turned down, or they've been searching for a way and can't find it. Their posture is a little bowed, their shoulders slumped, their voice is a little low, they are not looking you directly in the eye."
But by the end, after being heard and receiving a plan to move forward, "they're sitting up straight," she said. "You can hear the change in their voice. Their eyes are up. They're feeling more encouraged."
When a client mentions a church or that they've been praying, she takes the opportunity to press into matters of faith. "Yes, we can talk about the law, but I know there are limits to my capabilities," she said. "It really is the gospel that makes a difference." Administer Justice attorneys and clients talk a lot about God's perfect justice, about forgiveness when that's delayed, about doing hard things with the help of the Holy Spirit.
Sometimes, people come for access to a lawyer and end up joining the church. "I see people who come to church on Saturday who would never come on Sunday," Strom said. "Yet because of the true, genuine care they're shown, you can cut through those barriers and create trust and warmth. No wonder so many return on a Sunday."
More often, clients come for advice and are never heard from them again. But that doesn't bother Strom.
"In Matthew 15, when Jesus provided bread for the four thousand, he did not give it on the condition that they believed he was the Messiah," he wrote in his book. "Many rejected his message. If that is true of Jesus, then certainly it will be true for us, as we follow his example in meeting practical needs while offering lasting hope to all: Muslim and Hindus, Asians and Africans, documented and undocumented, skeptics and backsliders."
Gospel of Hope
Pastor Ed Copeland has been waiting for a justice advocate—somebody who could head up his Administer Justice Saturdays. This year, he got one.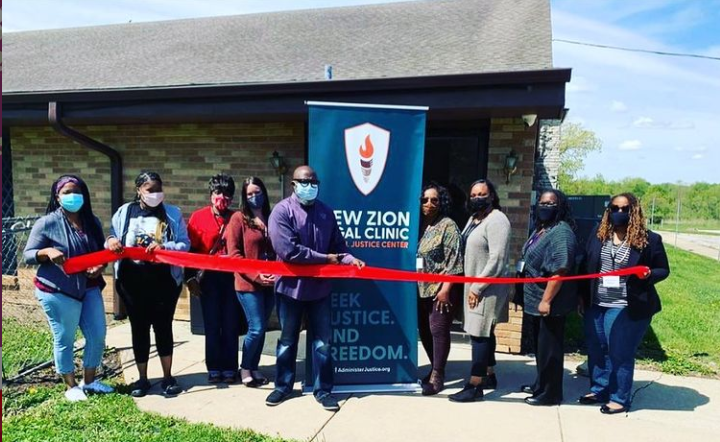 "We opened up in May with four attorneys," said Copeland, who is a former criminal defense attorney and a TGC Council member. "It's going extremely well. We've had every available slot filled every time we've been open."
Copeland loves a good idea when he sees one. He's working to get ten more churches in his small Illinois city to join him, plus churches in Peoria, Illinois, Minneapolis, and Atlanta. Strom wants 1,000 Administer Justice clinics across the country; Copeland wants that many in Illinois.
"We spent too much time debating justice, as opposed to doing it," he said. "I can't control the national conversation, but I can work in my neighborhood."
I can't control the national conversation, but I can work in my neighborhood.
He knows that legal problems are often a symptom of a larger wrong. Sometimes that's mental health, or generational poverty, or broken families. But those troubles, too, are just symptoms.
"The gospel and justice and compassion have to come to the fore," he said. "Isn't the gospel a gospel of hope?"