"In Ukraine right now, we are not counting the days until spring," my friend Galyna told me from the darkness of her basement. "We are counting days of war." As the Ukraine in-country coordinator for the international Joni and Friends ministry to people with disabilities, Galyna has been working to evacuate some of Ukraine's most vulnerable people from their war-torn country.
With many people desperate to flee Ukraine, Galyna and her team must make hard choices about whom to evacuate first. They've started with the most vulnerable: people with quadriplegia or cerebral palsy who use wheelchairs, and children with disabilities.
"We are still alive," Galyna said. "At first, we were frightened, but then we saw our heroes step up to the plate against Russian aggression and it emboldened us all."
Galyna just led a fourth caravan—57 people total, including people with disabilities and their caregivers—to safety across the Polish border. Last week, a caravan rescued 47 people from Kyiv, Zhytomyr, Kryvyj Rig, and Volyn.
Across the border, Anna, a Joni and Friends partner in Poland, is coordinating care for refugees. With support from Joni and Friends, Anna's team is guiding refugees to Germany and the Netherlands, and providing food, shelter, hygiene products, and medical necessities while arranging for more permanent housing and care. "God is faithful," Anna said. "He gives help and supplies." Often those supplies are as simple yet as critical as petrol to fuel the buses transporting the disabled to safety.
Help for the Vulnerable
'When there is a bombing, the people with quadriplegia who live on the ninth floor cannot physically rush downstairs or find someone to take them to safety.'
Galyna is working with her team and network of churches to reach isolated Ukrainians with disabilities. "People with disabilities are especially vulnerable," she said. "And when there is a bombing, the people with quadriplegia who live on the ninth floor cannot physically rush downstairs or find someone to take them to safety."
Recent estimates suggest there are at least 2.7 million people with disabilities living in Ukraine. During wars, people with disabilities are often forgotten and abandoned. The United Nations reports that "persons with disabilities, when compared to the general population, face higher risks in conflict situations and natural disasters. Research shows that the mortality rate among persons with disabilities tends to be two to four times higher than among the general population."
When I served on the U.S. State Department's Disability Advisory Committee, we saw atrocities forced upon people with disabilities caught in the grip of war. The pattern is repeated time and again in embattled countries around the world.
Amid reports of growing civilian casualties and atrocities committed by Russian troops, many parties are calling upon leaders in Ukraine, Russia, and the European Union to honor disabilities protections written into international humanitarian law. While calls for reform and top-down protection for the disability community hold promise, these appeals don't change the dire circumstances that Ukrainians with disabilities face today.
Galyna and the Joni and Friends team are working on plans for additional evacuations, particularly for people caught in hot spots of violence in eastern Ukraine. But amid intensifying Russian attacks, including deadly assaults on civilians, every trip to the border poses risks, and humanitarian corridors that were supposed to protect civilians have proven unsafe.
"I called one lady from a city where there is strong shooting and shelling," Galyna said. "I asked if she will be willing to leave. She lives on the 14th floor with her son, who is in a wheelchair. She said, 'I'm not ready to leave because they are shooting civilian cars that are leaving the city.'" Galyna said she prays for the mother "because she is still there on the 14th floor with her son, and they are running out of food."
Despite evacuation efforts, many vulnerable Ukrainians, especially those with disabilities, will not have the chance to leave the country. Galyna said such families don't have electricity, hot water, gas, or food, and that Russian troops block people trying to help: "And the worst thing is that they won't let the people be evacuated. That's the worst thing. I don't understand."
Staying for the Gospel
Galyna's team has begun receiving supplies from abroad, including aid from Germany, and they're trying to transport the supplies to a town near Kyiv. She asked for prayers that the needed items will get through, and that those delivering relief will remain safe because "they can be shot as well."
'Am I afraid? Yes. But the right decisions are always the most difficult ones. I must stay here.'
"Am I afraid? Yes," Galyna said. "But the right decisions are always the most difficult ones. I must stay here." Of her fellow Ukrainians who have chosen not to leave the country, she said, "Everybody here is a hero. We are each a drop of water, but together we make that ocean."
She also shared a message of thanks for the people around the world who have rallied to support Ukraine with funding, prayers, and solidarity, and she added: "We just want to remain in Ukraine to keep sharing the gospel, to keep serving the people, to continue doing what we do—and just to be a blessing to other nations. . . . And I do hope that one day, we will be able to invite you to Ukraine—that we will be rebuilt, renewed."
Get a FREE eBook to strengthen your family discipleship!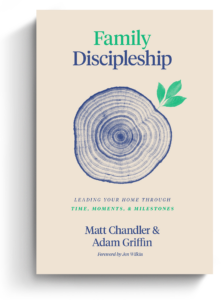 The back-to-school season is stressful for moms and dads. New rhythms of school, sports, and other extracurricular activities can quickly fill up a family's already busy calendar. Where do busy parents look for resources on discipling their family well? Aside from prioritizing church, what else can Christian parents do to instill healthy spiritual habits in their household?
Matt Chandler and Adam Griffin cover these questions and more in Family Discipleship: Leading Your Home through Time, Moments, and Milestones. And we're excited to offer this book to you for FREE as an eBook today.
Click on the link below to get instant access to your FREE Family Discipleship eBook now!