Wenhong didn't think anything of it; everyone got baptized in the dark in China in the 1980s.
She had come to Christ two years before, after secret Bible studies with her English teacher from America. When Wenhong attempted to connect with the one other Chinese Christian she knew—a high school teacher—she was immediately shut down. ("She said, 'How do you know? Let's be quiet. Don't say anything about it,'" Wenhong recalls. "She was so scared.")
Wenhong's father told her that if she talked about God, he'd kick her out of the house. So she quietly hid her Bible under her pillow and read once everyone else fell asleep.
After college, she moved to the city of Guangzhou to be near her American boyfriend (now her husband of 28 years), and he connected her with an international church. She told them she wanted to be baptized.
"On a cold November night, at 8 p.m., we were supposed to meet in the parking lot outside of a prearranged hotel, and then get on a van, and they would drive us all the way outside of the city and baptize us in the reservoir," she said. "But we didn't know anything different. I thought everyone was baptized like that."
Wenhong remembers house-church meetings in living rooms, with the curtains pulled tight. She remembers walking past a group of people exercising in a Shanghai park in the 1990s and realizing they were actually a house church disguising their fellowship time.
So when Wenhong walked into the auditorium of the Reformation 500 conference in Hong Kong this spring, and saw more than 3,500 attendees (most from mainland China) gathering and worshiping in the open, she could not stop her tears.
"It's amazing to me that they even got out of the country," she said. "There is such a difference, an openness. Wow."
"You just stood there thinking, Is this really happening?" China Source senior vice president Joann Pittman said. "Ten years ago, nobody would even have imagined such a thing was possible."
The conference was hosted by the Chinese church-planting Grace to City network, and was their largest yet. The 3,533 attendees came from 15 different countries. About 77 percent were from unregistered churches in mainland China, said China Partnership's Jeff Kyle, who helped organize the conference. Of the nine main speakers, six were Chinese.
One of the American speakers was John Piper, on his first trip to Hong Kong and China.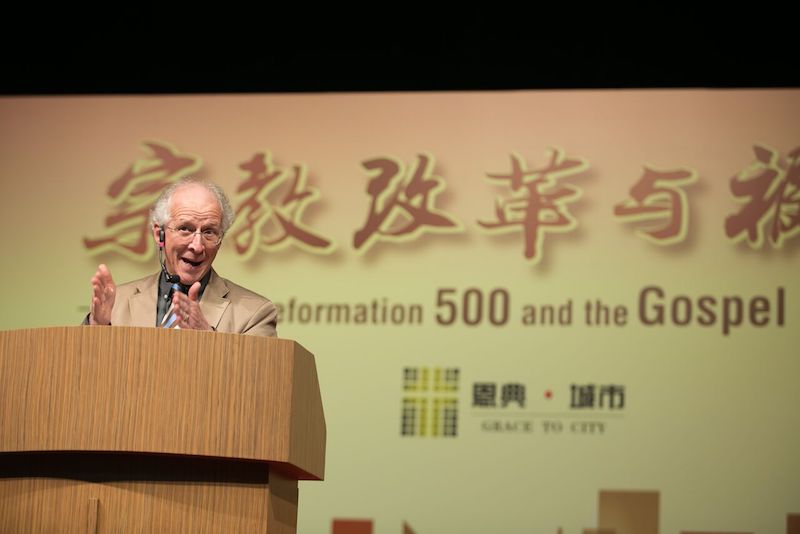 "It was a once-in-a-lifetime gift to be part of such a gathering," he told TGC. "I pray that the Lord may blow with his Spirit on the ripples from the pebbles we dropped in that pond."
Seven years ago, Piper was scheduled to speak to Chinese house church pastors, among others, at another international conference.
Piper made it; the pastors didn't.
"My memory of Cape Town 2010 (the Lausanne Conference on World Evangelization) is still pretty fresh, where we learned that the 200 church leaders from mainland China were refused visas to attend," he said.
Anticipation was high for expected Chinese house-church participation at Lausanne; it was to be their first public, international appearance since Communists took over the country in 1949. But when the pastors showed up at airports across China, authorities stopped them at customs. The government charged that the private invitations were "a rude interference in Chinese religious affairs." (The official Three-Self Patriotic Movement Church leadership was not invited when they could not commit to evangelism, Open Doors reported.)
"So my first thought is that it seems like a sea change in official leniency that several thousand mainland church leaders would be permitted to attend a conference where the Christian gospel is just as clear and global missions is just as urgent," Piper said.
But things aren't that simple, he said.
"It might have been the timing—maybe it wasn't a sensitive time," Pittman said. "Maybe the government was preoccupied with other things. Somebody might try something like this in October, and it would go completely differently. Maybe if you tried it eight years ago, it wouldn't happen—but now you can."
Persecution
China's persecution of Christians spiked during the Cultural Revolution of the 1960s and 1970s, with churches destroyed and pastors imprisoned or killed. When the government began loosening economic and social restrictions in the early 1980s, crackdowns on religion lessened also.
"The government sets the boundaries within which you can practice," said Pittman, who has written about the often chameleonic nature of life in China. "The problem is that those boundaries are rubber and invisible. You only know the boundary when you hit it."
Many of those boundaries are drawn by local authorities, who are fairly autonomous in how they interpret national laws. Even then, the policies aren't as important as how strongly they're enforced, she said.
From 2014 to 2016, one eastern province tore crosses off more than 1,000 official and unofficial churches. In early 2017, a northeastern province expelled dozens of South Korean missionaries without explanation (though most blamed China's opposition to the American missile shield planned for Seoul). And in 2015, more than 150 Christian human-rights lawyers across the country were arrested for defending Christians and other minorities.
Some worry those incidents reflect Chinese president Xi Jinping's call for tighter control on religion, which is playing out in proposed new restrictions disallowing many religious activities—such as providing a venue for religious services, publishing any religious materials, or accepting any donations for religion—unless approved by the State Administration for Religious Affairs.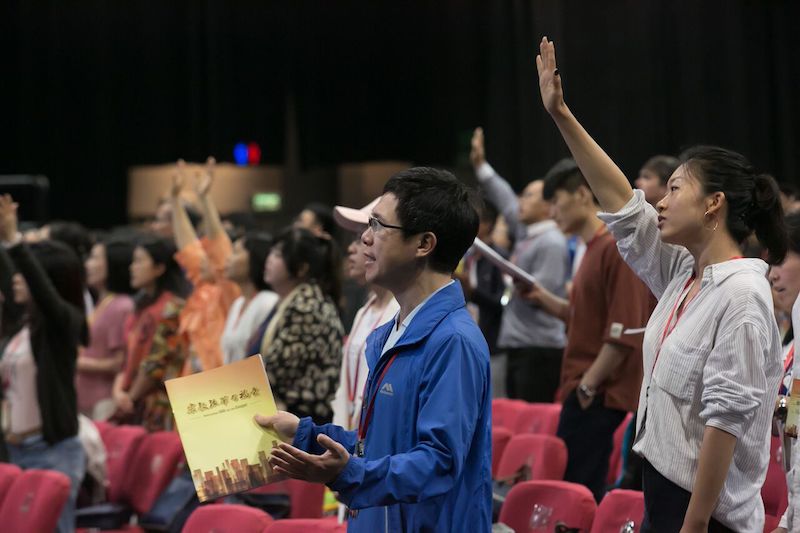 "If we look at the news reports, you can say, 'Oh, wow, things are getting tighter,'" Pittman said. "And yet, it still seems to me it's pretty status quo. . . . The tightening is there, but I would not say I have seen much evidence yet that the actual space has started to shrink."
After all, not one of the Chinese laypeople and church leaders signed up for the Reformation 500 conference was prevented by authorities from attending, Kyle said. At the first Grace to City conference, in 2014, about a dozen were stopped.
This conference, like virtually all unregistered church activities, wasn't secret from the government. Many pastors of unregistered churches have relationships with their local authorities, often providing requested updates on church activities, conferences, or travel plans.
That transparency on the part of house churches has only emerged in the past dozen years, Pittman said, and came about as house churches popped up among the educated, wealthier, urban Christians.
"The urban house-church movement is made up of young people who have grown up in the more open era," she said. "They didn't have the persecution the rural church experienced. There are [unregistered] churches in Beijing and Shanghai that have websites. . . . It's a very different environment."
Three-Year Growth
Grace to City started five years ago, a network of Chinese churches and pastors who "have a common purpose and theological vision of the gospel and the city," Kyle said. Grace to City focuses on pastoral training and church planting.
"For several years, pastors in Grace to City had been gathering in different locations," Kyle said. To celebrate what God was doing, they decided to shoot for a much larger conference in Hong Kong. They pulled it off in 2014, drawing about 1,500 people all over Asia, two-thirds of them from China.
Back then, Grace to City played things a little closer to the chest. Tim Keller was the only foreign speaker, and attendance was limited to an invitation-only audience of mostly pastors and elders.
This year, attendance restrictions were loosened; anyone could register online. Piper, author Paul Tripp, and Third Millennium Ministries founder and president Richard Pratt were the headliners, but Chinese pastors gave the plenary talks on the five solas of the Reformation, sat on the panel discussions, and led the prayer times. The Gospel Coalition, Ligonier Ministries, and Grace to Asia passed out free books by R. C. Sproul, Edmund Clowney, Kevin DeYoung, and John MacArthur—all in Chinese.
"Grace to City is more mature now, and has more experience," Kyle said. "There are definitely more [Chinese leaders capable] of speaking to Reformed theology and gospel-centered ministry than there were 20 years ago."
That the conferences were "for Chinese, by Chinese" is another sign of maturity in the church there; "it shows less dependence on the West and the Western church and more ownership for their faith and church," he said.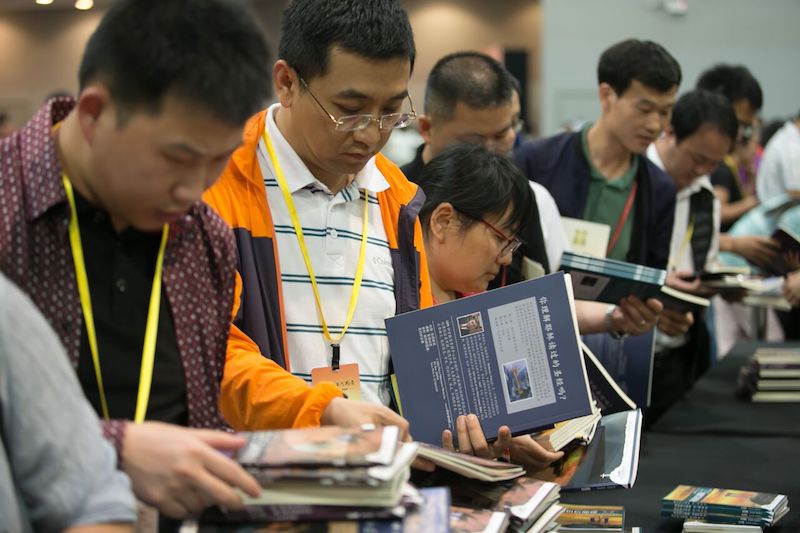 Chinese attendees came from more than 300 churches, from about 125 different cities. "Last time, it felt like a gathering of acquaintances and friends," Kyle said. This time, after three more years of meetings and conferences together, "there was a sense of brotherhood and sisterhood—it felt like family."
One of those brothers was a Chinese house-church pastor who was floundering when he came to the 2014 conference. (For security reasons, house-church pastors generally do not share their names publicly.) "During that conference I was convicted by the gospel messages that were preached," wrote the pastor, who continued to participate in Grace to City programs.
This year, he brought more than 30 people—a quarter of his congregation—with him to the conference.
"Over the course of the conference, I was most touched by Piper," he wrote. "His passion for the glory of God especially impassioned me. I saw my own ignorance and negligence of God's glory. Piper's exposition on the glory of God, the renewal of the mind, the transformation of the heart, and the stirring of emotions has been inspiring and illuminating to me."
Piper, in turn, was amazed "at the explicit affirmation of Reformed theology."
"My main emotion was a sense of unworthiness, primarily because I knew that most of these pastors serve under circumstances more precarious than mine, and have probably tasted threats and challenges foreign to my experience," Piper said. "My only warrant and confidence in these situations is the conviction that I have seen some clear and vastly important things in the Scriptures, and believe the Word of God to be universally relevant."
On the last night of the conference, Chinese pastor Wang Yi invited those who wanted to dedicate their lives to full-time ministry to stand up. More than 250 did.
And then, "all over the auditorium, [attendees] put their hands and faces to the floor and prayed in unison for about 15 minutes," Taiwanese pastor Dennis Brown wrote. "It was glorious."
Reformation and China
China needs the Reformation every bit as much as the West, several Chinese leaders said.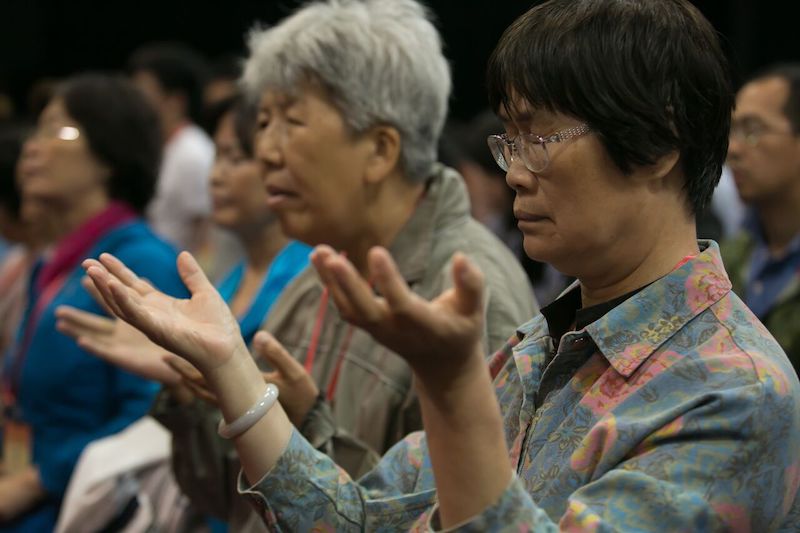 "The house churches of China today have a tremendous need to recover the spirit of Reformation," one pastor said in a conference interview.
"When we think about what happened, especially in the past few decades, we realize that house churches never had an official organization," another said. "The reformers placed emphasis on three areas of reform: doctrine, governance and polity of the church, and worship. These three are the areas that house churches are lacking. Thus, from this perspective, the role of the Reformation as a reference is tremendously significant to house churches in China today."
The Reformation can offer both practical solutions and an escape from pragmatism.
"Five hundred years ago, the Reformation released the Roman Catholic church from the bondage of pragmatism," a different house-church pastor said. "In the same way, the church in China today also faces the bondage of pragmatism that sprang forth from our unique church-state relationship of the past."
The Chinese church sometimes answers questions—What is the church? Who are the ministers? How are we to administer sacraments? How should churches communicate?—not from Scripture, but from how they can best survive in a sometimes hostile state, he said. "In this respect, the five solas of the reformation, especially sola scriptura, has tremendous guidance for the Chinese church."
What's Next
"Conferences like this make us reevaluate—in a good way—how we can bless and come alongside the Chinese church," Kyle said. "It encourages us to see the maturity of the Chinese church, and what we need in return from them, because they have so much to contribute to our faith. . . . The persecution they've faced and their theology on suffering is going to be a great asset and blessing to the Western church."
Organizers are already tossing around ideas for a future conference.
For Wenhong, only one thing would make it better. "Someday, Lord willing, we will have it in [mainland] China," she said. "I'm going to pray for that."