Listening to the albums of Jackson, Tennessee–based music collective Psallos has become a favorite road-tripping activity for my husband and me. As adaptations of whole New Testament epistles, each album is best experienced in a single sitting, when listeners can trace the threads and fully appreciate the complex fabric.
Released on October 21, Philippians is the group's much-anticipated fourth album, coming on the heels of Romans, Hebrews, and Jude. It's every bit as brilliant and engaging as the previous three. Because friendship and gospel partnership are major themes of Paul's letter, Psallos invited four guest artists to contribute: Taylor Leonhardt, Shai Linne, Dennis Parker, and Andrew Peterson. Each sings one track, with regulars Thomas Griffith and Kelsie Edgren singing lead on the others. They and all the instrumentalists are led by Cody Curtis, who composed, wrote lyrics for, orchestrated, and arranged all the music and plays piano on the album. Curtis's facility with moving between diverse musical genres and styles—from surf rock to hip-hop, choral to country, synth-pop to shanty, grunge to tango—is impressive and makes the listening experience one of constant surprise.
Paul's letter to the church at Philippi is his most exuberant, although he wrote it from prison, and Philippians reflects this tone with its overall buoyancy and its through line of joy in all circumstances. It is not without gravitas, however; Paul expresses his readiness for death and reflects on Jesus's debasement.
A River Runs Through It
The central conceit of Philippians is a river, which may seem odd, given that Paul's letter doesn't reference any rivers. But Acts 16:13 describes how the church at Philippi—the oldest Christian community in Europe—was birthed out of a gathering of women at a river outside the city, as the bluesy "O Philippi" commemorates in refrain.
The album is bookended by bluegrass renditions of the spiritual, likely of African American origin, "Down in the River to Pray," which was traditionally sung at river baptisms. Ambient nature sounds—a rushing stream and birdsong (mimicked by the woodwinds)—play in the background.
The album is bookended by bluegrass renditions of the spiritual, likely of African American origin, 'Down in the River to Pray.'
"Will You Go Down?" is much in the same spirit, a guitar-picked song of invitation: "Will you go down to the water's edge?" Perhaps the most charming song on the album, it contextualizes Paul's famous line "I can do all things through him who strengthens me" (Phil. 4:13), which Psallos treats in a contemplative, not sloganeering, manner. The song places this can-do phrase in the framework of Paul's learning to be content "in all things," a contentment made possible only by the power of Christ working in human weakness.
The river serves as a metaphor throughout—of abundant joy, peace, and refreshment. The album's calming rush contrasts with the anxiety-inducing flood of noise delivered to us through nonstop ads, news headlines, traffic reports, stock market data feeds, and entertainment media. 
In Philippians the river also represents the Spirit on the move. The sweep of the album carries us down the river. Listeners are called to enter the flow of the Spirit's activity and be carried to a glorious end. "Cityzens, Pts. 4–5," reminiscent of a maritime work song and with echoes of Psallos's Jude, evokes a crew rowing in tandem. The final track, "The Delta," ends with the crashing of waves and the cry of seagulls as this vessel called the church reaches the ocean of God: Home.
Upside-Down Kingdom of Christ
The Son has come a-ground
And shown the way up is down.
—"Cityzens, Pts. 4–5"
Philippi was a colony of Rome at the time of Paul's writing. On the throne was Emperor Nero, whose reign is associated with tyranny, extravagance, religious persecution, and debauchery. Psallos contrasts the violence and self-aggrandizement of Caesar (any caesar of any empire) with the peacemaking and self-giving of Christ.
The jubilant waterside gathering that kicks off Philippians is interrupted by the sound of militant chanting: "Dominus! Caesar!" Marchlike and menacing, "The Anthem of Rome" that comes a few tracks later praises Caesar as lord and celebrates his subjugating by sword. By contrast, the gentle "Anthem of Zion" confesses as Lord the Christ who gave his life for his people and who shelters them under his wings.
The way of Jesus is beautifully elucidated in Philippians 2:5–11, a passage that's traditionally referred to as the "Hymnos Christou" (Christ Hymn). In singing one of the oldest Christian poems, Psallos sets it in the original Greek, with new music. This piece for chamber choir and string quintet moves somberly through Jesus's incarnation and crucifixion, with the basses sounding the depths of their range on the word thanatos (death). It climaxes on Dio kai ("Therefore also," 2:9)—triple underlined by the cellos—and the subsequent, majestic unfolding of o Theos (God), after which the tone brightens, the vocalists hymning Christ's resurrection and exaltation while the strings frolic. Iisoús (Jesus), the name above all names, is repeated for emphasis.
Paul exhorts the young Philippian believers to pledge their ultimate loyalty to Christ, not Caesar, and to live as citizens of Christ's far-off but coming kingdom. He feels the tug of home, expressing his weary longing in "Of Life and Death," which ends with a quotation from the famous Largo movement of Dvořák's New World Symphony. In 1922, Dvořák's pupil William Arms Fisher adapted the movement, adding lyrics, into a spiritual-like song titled, "Goin' Home." Perhaps that's why Curtis includes it here.
Psallos further explores the idea of heavenly citizenship, exile, and belonging in its two "Cityzens" songs.
What is your identity staked in? is one of the album's implicit themes. What channel is your heart tuned to? 
As a young man, Paul defined himself by his rigorous keeping of Jewish law. He sought to raise himself up by doing "great" things for God and took immense pride in his résumé. Then he was knocked off his feet by Christ and shown the true way, which he then embraced.
Hip-hop artist Shai Linne embodies Paul in all his pre-conversion bravado in the boast rap, 'I Am Better Than You,' an album highlight.
Hip-hop artist Shai Linne embodies Paul in all his pre-conversion bravado in the boast rap, "I Am Better Than You," an album highlight that Linne wrote with Curtis. It's humorous and over-the-top and really catchy.
A turn in the song happens when Paul encounters God's saving grace, which completely shifts the object of his confidence. He joins the chorus of other Christians, those whom he had formerly persecuted, and sings (to the tune of "When I Survey the Wondrous Cross") of how his only boast now is in the merits of Christ.
Another Patch in the Quilt
With these albums, Psallos sews a patchwork quilt that should eventually contain 21 patches, one for each New Testament epistle (support them in this endeavor via Patreon). Placing these patches side by side brings the shared themes of Scripture to the fore. For example, Philippians addresses Christian unity and community, perseverance, humble service, unhealthy media consumption, abiding peace, the fallacy of performance-based righteousness, the conflict that can arise between national values and those of Christ, and rejoicing amid disappointment and suffering—several of which are also present in Romans, Hebrews, and Jude, their reemergence sometimes underscored by recycled musical motifs.
Like the epistles, each Psallos album can stand alone, but its meaning is greatly enhanced when it is engaged alongside the others and seen as part of a larger design.
In a season of sorrow? This FREE eBook will guide you in biblical lament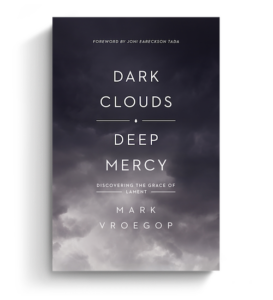 Lament is how we bring our sorrow to God—but it is a neglected dimension of the Christian life for many Christians today. We need to recover the practice of honest spiritual struggle that gives us permission to vocalize our pain and wrestle with our sorrow.
In Dark Clouds, Deep Mercy, pastor and TGC Council member Mark Vroegop explores how the Bible—through the psalms of lament and the book of Lamentations—gives voice to our pain. He invites readers to grieve, struggle, and tap into the rich reservoir of grace and mercy God offers in the darkest moments of our lives.
Click on the link below to get instant access to your FREE Dark Clouds, Deep Mercy eBook now!