When I look back on my growth in faith and understanding the gospel, I have learned the most about Jesus in seasons of suffering. And yet, I regularly pray that I might avoid hardship. And I pray the same for my children almost nightly: Lord, keep them from harm.
There's nothing wrong with these prayerful words. Scripture is abundantly clear that we should ask boldly of our God who is able (James 1:6). But I was convicted by a prayer Kathleen Nielson wrote in Prayers of a Parent for Young Adults. She encourages us to pray not that our children will be kept from suffering, but that the Lord will give them the grace and strength to suffer well.
This life is full of troubles, and we were never promised otherwise. There will be pain, and there will be suffering. This reality gives us an insatiable desire for what is to come when Christ returns. So, rather than praying for a life void of hardship, perhaps we should pray that when we suffer, we will suffer well.
Rather than praying for a life void of hardship, perhaps we should pray that when we suffer, we will suffer well.
But what does suffering well look like, especially for those who feel desperate or alone in their pain? What should we pray, instead of just asking God to protect us and our children from difficulties in this life?
1. Remember You Are 'In Christ'
Pray for the wisdom to remember that we are united and bound to Christ in our pain. Because we are "in Christ" (2 Cor. 5:17), we have God's "power at work within us" (Eph. 3:20). This shatters the notion that we have to conjure superhuman strength to stare down adversity. We don't have the ability. And in a sense, there is great freedom in this reality.
In Christ, we have already been given exactly what we need to walk a difficult journey, no matter how daunting it may seem. It's often when we feel we might break that God reminds us of his divine strength at work in and through us. By embracing this astounding truth, we suffer well in Christ's strength—not in our feeble ability.
2. Trust God's Sovereignty
Pray for faith to trust God's sovereign hand. We suffer well by releasing our desire for control and believing that in God's providence, he has already worked out the most perplexing moments for our good and his glory (Rom. 8:28).
It's not always easy to trust when we feel like we're drowning. But suffering well involves submitting to God's sovereign hand and clinging to the One who will carry us through the very path he has already marked out. There is relief in trusting Jesus as our Protector (Ps. 18:2), who loves beyond understanding (Rom. 8:38–39), and who never makes mistakes (Ps. 18:30).
3. Resist the Temptation to Despair
Pray for protection from despair. This emotion is different from sadness; it's good and right to mourn brokenness in the world. But despair is absent of hope, and there is nothing Satan would love more than to see a believer lose hope in God in a challenging season.
We suffer well by praying against the tempter who is desperate for us to doubt God's goodness. Instead, lean into the promises of Jesus, such as the hope of eternal life (John 3:16), and anticipate a world that will one day be made new (Rev. 21:4).
4. Worship the Savior
Pray for joy-filled energy to pour into worship, even through your tears. Rather than thrusting anger and resentment toward God, pray that you will have eyes to see his holiness in your pain and a heart that turns to worship. Rid yourself of any bottled-up bitterness at the foot of the cross. For it's there we're reminded of Christ's worthiness: by his wounds we are healed (1 Pet. 2:24).
Rid yourself of any bottled-up bitterness at the foot of the cross. For it's there we're reminded of Christ's worthiness: by his wounds we are healed.
Lift your voice in song, and see how the sweet fragrance of praise to our Savior becomes a simultaneous blessing of refreshment. Pore over the Scriptures. Worship by reciting and memorizing the promises God has given to us for times of pain and suffering. Psalm 19:7 reminds us that "the law of the LORD is perfect, reviving the soul."
5. Know Jesus is Near
Pray for the Lord to help you know his nearness. In the valley, we experience the precious and tender care of our Father (Ps. 23). In the darkness, Jesus draws us closer to himself (Ps. 34:18). And as we lean into his perfect embrace, we suffer well.
I recently saw a picture of an adoptive mother tenderly holding her baby's tiny fingers after a surgery on his fragile body. The beauty to behold was not in sweet smiles—they were not visible. The beauty was in the nearness of the mother whose love was evident by the grip on her son's tiny hand.
Our Savior holds tight to our undeserving hand when we trudge through suffering in this life. Even when our fists are clenched, when we feel like we're silently drowning, doubting, and confused in our pain, Jesus whispers, "I am here. I am with you."
These moments in which our faith is strengthened through adversity are life-giving and precious. So pray not to be freed from hardship, but to suffer well through it. Then watch and see how the Lord provides.
In a season of sorrow? This FREE eBook will guide you in biblical lament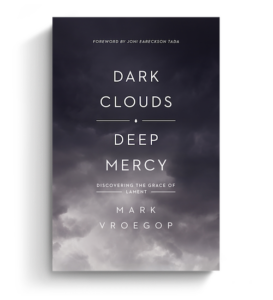 Lament is how we bring our sorrow to God—but it is a neglected dimension of the Christian life for many Christians today. We need to recover the practice of honest spiritual struggle that gives us permission to vocalize our pain and wrestle with our sorrow.
In Dark Clouds, Deep Mercy, pastor and TGC Council member Mark Vroegop explores how the Bible—through the psalms of lament and the book of Lamentations—gives voice to our pain. He invites readers to grieve, struggle, and tap into the rich reservoir of grace and mercy God offers in the darkest moments of our lives.
Click on the link below to get instant access to your FREE Dark Clouds, Deep Mercy eBook now!