The world of campus ministry is a world filled with parachurch ministries. Names like Cru (formerly Campus Crusade for Christ), InterVarsity, and Navigators are household names for most evangelicals. Their founders are some of the past century's heroes of the faith. These ministries are the gold standard of evangelicalism for good reason.
But there was a time when young adults were won to Christ through the church, not through outside help. The beginning of campus ministry as we know it began in the late 1800s at the University of Cambridge. A small group of students began meeting for weekly prayer and accountability. Over time, other groups started to meet on other nearby English campuses. These groups began to partner—hence the name "InterVarsity."
In the States, Bill Bright, inspired by his friend Billy Graham, founded Cru at UCLA in 1951. Cru is now a major evangelical movement on most U.S. campuses and has a significant presence around the world.
I'm quite thankful for this movement. My wife was involved with Cru in college. She grew in her faith, learned to share the gospel with her peers, and even read good books like Wayne Grudem's Systematic Theology and John Piper's Desiring God. It was a wonderful season in her life, for which I thank God.
Nevertheless, the modern-day campus ministry is a recent phenomena, less than 200 years old. It would've been unheard of during, say, the First Great Awakening for students to find their primary fellowship outside the local church. Its newness doesn't make parachurch ministry inherently bad, but it is worth noting.
Assisting, Not Replacing 
The broad concept of parachurch ministry is wonderful. Para in Greek means to come "alongside." By definition and design, then, parachurch groups ought to come alongside churches to provide ministries those churches cannot fulfill alone. (As one person observed, the difference between churches and parachurches is like the difference between families and soccer teams.)
For example, a Christian publisher is a type of parachurch ministry (as is The Gospel Coalition). Books are a tremendous resource that bolsters the ministry of the church. My home and office are filled with them. Yet a local church cannot—and probably should not—spend time picking out paper quality, finding mass-producing machines, researching binding techniques, and advertising books. They need help. This is where a parachurch ministry can step in. Publishers serve the greater mission of the church by doing things the church is unable to. They assist; they don't replace.
My concern with parachurch ministries on college campuses is that they often don't simply come alongside the churce; they replace it. In the middle of the 20th century, men like Bright and Dawson Trotman rightly recognized that churches weren't effectively engaging students. They rightly wanted to fix this problem. If not carefully monitored, however, their ministries may inadvertently strip our Lord's disciple-making mandate from the very institution to which it belongs.
Challenge to the Parachurch
To my parachurch friends, I know you affirm the importance of the local church on paper. This is a good start, but it needs to be more than an affirmation on paper. The default mode of undergraduate students will be to treat your parachurch ministry like church. You must go above and beyond to make sure your ministry funnels students into the church, not away from it.
The default mode of undergraduate students will be to treat your parachurch ministry like church. You must go above and beyond to make sure your ministry funnels students into the church, not away from it.
Cut back on your campus calendar so there's time for students to get involved in a church. Encourage them to serve in the nursery or volunteer in the youth group. Encourage families in your church to adopt a group of students for the year. There's an endless list of possibilities, but you must work to make this happen. Since parachurch ministries are usually more efficient and polished than churches, you'll need to convince students why inolvement with you alone isn't enough.
After all, they're not going to be with you forever. They're going to graduate. To the degree, then, you help to anchor their discipleship in the place it will be for the rest of their lives—the local church—you serve them well.
Challenge to the Church
At this point I can imagine pastors nodding their heads in agreement with me. But let's be humble enough to acknowledge what the parachurch has taught us so well: deliberate, efficient, aggressively evangelistic ministry on a college campus can be wildly successful. The local church has often dropped the ball in this regard. While we might offer theological correctives to our parachurch friends, we haven't exactly provided a better tangible answer.
I regularly get calls from churches across the country asking to hear about our campus ministry. Most are TGC-friendly churches close to college campuses who want more students to attend. When I ask what they're currently doing to engage students, the answer is usually the same: "Nothing." It's not like non-Christian students, or really any kind of non-Christian, will just wake up one morning and decide to attend a healthy church. A healthy church must go find them. This is our mandate from Jesus.
Yes, it's wonderfully true that the ministry of the local church carries out God's Great Commission plan. But it's equally true that this will only happen if the church goes and ministers to students like parachurches do. Congregations must leave the friendly confines of the church building and go into the dorms, the intramural buildings, and the coffee shops to make disciples.
Common Commission 
Men like Bill Bright were right. College campuses a great place for ministry. Thousands of students from all over the world gather in the same place for the singular purpose of learning. They have open minds and lots of free time. It's the perfect place for ministry.
Parachurch, come alongside the local church. We need some help. You've thought through strategies and models we could use. We're thankful for this work. And local church, let's go. Our King has handed us a commission he intends to fulfill primarily through us.
Get a FREE eBook to strengthen your family discipleship!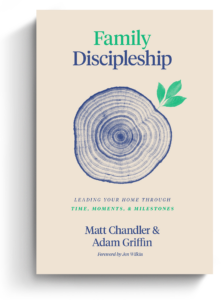 The back-to-school season is stressful for moms and dads. New rhythms of school, sports, and other extracurricular activities can quickly fill up a family's already busy calendar. Where do busy parents look for resources on discipling their family well? Aside from prioritizing church, what else can Christian parents do to instill healthy spiritual habits in their household?
Matt Chandler and Adam Griffin cover these questions and more in Family Discipleship: Leading Your Home through Time, Moments, and Milestones. And we're excited to offer this book to you for FREE as an eBook today.
Click on the link below to get instant access to your FREE Family Discipleship eBook now!