I always look forward to visiting with my husband's uncle around the holidays. He tells the best stories. Whether it was an odd encounter on the subway or a recipe gone wrong, his tales get me laughing so hard it hurts.
There's something about sharing stories that connects us to others. We tell stories to laugh together. We tell stories to help others know us. And we tell stories to preserve history.
But sometimes as we sit around telling stories, we get a little uncomfortable. What started as a lighthearted recounting of experience may turn into a critical review of someone's motives and actions. What started as laughing together may turn into laughing at the expense of someone not present. There can be a fine line between storytelling and gossip. How do we know when we or someone we're listening to has crossed it?
What Is Gossip?
Gossip can be hard to neatly define. It takes many forms and relates not only to what we say but also to our motives for saying it. As a starting point, Jeff Robinson explains that gossip involves "telling a story . . . that communicates bad news about another person behind that person's back." Gossip usually fits into one of two categories: (1) sharing false information or rumors or (2) sharing true information that paints someone in a negative light.
There can be a fine line between storytelling and gossip.
Ephesians 4:29 exhorts us, "Let no corrupting talk come out of your mouths, but only such as is good for building up, as fits the occasion, that it may give grace to those who hear."
Gossip may build up the one who shares it, but it tears down another person. And to those who hear it, gossip gives strife and creates division (Prov. 16:28).
Why Am I Gossiping?
Gossip is usually motivated by self-love and self-promotion, Robinson says. So we're wise to examine our hearts as well as the content of our stories. Even if the bad news is true, why do I want to share it?
Am I trying to impress others with my insider information?
Am I trying to make myself look good by comparison?
Am I harboring resentment or jealousy toward the other person?
Do I simply find the person annoying?
It can be hard to do a careful examination of your own heart while sitting at a crowded kitchen table. So it's critical to stay tethered to your quiet times and to keep clinging to what is good (Rom. 12:9).
How Can I Avoid Gossip?
Since our words are the overflow of our hearts (Matt. 12:34), we should begin by coming before the Lord in repentance, asking him to give us hearts that love him and others above ourselves. We can pray for the people we're tempted to gossip about, that God would bless them and redeem their bad news. We can pray about situations—particular settings or relationships—where we're most tempted to gossip, asking the Lord to set a guard over our mouths (Ps. 141:3).
I've also found a three-tiered filter for my words helpful in avoiding gossip. As we consider stories or information we might want to share this Christmas, or as we reflect on things we hear, we can ask the following questions.
1. Is it true?
If you've ever played the telephone game, you know just how significantly information can change when it passes from one person to another. So just because you heard something from a source you consider reliable doesn't mean the information is true. Before you share a story about someone else, stop and evaluate whether you have confidence that you know the truth of the matter. But even if you witnessed it with your own eyes, we must go on to the second filter.
2. Is it necessary?
Just because something is true, doesn't mean it needs to be shared. It may be true that your sister's husband was fired from his job for misconduct, but is it necessary to give your extended family a detailed account of what he did and how his boss found out? Wouldn't it suffice to say that he lost his job and is seeking new employment? Or maybe it's not necessary to bring up at all.
Sometimes there may be a good reason to share bad news. Perhaps you're visiting your hometown for the holidays and before you head to the Christmas Eve service, your mother mentions that your beloved childhood Sunday school teacher was recently divorced. That information might be necessary for you to know so you don't unknowingly cause this woman pain by asking about her husband. And that leads us to the final question.
3. Is it kind?
As with the divorce situation, it may be kind to share information that allows others to be sensitive as they interact with someone who is suffering or grieving. But this filter not only asks us to consider what we share but how we share it.
Even if something is true and we deem it necessary to say, we should consider how we can share it kindly. This might mean pulling someone aside for a private conversation rather than sharing in front of a large group. It might mean telling a story in a way that presents someone in the best possible light rather than telling it in a way that will get the most laughs. It might mean sharing with an attitude of humility and compassion rather than arrogance and sarcasm.
How Can I Stop Someone Else's Gossip?
What should we do when we're in a conversation and realize someone else is gossiping? First, pray and ask the Lord for wisdom. Depending on the situation and your relationship with the person sharing gossip, there may be a range of appropriate responses.
Even if something is true and we deem it necessary to say, we should consider how we can share it kindly.
You might look for an opportunity to gently turn the conversation toward a different, more appropriate topic. Or you might humbly offer a different perspective on the person being gossiped about. I've found it helpful in situations where someone is being criticized or made fun of to respond with a story about the person that presents her in a positive light. Or I might directly compliment the person: "I've always appreciated how thoughtful Bob is to remember what my kids are interested in and ask them about it."
If you don't think those tactics will work, you might choose to discretely step away and join another conversation. You might even lovingly confront the gossiper in private later, especially if you've noticed a pattern.
But perhaps the best way to stop gossip is to tell stories of beauty and redemption. My husband and I host a New Year's Eve feast for six other couples each year, and we ask them to reflect on the year and come to the table prepared to share how they've seen God at work, great books they've read, new curiosities they've explored, and other people who have blessed them. The result is an evening of conversation where we point each other to "whatever is true, whatever is honorable, whatever is just, whatever is pure, whatever is lovely, whatever is commendable" (Phil. 4:8).
If you're concerned about gossip at holiday gatherings, you don't necessarily need to agonize over every word you'll speak or gear yourself up for an awkward confrontation. Consider "if there is anything worthy of praise" (Phil. 4:8)—and talk about that.
Get a FREE eBook to strengthen your family discipleship!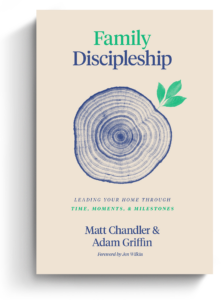 The back-to-school season is stressful for moms and dads. New rhythms of school, sports, and other extracurricular activities can quickly fill up a family's already busy calendar. Where do busy parents look for resources on discipling their family well? Aside from prioritizing church, what else can Christian parents do to instill healthy spiritual habits in their household?
Matt Chandler and Adam Griffin cover these questions and more in Family Discipleship: Leading Your Home through Time, Moments, and Milestones. And we're excited to offer this book to you for FREE as an eBook today.
Click on the link below to get instant access to your FREE Family Discipleship eBook now!