Editors' note:
Take part in TGC's Read the Bible initiative, where we're encouraging Christians and churches to read together through God's Word in a year.
Suppose I were to compare myself with some great biblical prophet (like Isaiah) and conclude I was greater than he. That would seem foolish, not to mention arrogant. The apostle Paul warns us that when we compare ourselves with one another, we're not being wise (2 Cor. 10:12).
But what if Jesus were the one making the comparison? And what if you and I came out looking better in his comparison than in mine? Well, it's not "what if"—Jesus makes this exact kind of comparison in Matthew 11:11: "Truly, I say to you, among those born of women there has arisen no one greater than John the Baptist. Yet the one who is least in the kingdom of heaven is greater than he."
As Christians, we could still argue over which of us is greatest in the kingdom (and we wouldn't be the first; see Mark 9:34). But according to Jesus, even if we were the least we'd still be greater than John. So what does this mean? Let's try to answer this question based on the broader context of Matthew 11:1–19 (cf. Luke 7:18–35).
What Made John So Great?
Jesus's evaluation of John is startling in its own right. If I'd been asked to name the greatest person ever born up to that time, I might've guessed Moses. After all, didn't the finishing editor of Deuteronomy note that there had "not arisen a prophet since in Israel like Moses, whom the LORD knew face to face"? (Deut. 34:10)
And yet, according to Jesus, someone greater than Moses had come; someone who was "more than a prophet" (Matt. 11:9).
Moses didn't get to baptize the Son of God; John did.
Why did Jesus rank John so highly? Answer: because not only was John one of the few historical figures besides Jesus to be predicted in the Old Testament (Matt. 11:10; Mal. 3:1; cf. Isa. 40:3–5; Mal. 4:5–6), but he was the prophet chosen to introduce the Messiah. Moses didn't get to baptize the Son of God; John did (Matt. 3:13–17). Of all the prophets, John alone saw the Messiah up close and helped usher in the kingdom of God. In short, John was greatest born among women because of his proximity and relationship to Jesus.
Why Made John So Lesser?
So how can John possibly be ranked lower than the least in the kingdom? What was he missing that we've been given?
One hint is found in the immediate context. A few verses earlier, an imprisoned John had sent his disciples to ask Jesus, "Are you the one who is to come, or shall we look for another?" (Matt. 11:2–3). This sounds almost shocking. One would think John would be the last person to ask such a question!
But we must remember that despite his great privileges, John was still in a very real sense an Old Testament prophet. True, he stood on the cusp of the kingdom announcing its arrival, seeing it more clearly than any prophet before him (Matt. 3:1). But on this occasion, at least, he still found himself "searching and inquiring carefully what person or time the Spirit of Christ had been indicating" (1 Pet. 1:11).
Despite his great privileges, John was still in a very real sense an Old Testament prophet.
Recall that John had spoken of the Messiah gathering his wheat into the barn and burning the chaff with unquenchable fire (Matt. 3:12). Perhaps he was expecting this judgment to come sooner, and was confused when he didn't see it. But we mustn't be too hard on him. As J. C. Ryle commented,
We little know how many blessed truths of the gospel were at one time seen through a glass darkly, which now appear to us plain as noonday. Our very familiarity with the gospel makes us blind to the extent of our privileges.
Which raises a question: what privileges?
Why Is the Humblest Christian Greater Than John?
Outranking John the Baptist should not be a matter of prideful boasting, but of humble rejoicing. Many prophets and kings longed to see the things we see and didn't see them; to receive what we've received and didn't receive it (Matt. 13:16; Heb. 12:39). If we have received a greater blessing than John, it's only by sheer grace. After all, did we somehow choose to be born in the age of fulfillment, when Christ has brought life and immortality to light (2 Tim. 1:10)?
John prophesied of the One who would baptize God's people with the Holy Spirit (Matt. 3:11). And while John was certainly filled with the Spirit in a real way (Luke 1:15), he didn't live to experience the Pentecost outpouring he had predicted (Acts 2). But even the least new-covenant member is indwelt with the promised Holy Spirit, and lives under the inaugurated kingship of the ascended Christ (Joel 2:28–29; Rom. 8:9; Acts 2:33).
Even the least of us has learned to confess with our mouths basic and beloved realities that, for John, were still future and fuzzy.
Finally, even the least in the kingdom doesn't have to wonder whether Jesus is the one God's people were waiting for, or whether we should look for another. Even the least of us has learned to confess with our mouths basic and beloved realities which, for John, were still future and fuzzy: that Jesus became obedient to death, that God has now highly exalted him, and that there will be a period of delay before he returns to gather the wheat and burn up the chaff (Phil. 2:8–9; Luke 19:11–12).
Ryle was right: "The child who knows the story of the cross possesses a key to religious knowledge which patriarchs and prophets never enjoyed." Not even John the Baptist.
Get a FREE eBook to strengthen your family discipleship!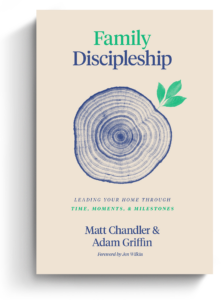 The back-to-school season is stressful for moms and dads. New rhythms of school, sports, and other extracurricular activities can quickly fill up a family's already busy calendar. Where do busy parents look for resources on discipling their family well? Aside from prioritizing church, what else can Christian parents do to instill healthy spiritual habits in their household?
Matt Chandler and Adam Griffin cover these questions and more in Family Discipleship: Leading Your Home through Time, Moments, and Milestones. And we're excited to offer this book to you for FREE as an eBook today.
Click on the link below to get instant access to your FREE Family Discipleship eBook now!