Why should older and younger women in the church form friendships and discipling relationships? Our lives are busy, after all, and it's more relaxing to spend time with those our own age. Moreover, we may wonder what wisdom or encouragement we have to offer each other. Perhaps we desire such relationships but find it hard to develop them.
Many women are asking questions about mentoring and discipleship among women in the church.
Catching the Vision

Let me tell you about a time I visited my friend Kristie. She invited me to a women's tea she and several others had organized for their congregation. After serving refreshments, the hostess asked several attendees to tell stories of God's faithfulness. The stories were personal and compelling. The older women discovered how deeply their stories encouraged the younger women. Connections were made that day, and friendships have continued to develop.
And then there's Sneha, who wanted to learn about discipling younger women but didn't know where to start. So she invited me to join her in meeting with a new believer. Every Saturday for several months the three of us studied Scripture, prayed, and talked about God's calling on our lives. Sneha caught the vision of discipling women with God's Word—and now she meets with several women every week.
Both the Old and New Testaments instruct us to invest in such relationships. Older generations are called to pass along stories of God's faithfulness and challenges to hold fast to the gospel (Deut. 32:7; Ps. 89:1; 2 Tim. 2:2; 4:1–4; 1 Tim. 1:15). Likewise, older generations need encouragement to persevere in their faith (Heb. 6:11; 2 Pet. 3:14). Titus 2:1–6 couldn't be clearer: as part of gospel-centered congregations, older women must model reverent and temperate behavior and teach virtues younger women need to know.
Creating a Culture of Discipleship
A couple of years ago, the elders at our church began leading our congregation in fostering a culture of discipleship—we wanted to mature as a body of believers who help each other learn to follow Christ in the light of his Word. As we considered how to promote this among women, our ideas centered on three verbs: encourage, teach, and model.
​​1. Encourage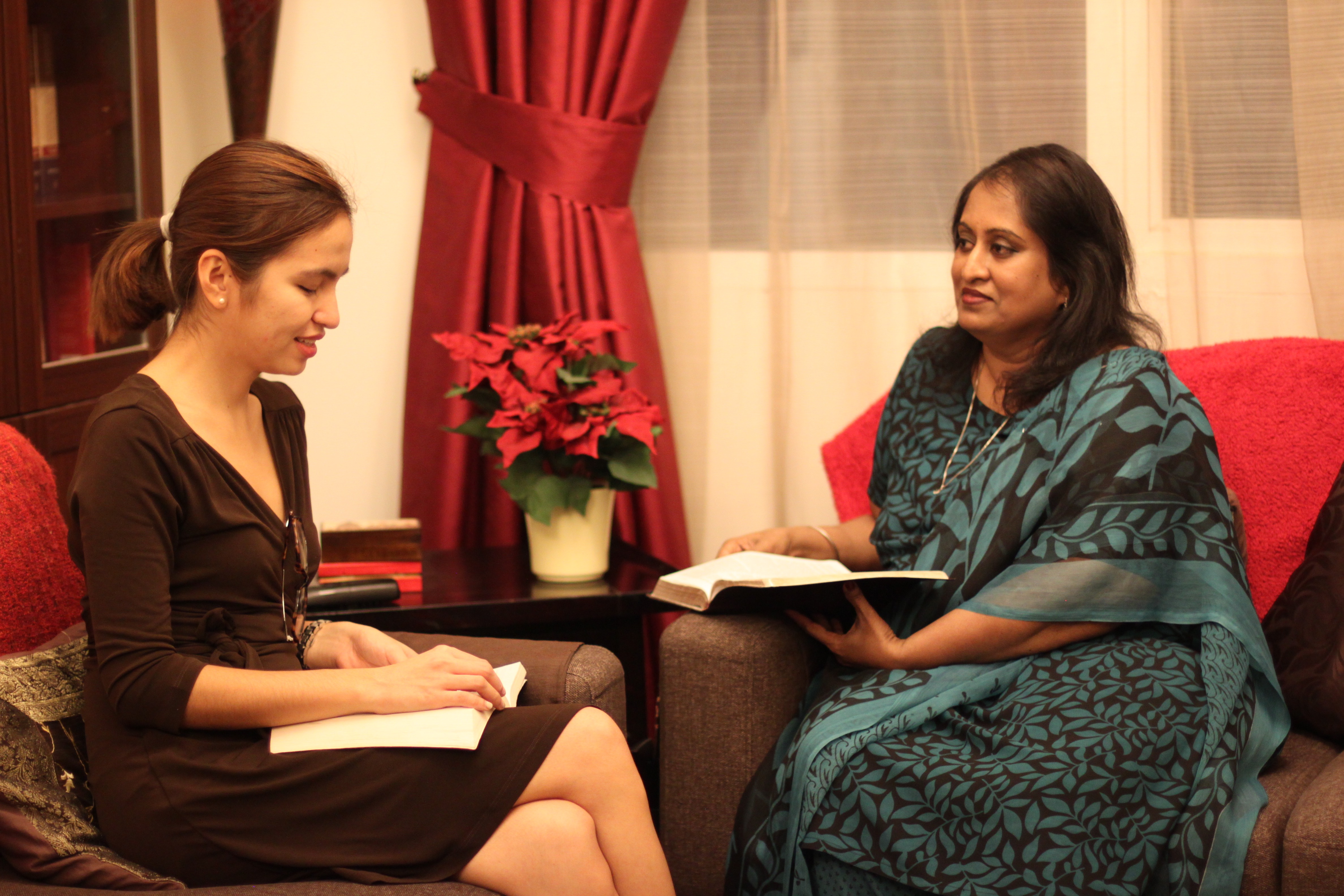 Though most Christian women intuit the value of friendships across generations, we still need a little prodding. Our church simply began talking about it. At women's gatherings we set aside time to share the elders' vision, and encouraged the women to begin praying about how they might reach out to each other. We brought up the value of discipling relationships at Bible studies, at church lunches, when answering questions about women's ministries—basically every chance we had. Women's events, small groups, and ministry teams provided opportunities to meet and start friendships with women outside our homogenous circles.
By God's grace, the idea slowly caught on. Older and younger women began to meet together—opening God's Word, examining their lives in light of it, praying to walk according to it.
We also tried to affirm and support. Our pastors and elders spoke words of encouragement. We suggested good materials to read and study when meeting together, as well as helpful methods for digesting Scripture one-on-one or in small groups. Leaders gently refused to take over messy situations, advising and praying for those already involved instead.
2. Teach
Many women feel they're not ready to disciple someone younger. That may or may not be true. If we're older, we should ask ourselves why we feel unready. Are we taking our own spiritual growth seriously? Have we pondered the ways God has led us through the years? Are we devoting ourselves to studying Scripture, to praying, to learning theology, to reading good books? If so, we can pray for Spirit-led confidence to open ourselves up and share some of what we've been learning. If not, we can freshly devote ourselves to growing in Christ—not just for our own good but for the growth of those around us. Perhaps we can join with another woman to build up a younger one, like Sneha did.
In addition to encouraging personal growth, churches can offer help through teaching and training. Our pastor, for example, set up three six-week classes for women—taught by women—focusing on spiritual disciplines, how to disciple someone, and the verses in Titus 2 specific to women. Others organized women's retreats focusing on these topics. Informal teaching one-on-one or in small groups reinforces what we hear in larger gatherings. By God's grace we're growing in our resolve and ability to do spiritual good to one another, rather than just handing out worldly wisdom.
3. Model
Finally, women need to see good models. The world around us is offering all sorts of models. We in the church, then, ought to demonstrate the fruit of godliness in a whole variety of callings as we share our lives together.
I'm privileged to know women who do this in wonderfully creative ways. I've mentioned Kristie and Sneha. Then there's my friend Joanne, who invited newlyweds and young moms to a morning-out at a nearby beach and spent the time talking about marriage and parenting. She's found many fruitful opportunities to follow up individually.
Sarah and Joanna gathered a group of university girls and put together a panel of mature women to field their questions. Lively discussion ensued, and friendships were formed and have continued.
I've given only a few examples; the possibilities for fostering creative discipleship are endless. (Further helpful and heartfelt discussion on this subject can be found in chapter 7 of Word-Filled Women's Ministry, "Older and Younger: Taking Titus Seriously," by Kristie Anyabwile and Susan Hunt.)
Rich Fruit
Why should older and younger women in the church form friendships and discipling relationships? The most important answer is that the Bible tells us to. And as we develop these friendships, the fruit is rich indeed.
Through discipleship we pass along gospel truth, so that women come to faith and then grow in faith. These relationships testify to us of God's mercies, new every morning and every generation. With a little encouragement, a bit of training, and a growing number of good models, the church of Jesus will be full of women discipling women to serve him faithfully in all the callings of our lives.
---
Editors' note:
This continues a series addressing your specific questions related to ministry among women through the local church. We have a team of women eager to respond to a select number of questions. Please send all questions on the subject of women's ministry to our coordinator for women's initiatives, Mallie Taylor (mallie.taylor [@] thegospelcoalition.org).
Then make sure to pick up a copy of Word-Filled Women's Ministry: Loving and Serving the Church (Crossway, 2015) [review]. This new book casts a vision for ministry among women that's grounded in God's Word, grows in the context of God's people, and aims for the glory of God's Son. You can also now register for our 2016 National Women's Conference, June 16 to 18, in Indianapolis.
Previously in this series:
---