My home state, North Carolina, is bracing for destruction this weekend. Home Depot is out of generators, and Harris Teeter's shelves are bare. Inland hotels are booked up, and flights west are full. Hurricane Florence is on the way.
When I was 12, Hurricane Charley arrived during our annual beach vacation. I remember officials with bullhorns urging evacuation, neighbors nailing plywood to battered window frames, my father's exasperation. We watched as the waves mounted, thundering onto shore.
"We're not going anywhere," Dad announced. "We'll wait it out." The narrow highways climbing to safer ground were gridlocked with panicky tourists, but we were not among them. We waited, daughters dancing with the thrill of danger, mother pacing in anxious prayer.
But how do you pray in a hurricane?
When you live in an area prone to hurricanes, praying against them can feel like you're praying against the snow in Canada. Certainly an all-powerful God can forbid storms, tame the sea, melt the clouds, or cause the earth to rotate backward for a while. But he can also let nature take its course. Christians have a whole book full of miracles, but we know God doesn't always do them. For every miracle there's a disaster, every Moses matched by a Katrina. Will Elijah be matched by Florence? We pray with a foggy sense of what God could do and a fearful sense of what God will do. And we wait.
We pray with a foggy sense of what God could do and a fearful sense of what God will do.
And still we pray. Here are three things to remember as we pray together in the midst of this storm.
1. Pray with Awe
It's hard, as skies grow black and clouds pile ever higher, to deny that we live at the mercy of great power. Those whose houses perch, stilt-legged, on the Outer Banks are perhaps more aware of it than land-lubbers, but even they can ignore the storms that pummel, say, the Philippines. Only when the tsunami rises in our neighborhood do we hit our knees in desperation. As the waters rise, don't miss this chance to marvel at the force that for a moment is unveiled.
As the poet Gerald Manley Hopkins wrote, "The world is charged with the grandeur of God. It will flame out, like shining from shook foil." Watch the skies crackle over Carolina this week and catch a glimpse.
2. Pray with Compassion and Hope
When the epicenter of the storm shifts south, do we remain on our knees for our neighbors? Just because your basement is dry doesn't mean you should flip the channel. Rejoice with those who rejoice next week that their home or office was spared, but weep with those who weep (Rom. 12:15). We should be a people quick with a handkerchief, unafraid to hold the hand of the hurting. After all, we have the bigger picture.
"It's Friday," as the old pastor said, "but Sunday's coming." We have a hope that can weather any storm, no matter how devastating. It's not a naive hope, but cross-shaped. We have seen the worst, and we have seen resurrection.
Hebrews 6:18–19 assures us, "We who have fled for refuge have strong encouragement to hold fast to the hope set before us. We have this as a sure and steadfast anchor of the soul." No matter what Florence brings, our anchor won't budge.
3. Pray with Faith
Isn't it interesting that when Jesus faced a seemingly inevitable hurricane of his own, he prayed it would not strike? "And going a little farther he fell on his face and prayed, saying, 'My Father, if it be possible, let this cup pass from me; nevertheless, not as I will, but as you will'" (Matt. 26:39).
Why would he pray that deliverance? Of course he knew what was ahead. Was he reminding us that God knows our weakness, and we can lay it honestly before him? Or that it's all right to ask for the impossible? Was he remembering the time the Red Sea parted or the time he calmed the waves? Nothing is impossible for God, as Jesus, the God-man, was well aware. And yet he prayed with surrender: "Not my will, Father, but yours be done." His faith wasn't in the miracle, but in the miracle-worker.
What God does, Jesus says, is always best, though it may be dark and terrifying, though it may rip the roof right off the house. It isn't arbitrary to him, or unexpected, and it's always ultimately good. Our losses, least to greatest, matter to him now—and thankfully pale in light of eternity:
So we do not lose heart. Though our outer self is wasting away, our inner self is being renewed day by day. For this light momentary affliction is preparing for us an eternal weight of glory beyond all comparison, as we look not to the things that are seen but to the things that are unseen. For the things that are seen are transient, but the things that are unseen are eternal. (2 Cor. 4:16–18)
Get a FREE eBook to strengthen your family discipleship!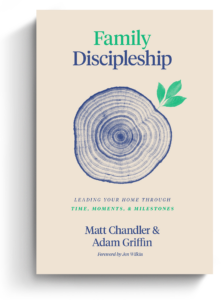 The back-to-school season is stressful for moms and dads. New rhythms of school, sports, and other extracurricular activities can quickly fill up a family's already busy calendar. Where do busy parents look for resources on discipling their family well? Aside from prioritizing church, what else can Christian parents do to instill healthy spiritual habits in their household?
Matt Chandler and Adam Griffin cover these questions and more in Family Discipleship: Leading Your Home through Time, Moments, and Milestones. And we're excited to offer this book to you for FREE as an eBook today.
Click on the link below to get instant access to your FREE Family Discipleship eBook now!