About two weeks ago, a small-town pastor in Montana noticed that the governor of Idaho had issued guidelines for reopening the state.
Well, that's right next door, Craig Wilson thought. He pulled together a dozen questions for his elder board: How should we configure the seating in the sanctuary? Should we keep the front doors open, or enlist door openers? How should the use of bathrooms be operated?
Wilson's questions are being asked by pastors all across the country. But since no two churches are exactly alike, it can be hard to follow someone else's plan or example.
However, it can be useful to see how other church leaders are thinking through reopening. TGC talked to six pastors—in the city and in the country, in big churches and small, in every region of the country—to see how they're getting ready to physically regather God's people.
******
Name: Craig Wilson
Church: Mission Bible Fellowship
Location: Seeley Lake, Montana (population 2,000)
Average Attendance: 60 to 70
Giving: With no online giving set up, there was a dip at first, which picked up as people dropped off checks at church.
Before reopening the church, Wilson's elder board talked about having Sunday school (not yet), sharing coffee after the service (maybe in the near future), and whether Wilson himself should wear a mask (he did during the greeting time, but not while preaching).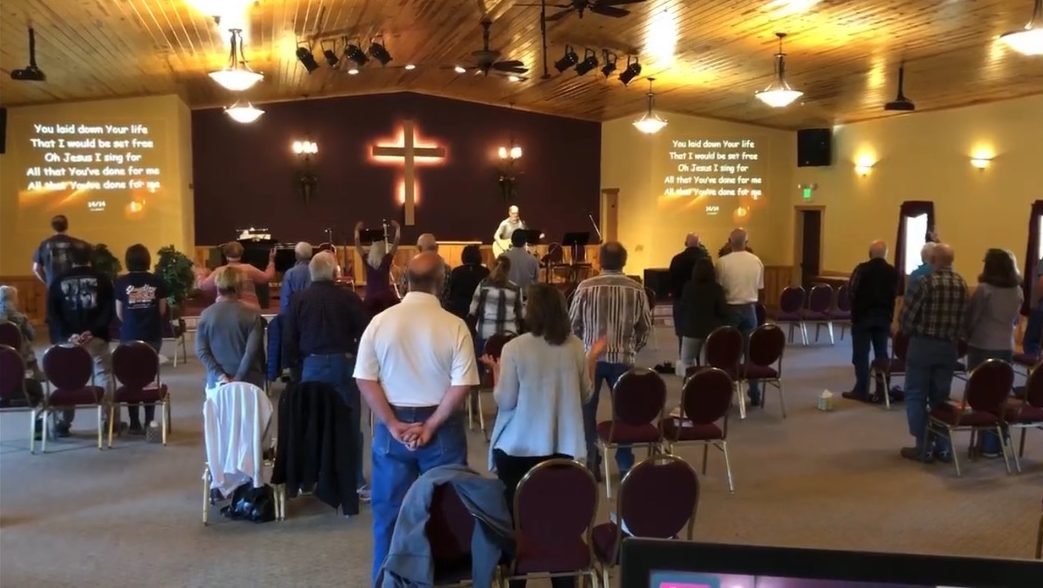 Montana is in Phase 1 of reopening, which doesn't set a maximum number for any gathering as long as there is "appropriate physical distancing." Wilson was able to space 60 chairs in clumps of two or three, all six feet apart. The church has two single bathrooms, which now require a four-step process to use: Use a paper towel to open and close the door. Thoroughly wash your hands. Spray down all the surfaces with the provided bleach water. Leave the lights on and door open when you leave.
Mission Bible Fellowship doesn't have a lot of children, and many of its members are older, which makes them vulnerable to COVID-19. But there have been no cases in Seeley Lake. So Wilson's elder board decided to leave most decisions—whether to come, whether to wear a mask, how long to visit afterward—up to the members. "We didn't want to make anyone feel obligated or guilty about not coming," Wilson said.
Thirty-seven people—about half the normal crowd—showed up. "The mood was definitely joyful and full of excitement," Wilson said. Wearing masks, not being able to hug, and sitting far apart was "very weird, but people were really excited and encouraged. We definitely got the vibe from our church family that they really longed to come back in person again."
******
Name: Charlie Dates
Church: Progressive Baptist Church
Location: Chicago, Illinois (population 2.7 million)
Average Attendance: 800 to 900
Giving: Has taken a hit but is still fine, Dates said. "We're giving a lot away, but people are incredibly generous at the same time."
"Our congregation is largely African American," Dates said. "In Chicago, African Americans are leading the way in COVID-19 death tolls." By a huge rate—African Americans make up 30 percent of the city and 72 percent of its coronavirus deaths. While the reasons aren't entirely clear, Mayor Lori Lightfoot suggested underlying conditions like higher rates of diabetes or heart disease for African Americans might be making them more vulnerable to COVID-19.
It's the Lord's church. We're going to be fine.
"We're not eager to get everybody back, because we're not sure of the nature of pre-existing conditions in our congregation," Dates said. A few members of Progressive Baptist have already died from the virus.
Illinois will probably start a phased reopening in June, but it isn't likely to include large churches, Dates said. By the time that happens, it could be the fall, which means flu season. The health concerns mean Progressive Baptist might move more slowly than the state allows.
Leaders at Progressive Baptist are thinking through stages of reopening, from strict (perhaps as many as three to four services to allow everyone to socially distance in the sanctuary) to moderate (restoring activities that happen during the week) to liberal (normal activity levels).
"It's the Lord's church," Dates said. "We're going to be fine."
******
Name: Drew Cunningham
Church: Santa Cruz Baptist Church
Location: Santa Cruz, California (population 65,000)
Average Attendance: 80 to 100
Giving: Down a little, but since Santa Cruz Baptist is a church plant, much of their funding comes from outside sources.
"I'm a natural planner," Cunningham said. "If there's a good chance we're going to open in, say, July, how do we use the next month well?"
There are only 127 confirmed cases of COVID in Santa Cruz County (population 273,000). Santa Cruz Baptist doesn't have members with the virus, and most of its attendees are young. Cunningham isn't worried about how to serve his older members, but about how to safely organize the 35 children.
Gathering together is something we've always taught theologically, but in a weird way it's bringing me joy to know we're really learning that in this season.
"Our older people can wash their hands and wear masks and socially distance," he said. "But kids are wild cards. They're not going to stay off of each other." He's talked to a daycare center, which is planning to keep kids contained in groups—Santa Cruz Baptist might try that. He's also going to make sure the building is cleaned according to CDC guidelines.
"We want parents to know we're taking this seriously," Cunningham said. "But I haven't found a really comforting answer yet."
Some of his members are really worried about the virus; some think it's a hoax. His elders have been reaching out to the members to check on them. (Cunningham keeps a spreadsheet to make sure no one falls through the cracks.) And before they reopen, the elders will check with everyone to see how comfortable they feel with gathering.
"They all say they can't wait to get back to church," Cunningham said. "Gathering together is something we've always taught theologically, but in a weird way it's bringing me joy to know we're really learning that in this season. We actually do love being with one another."
******
Name: Darryl Williamson
Church: Living Faith Bible Fellowship
Location: Tampa, Florida (population 393,000)
Average Attendance: 120 to 130
Giving: Steady
Florida has started to reopen some areas of the state, but Williamson doesn't want to rush. "We feel the Lord will providentially show us when we should reopen," he said. To Living Faith, "that means a clear and demonstrable all-clear from the presence of the virus."
Williamson doesn't want to gather until all—even the most vulnerable—are able to come. He has one member with COVID-19 right now.
Most pastors I talk with have nothing but amazing testimonies about this moment.
"Our current stance is that we're not going to gather publicly for worship until the end of the summer," he said. "When we do, we'd much rather be in a real state of celebration rather than in a state of caution."
He doesn't want to rush back out of discontent. "Most pastors I talk with have nothing but amazing testimonies about this moment," he said. "God has shown us amazing grace and mercy in this moment. I don't want to look at that and then try to figure out how quickly we can engineer our return. I think the Lord should do that. When he opens the Red Sea for us, let's go through."
Until then, Williamson will focus on shepherding, encouraging, and leading his church; on creating connections between people; and on getting ready to celebrate when God shows Living Faith that it's time to gather in person.
******
Name: Calvin Hoogendoorn
Church: First Christian Reformed Church
Location: Sioux Falls, South Dakota (population 182,000)
Average Attendance: 1,350
Giving: Initially dipped since First CRC didn't have online giving set up at first, but has since climbed back up.
South Dakota's governor never gave a shelter-in-place order. But First CRC moved exclusively online on March 15 after city declared a state of emergency.
"We wanted to honor the request made by the governor and our mayor to practice safe habits and to help flatten the curve," Hoogendoorn said. "We saw it as an opportunity for the church to show care for the community—not just its own, but the greater community as well."
The No. 1 question I get is, 'When are we getting back together?'
South Dakota's cases are projected to peak in late May or early June. Optimistically, First CRC could open up in early summer. But Hoogendoorn is worried about the older members of his congregation, who are unlikely to stay home for self-protection. "They love the church, and they love worship," he said.
First CRC will likely rely on members to take personal responsibility, "because I'm not sure how much we can control," Hoogendoorn said. He may add a livestream and chairs in the gym to allow more room for spacing during the services.
Hoogendoorn has called every family in his congregation. "The No. 1 question I get is, 'When are we getting back together?'" The other day he ran into a parishioner at the grocery store, who said: "Just tell me it's soon."
"It's a delicate balance, between honoring CDC guidelines to protect the community and answering this deep natural longing for the Lord and his people," Hoogendoorn said. "At the end of the day, it comes down to personal responsibility. Be smart. Wash your hands."
******
Name: Adam Mabry
Church: Aletheia Church
Location: Boston, Massachusetts (population 695,000) and Providence, Rhode Island (population (180,000)
Average Attendance: 1,200 at the Boston campus, 80 at the Providence campus
Giving: Giving has gone up, which Mabry attributes to a newly added benevolence fund for those affected by the pandemic.
Mabry has stopped praying for things to go back to normal.
"I think the Lord is showing us a new strategy, if we'd just pay attention," he said. He's seen unexpected fruit from the online worship he never wanted to have—members watching services at home with unbelieving family members, more people in more small groups, a higher number in the discipleship class for new people.
What reveals your worth and value and dignity before the Lord cannot be a meeting. We have to drill deeper.
"There hasn't been a [ministry] retreat at all," Mabry said. "I think this is a strategy God wants us to hang on to"—especially since he and his fellow pastor Justin Chapman are unlikely to get their whole congregations back together for perhaps a year. Not only do they face government restrictions in their hard-hit New England states, but both rent space (in a YMCA theater and in a school), so they don't have total control over their timeline.
"Providence will probably start holding public gatherings when we can get 50 to 100 people together," Mabry said. The Boston campus "won't bother until that number is 200 to 250," since that's how many they could safely fit in the 600-seat theater. Aletheia staff has already ordered masks for volunteers, plans on doing temperature checks for kids, and will use individual communion cups.
Mabry is eager to gather in person, but not in a hurry.
"The reputation of Jesus is really important," he said. "If I were to become convinced that the rate at which we were gathering was being interpreted as unloving or causing fear and worry, I'd slow it down. . . . Going too fast might reveal idolatry."
Pastors often thrive on the appreciation and applause that comes from in-person preaching, he said. "But what reveals your worth and value and dignity before the Lord cannot be a meeting. We have to drill deeper."