Christians everywhere and at any point in time should be concerned with two agendas: First, are we reaching the lost? Second, are we deepening our discipleship?
With the dramatic restriction of refugee admissions to the United States over the past year—the result of public-policy changes supported by most white evangelical Christians—I fear that we may have lost the greatest opportunity in a generation to advance the cause of Christ, forfeiting a unique avenue both for evangelism and for personal discipleship because we have embraced our culture's idolatry of safety.
Reaching the Lost
Ever since Ralph Winter's presentation at the first Lausanne Congress in 1974, the global church has rightfully been galvanized by a vision to reach unreached people groups with the gospel. We have mobilized tens of thousands, raised and spent billions, and deployed professional missionaries to the four corners of the world. Though these efforts have borne much fruit and must continue, we've too often neglected the opportunity to reach the lost within our own country.
Most people don't realize that the United States is home to the world's third-largest number of unreached groups, after only India and China. Many from these unreached groups have arrived in recent years as refugees—individuals recognized by our government to have fled their country because of a well-founded fear of persecution. They arrive in desperate need of practical support, friendship, and the gospel of Jesus Christ.
At World Relief, we have been partnering with local churches to welcome such refugees for roughly four decades, facilitating relationships between church-based volunteers and newly arrived refugees. While we do not pressure anyone to convert and provide the same compassionate services regardless of a refugee's interest in the Christian faith—they're worthy of dignity simply because they're made in God's image (Gen. 1:27) and are neighbors to love (Luke 10:27)—when a Muslim, Buddhist, or Hindu refugee is welcomed and genuinely befriended by a team of Christians, it's rare that they don't eventually ask why. Those church-based volunteers then have the opportunity to share the "reason for the hope" they have (1 Pet. 3:15).
For American Christians, to join the "unreached-people-group movement" should not be limited to "pray, give, and go." It can also be expressed through friendship and hospitality in apartment complexes and cul-de-sacs around the country, both by full-time gospel ministers and also by laypeople who dedicate a few hours per week to interacting with their refugee neighbors.
God calls his church to do hard things. He has not just saved us from damnation; he has saved us for the hard ministry of being his ambassadors in the world (2 Cor. 5:20). Every time we give up our own preferences and identity to champion his cause, we grow closer to Christ. Working with refugees is not easy, and it's not simple. But when we dive into the uncomfortable work of being with people who are so different from us—giving up time, comfort, and preference—we learn to live and love as Jesus did, which draws us closer to our Savior who did the same for us.
It is also true that, while many refugees come from non-Christian religious traditions, many others come as persecuted followers of Jesus—those our Lord explicitly commands that we stand with and welcome (Matt. 25:31–46). There should be no greater joy for the follower of Jesus than to support and show solidarity with the persecuted church. We have so much to learn from these brothers and sisters—as well as from many African Americans in our own country—who have endured unimaginable suffering for the cause of Christ.
Lost Opportunity
Last weekend marked the one-year anniversary of when I believe the American church lost the biggest and best opportunity in a generation to advance this agenda we consider paramount. On January 27, 2017, President Trump signed his executive order on refugees and immigrants.
In the year since, several things have taken place
From 2016 to 2017, the number of refugees entering the United States plummeted from 96,874 to 33,368. This constitutes a nearly 70 percent reduction in the number of people who have a chance to come into contact with an American follower of Jesus. A 70 percent reduction in the number of people the church can serve and support. A 70 percent reduction in our ability to put aside our nationality and ethnicity and to simply love as Christ has loved us.
Though Muslim refugees have been disproportionately disadvantaged by recent policies, the number of persecuted Christians allowed into the United States as refugees has declined starkly as well. Open Doors recently released their annual watch list, categorizing 11 countries as nations where Christians face "extreme persecution." In 2016, more than 6,400 refugees who claim the name of Christ were admitted to the United States from these 11 countries. Since the executive order a year ago, about 2,700 Christians from these countries have been resettled to the United States, a decline of 59 percent. This decline should not just give us pause; it should alarm us: 59 percent fewer who can teach us what it means to stand for Christ when it is not comfortable; 59 percent fewer who can help revive our churches.
When Security Becomes an Idol
What's most troubling to me is that, though many American Christians have spoken out boldly for refugees in the past year—including in an open letter to the president affirmed by Tim Keller, Ed Stetzer, Scott Sauls, Danny Akin, and Sandy Willson, among many others—more than three-quarters of white evangelicals "in the pews" tell pollsters they support these policy shifts. (Meanwhile, three-quarters of the religiously unaffiliated are opposed.)
Far too often within white evangelical churches, we have allowed a desire for security to become an idol, displacing our passion for the lost, and we have allowed our views to be informed neither by the facts (such as the reality that no refugee admitted in my lifetime has ever taken an American citizen's life in a terrorist attack) nor by the Scriptures (just 12 percent of evangelicals say the Bible is the primary influence on their thinking about immigration issues), but rather by partisan media narratives designed to elicit fear-driven support for draconian policies.
I am deeply alarmed at the state of the white American church. Our primary zeal seems to have become the defense of national identity, ethnic heritage, and creature comforts. If we fail to realize the opportunity that has begun to slip away this past year, I fear we will have lost the greatest opportunity in a generation to advance the cause and agenda of Christ in our world.
Get your FREE 7-day devotional!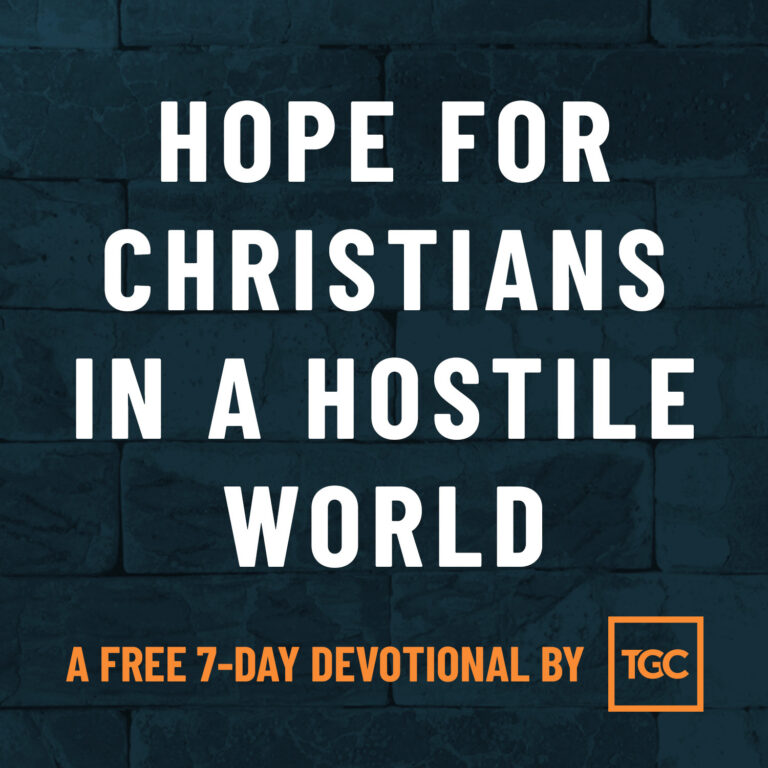 God's people have always been strangers and sojourners in this world. Do you feel that way, too?
You're not alone. Since the church's beginnings, Christians have often felt ostracized. And the Bible offers great encouragement for how to live with hope.
If you're feeling the weight of cultural exile today, our new 7-day devotional, Hope for Christians in a Hostile World, will encourage you.
If you sign up for this FREE resource, we'll send you an email each day for a week with a daily devotional featuring Bible readings and reflections written by TGC staff and friends.