In junior high, I became friends with a social justice warrior. She wasn't a Christian, but she had an extravagant and sincere concern for people and was driven to eradicate suffering and bring relief. She was the first teenager I met who was actively involved in collecting food for the homeless, donating her hair to cancer research, attending rallies for refugees, and raising awareness for human trafficking, child soldiers, and global famine. She woke me up to some of these issues for the first time.
But her love for justice wasn't rooted in spiritual realities; it was intertwined with simple idealism and a search for self-fulfillment in temporary humanitarian relief. More than anyone else I know, she lives out the dominant and defining belief of Generation Z: social justice is our god.
Generation Z and Justice
It's no stereotype; the statistics show that my generation is obsessed with justice. Forbes reports that Generation Z is "passionate about equality and justice of every kind. They fight for themselves, their friends, their classmates and others they see treated unfairly, whether due to issues of gender, sexuality, race, pay, or environmental." A study from Fast Company revealed that 76 percent of Generation Z is concerned about human effect on the planet and believe they can operate as a change agent.
In a globally connected world, teens and 20-somethings take advantage of the unlimited opportunities for activism on the web. We're organizing school walk-outs, marching for equality, and doing TED Talks on child marriage and poverty. These days, we're bigger fans of Malala Yousafzai than Miley Cyrus.
Having grown up in the age of authenticity, we've been taught that "we should be directed by nothing outside us but only by what we find meaningful within us. . . . denying external authority (even divine action) to follow the new purpose of 'what speaks to me.'" As we struggle desperately to find meaning in this postmodern culture, the hip and heartwarming pursuit of social justice has indeed spoken to us.
But young Christians are especially passionate about justice—and not merely because of its coolness factor. Though we're undeniably influenced by our culture's dogma, we see God's clear commands to pursue justice for the poor (Gal. 2:10), refugees (Ex. 23:9), the homeless (Isa. 58:7), the marginalized (Ex. 22:22), minorities (John 4:9–10), the unborn (Ps. 127:3; 139:13–16), and the vulnerable (Jer. 22:3). Filled with empathy and energy, we're ready to rise up and help.
Imbalanced Justice
Generation Z Christians, however, have a problem: we're imbalanced. We often view the mission of Christianity as a seesaw. On one side is doctrine-driven evangelism; on the other is a practical pursuit of earthly justice. We say (or imply) that you can be either a Christian who's focused on justice or a Christian who's focused on gospel proclamation—which are you? People or policies? Social needs or spiritual needs? Temporal or eternal?
When forced to plant flags, younger Christians tend to choose the former while older Christians the latter. Many young Christians have tilted toward justice in a way that slowly slides away from the gospel. Their focus has dangerously drifted from gospel-centered to humanitarian-centered.
Many in my generation aren't only emphasizing justice over evangelism; they're sacrificing truth at the altar of humanity.
In his book Generous Justice, Tim Keller writes about "young evangelicals who have 'expanded their mission' to include social justice along with evangelism." He observes: "Many of them have not only turned away from older forms of ministry, but also from traditional evangelical doctrines of Jesus's substitutionary atonement and of justification by faith alone, which are seen as too 'individualistic.'"
Many in my generation aren't only emphasizing justice over evangelism; they're sacrificing truth on the altar of humanity. They have become consumed by social needs and confused about the mission of the gospel.
The Gospel Is Big Enough for Justice
The fundamental problem is that we've created a false dichotomy. When you pit justice and gospel against each other, you miss the point of the Bible and devalue God's heart for both. Justice fits squarely in the framework of biblical Christianity. It flows fiercely out of the gospel as a practical implication of loving God. Our God is a God of justice (Gen. 18:25). He cares for the needy (Ps. 68:10), he provides for the poor (Is. 41:17), he fights for the oppressed (Ps. 10:17–18), he hates abuse and racism and human trafficking. And he expects his people to as well:
He has told you, O man, what is good; and what does the LORD require of you but to do justice, and to love kindness, and to walk humbly with your God? (Micah 6:8)
Yet if we want to live out justice the way God commands and celebrates, we must prioritize the gospel. If we truly want to see human flourishing and reduce global suffering, we need to deal with the biggest problem humanity faces: sin and death. We need a robust and holistic view of justice, and the gospel equips us with that. Christians throughout history like William Wilberforce, Hannah More, and Dietrich Bonhoeffer have been advocates for justice—and it was their focus on the gospel that fueled their pursuit of justice.
When you pit justice and gospel against each other, you miss the point of the Bible and devalue God's heart for both.
"Walking humbly with your God" fuels "do[ing] justice." If we honestly recognize and acknowledge both our weakness and God's greatness, we'll want to provide hope and help to others. We'll want to love our neighbors. And loving our neighbors means meeting their physical need while recognizing that their most important need is decidedly spiritual. They're dead and in need of life. We need justice operated out of gospel love.
That's what Jesus did. He provided physically for the poor while telling them about the spiritual riches they could have in him. He drew water for the thirsty and told them about the Living Water that could eternally satisfy. He served food to the hungry and preached about the Bread of Life. He cared about children and orphans and offered the opportunity to be God's children.
Jesus didn't ignore people's physical suffering, but he prioritized their eternal suffering. It wasn't an either-or (there was no false dichotomy); it was a both-and. As John Piper has said, "Christians should care about all suffering, especially eternal suffering." That's what Jesus did. He cared about suffering, and his radical love for people led to action.
If Generation Z Christians really want to change the world, we need to live like Jesus, love like Jesus, and serve like Jesus. And if we want to make a difference for eternity, then we too must take action—to prioritize the gospel as we pursue justice.
Get a FREE eBook to strengthen your family discipleship!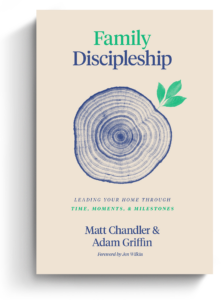 The back-to-school season is stressful for moms and dads. New rhythms of school, sports, and other extracurricular activities can quickly fill up a family's already busy calendar. Where do busy parents look for resources on discipling their family well? Aside from prioritizing church, what else can Christian parents do to instill healthy spiritual habits in their household?
Matt Chandler and Adam Griffin cover these questions and more in Family Discipleship: Leading Your Home through Time, Moments, and Milestones. And we're excited to offer this book to you for FREE as an eBook today.
Click on the link below to get instant access to your FREE Family Discipleship eBook now!