Their teacher had been crucified. The One they'd followed was unfastened from a shameful cross and laid in a tomb; his body, lifeless. The Man who'd understood them unlike anyone they'd ever known was gone. The Advocate who'd defended Mary of Bethany after she'd broken open her expensive jar of perfume in worship, the Savior who'd cast the seven demons out of Mary Magdalene, had been arrested, crucified, and buried.
And now, it was Sunday. "Toward the dawn of the first day of the week, Mary Magdalene and the other Mary went to see the tomb" (Matt. 28:1).
Seek Jesus
They and a few other women were stirring, rustling themselves awake, if they'd slept at all. They had work to do. Gathering their spices to anoint his body, they set off. They wouldn't think of letting him go without paying tribute, without one final touch.
On their way to the tomb they discussed, "Who will roll away the stone for us from the entrance of the tomb?" (Mark 16:3).
They had no idea how they'd get a stone like that moved out of the way. But they were women who'd walked with Jesus. And a stone standing in the way wouldn't keep them from making their way toward him. They kept walking with their spices, with their heartache, with each other, on a mission. That stone would be taken care of one way or another.
When they arrived, they "found the stone rolled away from the tomb, but when they went in they did not find the body of the Lord Jesus" (Luke 24:2–3).
That impossibly heavy stone—the one that could've kept them in bed under the covers wrapped in thoughts that they and their spices would never get inside anyhow—had been moved. But there was another problem, one they couldn't have foreseen, the overwhelming heartbreak that turned out to be their salvation: Jesus wasn't there.
"Why do you seek the living among the dead?" the angels asked. "He is not here but has risen!" (Luke 24:5–6)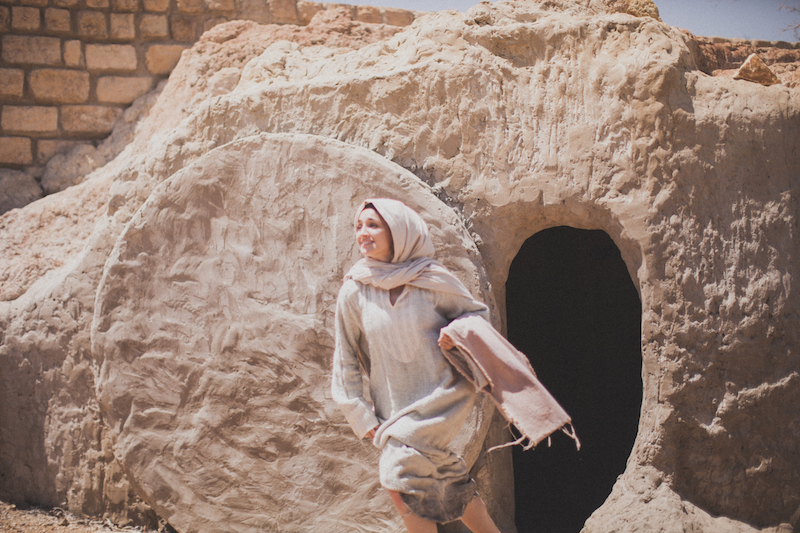 Seek Life in Jesus
How many times have I looked for life in places where only dead men live? I've peered into the tombs of fame and wealth, stepped into caverns where the powerful and popular preside, and carried my offerings to the pleasures of this world, looking for life. And then the whisper that cuts with the tip of a sword slices through: Why are you looking for life here? Look for Jesus. No life is life except the life he gives.
Of course, these women they were actually looking for Jesus—they were just in the wrong place. They'd misunderstood. Or maybe they hadn't heard all the way. Perhaps they'd forgotten. The angel stood to remind them: "Remember how he told you, while he was still in Galilee, that the Son of Man must be delivered into the hands of sinful men and be crucified and on the third day rise" (Luke 24:6–7).
"And they remembered his words" (Luke 24:8).
What words of the Savior have you forgotten? Which of his promises have you not believed? What commands are you leaving unobeyed? What truths have you relaxed for a more convenient alternative? Return to his Word and remember. Because in the remembering we know where to find Jesus.
The men finally came to the tomb, as heartbroken over the death of Jesus as the women were. Yet they dealt with grief differently, as men and women so beautifully and uniquely often do. After Peter and John found the tomb empty, they went home.
Mary remained. "But Mary stood weeping outside the tomb" (John 20:11).
Sometimes I wish I'd wait a little longer in my grief. Stay in my tears a few more minutes instead of rushing away from a painful sight, or brushing aside appropriate mourning for something more pleasant.
Mary sat with her tears long enough to peer into the tomb and see something the men hadn't seen. Angels. They asked her why she was crying. She gave the most telling answer:
"They have taken away my Lord" (John 20:13).
Not the Lord, or the disciples' Lord, or Israel's Lord, but my Lord. Mary Magdalene was close enough to Jesus to tell an angel that he was hers. And when another Man, whom she thought was the gardener, asked her the same question, she begged him to help her find Jesus's body.
Not the Lord, or the disciples' Lord, or Israel's Lord, but my Lord. Mary Magdalene was close enough to Jesus to tell an angel that he was hers.
This is intimacy with the Savior. This is fellowship. This is familial closeness. Mary Magdalene shows us something about how close a woman can and should be to Christ.
That Man she thought was the gardener revealed himself to her as Jesus. He did so by simply calling her name.
"Mary" (John 20:16).
Hear her name. Hear your name. Then, let us do what she did. Fall at his feet and worship.
Share Jesus
Jesus appeared first to a woman. And to women the privilege of being the inaugural carriers of the gospel was given. After Mary and the women heard about Jesus's resurrection, they shared the good news.
The angels instructed, "But go, tell his disciples" (Mark 16:7).
Just this morning I prayed the Lord would help me be a more effective goer and teller. To put my lamp on a stand, to keep my salt salty. Men and women alike have been charged with sharing the gospel. These women were the first to go and tell—even to those who didn't believe them at first. Are you going? Are you telling about the preciousness of not just the Savior, but your Savior?
"Now it was Mary Magdalene and Joanna and Mary the mother of James and the other women with them who told these things to the apostles" (Luke 24:10).
This Easter, I pray we would take our unique place with Jesus—that we'd rustle ourselves out of bed a few minutes earlier to meet with him. I pray we won't let immoveable obstacles keep us from journeying toward him, but will trust he'll somehow take care of the impossible. I pray we'll stop looking for life among the dead, and find it in the person of Christ. I hope we'll remember God's Word and believe his promises. And, most of all, I pray we'll share the good news—today.
You are a one-of-a-kind, uniquely gifted disciple of Jesus. To whom will you go and tell the good news?
---
Editors' note: This article appeared at KellyMinter.com.