On Sunday, I snapped at my mother on the phone. 
On Monday, I woke before my alarm and spent a lonely hour lying with my eyes closed and my mind whirring—anxious over decisions for the future and despairing about the direction of life altogether. That night I did it all again before going to sleep.
On Tuesday, at work, I simultaneously wanted to cry and punch someone. 
Two days later, I started my period. 
The hormones had won. Again. 
If you're a woman, you probably know how that feels. For reasons still largely unknown to science, at certain times in our monthly cycle our hormones conspire against us and inflict us with a range of symptoms—some physical, some emotional. 
Mostly we call it "Pre-Menstrual Syndrome" or "PMS." I think we should call it a fight with the flesh. After all, for many women, PMS takes our battle with sin to the next level as we fight anger, irritability, despair, and self-pity. You break out in anger or burst into tears over something you know is trivial—and afterward experience not just remorse for the incident itself, but a peculiar resentment at the fact that your hormones made you do it.
Mostly we call it 'Pre-Menstrual Syndrome' or 'PMS.' I think we should call it a fight with the flesh.
For some of us, statements like that sound dangerously close to the unhelpful stereotypes of women as totally irrational and overly emotional that (rightly) belong in the past. But what if, rather than dismissing the realities of PMS as feminine histrionics, or resenting them, or ignoring them, we saw them as something more useful? Namely, a window into the spiritual realities that are true every day for every believer, male and female. 
Don't You Know There's a War Going on?
Paul writes:
But I say, walk by the Spirit, and you will not gratify the desires of the flesh. For the desires of the flesh are against the Spirit, and the desires of the Spirit are against the flesh, for these are opposed to each other, to keep you from doing the things you want to do. (Gal. 5:16–17)
In some senses, the way I think about my hormones ought to be the way I think about my flesh all month long. Paul says that there's a war going on within us. 
On one side is the Spirit, who has brought us to new life and who now indwells us, giving us a desire for godliness and a distaste for sin, and growing the fruit of love, joy, peace, patience, kindness, goodness, faithfulness, gentleness, and self-control (Gal. 5:22–23). 
On the other side is the flesh, which desires to put self first, and leads to immorality, anger, jealousy, envy, overindulgence, "and the like" (Gal. 5:19–21). 
For Paul, the flesh is not merely our bodies, but our whole person as under the impulses of sin. Our bodies (including our hormones)—created good, but tainted by the fall—are neither distinct from the work of the flesh nor the sum total of it. They are the battleground on which the war is fought. Although what we really want is godliness, the desires of our flesh "keep [us] from doing the things [we] want to do" (Gal. 5:17). Hence the clash. 
Our hormones helpfully demonstrate how our sinful nature is part of us and yet not us: in Christ, the flesh does not define us, and it need not control us.
The trouble is, too often we don't feel the heat of the battle because we've stopped fighting it. We've put down our swords and put up our feet, content to live with sin. 
"My hormones made me do it!" is the cry of many a PMS-sufferer—and yet it's also true that I did it. As such our hormones helpfully demonstrate how our sinful nature is part of us and yet not us: in Christ, the flesh does not define us, and it need not control us.   
5 Attitudes to Respond to PMS
If our hormones helpfully point toward what the Bible says about our flesh, then what the Bible says about our flesh can equally help us with our hormones.
When PMS strikes, we can respond with five attitudes.
1. Resolve
"Since we live by the Spirit, let us keep in step with the Spirit" (Gal. 5:25). Our hormones are no match for the Spirit! So we dare not use them as an excuse for sin. Instead we face these days with resolve: Anger/self-pity/etc is not who I am. I am not a slave to this. In the Spirit's power I can choose obedience.
2. Vigilance
If we're mindful of our monthly cycle, most of us have a reasonable idea of what symptoms to expect and when. And on those days (and indeed every day), we remain vigilant and prayerful against temptation, knowing that Satan "prowls around like a roaring lion, looking for someone to devour" (1 Pet. 5:8).
3. Patience
Our bodies are weak. They get tired, they get hungry, and they get hormonal. But our limits are not to be despised—they remind us that we are creatures. And that's okay, because we don't need to be anything other than that. We're free to take things slower sometimes, because our worth in not in what we get done. We seek to bear with the weakness of others, and of ourselves (Eph. 4:2).
4. Need
Whenever we feel sinful or sorrowful, we're moved to acknowledge our desperate natural condition and our total need for a Savior. PMS can teach us to cry out: Wretched woman that I am! Who will deliver me from this body of death? (see Rom. 7:24).
5. Hope
PMS can do strange things to your mind—there may be times when things feel so dark that you can't imagine them ever being right again. But dawn is coming (Rom. 13:12). Every round of PMS is an opportunity to fix our eyes on a future where our whole being—body, mind, and spirit—will be finally freed from the effects of sin. And we praise God for the Savior on whom we pin our hopes. 
Get your FREE 7-day devotional!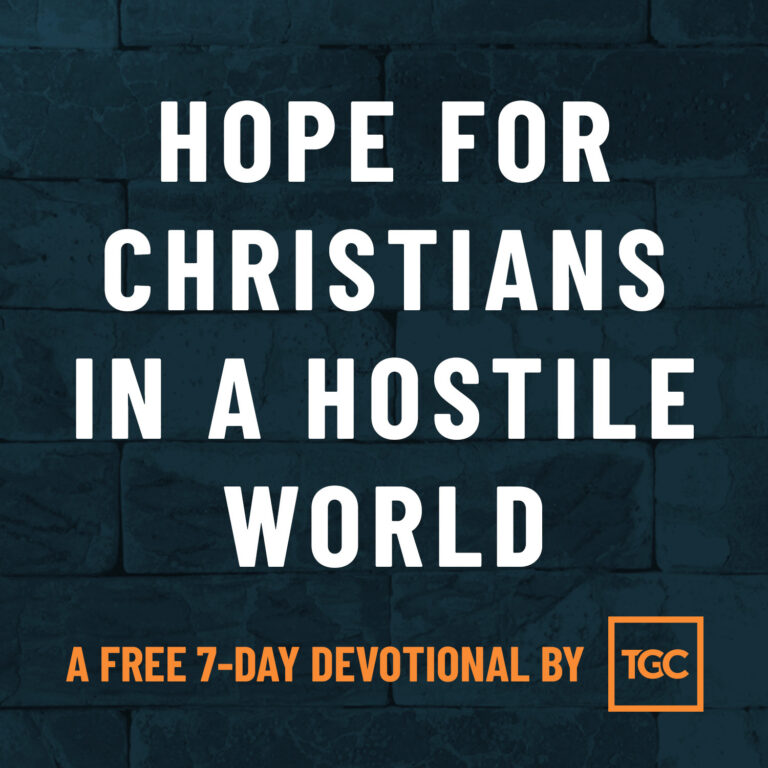 God's people have always been strangers and sojourners in this world. Do you feel that way, too?
You're not alone. Since the church's beginnings, Christians have often felt ostracized. And the Bible offers great encouragement for how to live with hope.
If you're feeling the weight of cultural exile today, our new 7-day devotional, Hope for Christians in a Hostile World, will encourage you.
If you sign up for this FREE resource, we'll send you an email each day for a week with a daily devotional featuring Bible readings and reflections written by TGC staff and friends.