As a phone conversation with my sister was winding down, she offered stinging final words after debriefing over some family drama: "Well, we all know you're the spiritual one in the family." I sighed an internal ugh, knowing that she really meant to say self-righteous one. In an attempt to defend what I thought she was implying, I launched into a stream of apologetic clarifications. In the end, it felt like an exercise in futility. I knew the reputation I had forged years earlier in much less sanctified times had never been forgotten.
The truth is that I had deservedly earned the title. As a young, arrogant, spiritually immature and self-assured believer, I had driven my nose up at my families' failures and displayed enough told-you-so-disappointment that I'm surprised they didn't excommunicate me altogether. It wasn't until I had experienced quite a few of my own failures that God thankfully shut down my pharisaical rantings for good. Looking back on those early days, I still feel ashamed at the ways I disgraced the name of Christ and the reputation of believers.
Unfortunately, grudges are easier to hold than forgiveness is to hand out. Reputations are complex mechanisms to dismantle. Although we have limitless opportunities to show kindness to others, it takes only one poisonous slip of the tongue or outburst of anger to completely destroy our credibility and strip us of relational capital.
How We Work to Restore
So is there a place to even begin? Can there be a rebuilding process? Maybe you're eager to repair, but you know certain family members will never let you move past your former self.
If you face decades worth of family damage, here are three steps to consider taking. Although reconciliation is never guaranteed, we are always guaranteed that God will look upon the humble and contrite.
1. Seek forgiveness: "Humble yourselves before the Lord, and he will exalt you." James 4:10 
Want to shock a grudge-holding family member? Start by asking for forgiveness. There's nothing that cuts quite so deep as humble repentance. If they ask why, you can share how the gospel has illumined your own sin by the light of God's grace. You can explain how Christ's humility on the cross convicts you of your own arrogance, and that repenting to him enables you to ask forgiveness of them.
2. Speak softly: "A soft answer turns away wrath, but a harsh word stirs up anger." Proverbs 15:1
A soft answer will be curiously received by an unbelieving family member who has received the opposite from you in the past. Controlling your tongue will always speak louder than using it to cut another spiritual incision into an already tender situation. This is a general principle, so although a soft tone won't always calm a stormy feud, I think it's safe to say that an angry rant never will. Think about the channels of communication that might open up when a family member responds, "Your reaction really surprised me, I thought you'd be upset."
3. Show kindness: "Keep your conduct among the Gentiles honorable, so that when they speak against you as evildoers, they may see your good deeds and glorify God on the day of visitation." 1 Peter 2:12
Look for opportunities to sacrificially bless unbelieving members of your family. If you're far away, contact them occasionally to let them know you're praying and thinking about them. If they live close, make yourself available to them. In this way they will see a heart for Christ that also cares about them, and they won't have any reason to speak negatively either in their hearts or with their mouths about your actions.
I don't know my current status with my family. I probably never will. But I do know that each of us needs to come clean and repent of our own failures with our families.
Pray with me that God would give us a gospel-infused love for our families that causes us to be more critical of our own sin than theirs. Pray with me that Jesus would give us prayerful, less prideful hearts that overflow with mercy and forbearance. Pray with me that the Holy Spirit would help us forgive as we continue to be forgiven. 
And by God's grace, they may yet glorify him.
In a season of sorrow? This FREE eBook will guide you in biblical lament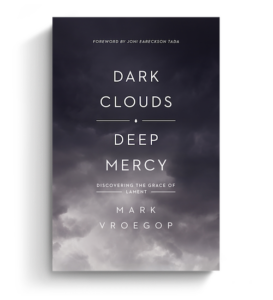 Lament is how we bring our sorrow to God—but it is a neglected dimension of the Christian life for many Christians today. We need to recover the practice of honest spiritual struggle that gives us permission to vocalize our pain and wrestle with our sorrow.
In Dark Clouds, Deep Mercy, pastor and TGC Council member Mark Vroegop explores how the Bible—through the psalms of lament and the book of Lamentations—gives voice to our pain. He invites readers to grieve, struggle, and tap into the rich reservoir of grace and mercy God offers in the darkest moments of our lives.
Click on the link below to get instant access to your FREE Dark Clouds, Deep Mercy eBook now!