When we look ahead to Christmas and the New Year, it's easy to feel both happy anticipation and nervous dread. But the good news is that we face whatever is ahead with God's loving presence. God wants us to know this reality.
Before you read another word, look up from this page and spend some time reflecting on these origin words from the book of Genesis: "In the beginning, God."
Usually, we'd have already wandered ahead without contemplating why Scripture begins with these particular, and even peculiar, words. What thoughts spring to mind as you consider them? Images of a darkened, murky, uncreated world without landscapes, architecture, animals, or humans? Does the word "beginning" recall the opening scenes of a memorable film or the first pages of a favorite novel? Perhaps it's difficult for you to imagine what a beginning looked like before God spoke our world into being. What's important for us isn't what it was like before God formed the world but that God was there. Before he supernaturally declared the world into existence from unimaginable nothingness, God was.
When we imagine the beginning of our world, the most significant detail to note is that Scripture doesn't allow us to think of it without God's presence. Before anything, there was something: God. Even more astonishingly, Ephesians 1 tells us that before the beginning, God had already chosen you.  
Chosen
He chose us in him before the foundation of the world. (Eph. 1:4a)
As a songwriter, I get ideas for lyrics and melodies in abstract and unique ways that seem to defy any objective formula or rational explanation. As much as I wish my inspiration would come prepackaged in a monthly subscription, it insists on being ghostlike. Before I conceive or compose a lyric or melody in my consciousness, a mere image will materialize, the grain of a song that will someday be realized in recorded fruition.
Before the beginning, God had already chosen you.
Of course, my method for songwriting is a woefully incomplete illustration of how God chose us. God's creation process could not have begun with an incomplete idea. Before he composed the opening notes that would constitute his creation song, in his unfathomably infinite foreknowledge, he had already chosen a people to "be fruitful and multiply and fill the earth and subdue it, and have dominion over the fish of the sea and over the birds of the heavens and over every living thing that moves on the earth" (Gen. 1:28). Equally as thought-provoking is this stunning realization: not only did God have a purpose for all humanity, he also planned what our purpose would be as his chosen people.
Holy
. . . that we should be holy and blameless before him. (Eph. 1:4b)
To be a chosen son or daughter of God is to become holy and blameless, or, to say it another way, to be set apart before him and for him. The reason God can only make his home with those who are set apart and righteous like himself, so he chose to make you holy. 
Of course, when God set us apart, he knew another decision must be made as well.  
Predestined
In love he predestined us for adoption to himself as sons through Jesus Christ, according to the purpose of his will. (Eph. 1:4b–5)
There it is. That troublesome word "predestine" in all its glory. 
The idea of predestination makes some mildly, or wildly, uncomfortable, but the apostle Paul didn't intend a debate when he wrote these words to the Ephesians. He wanted to assure them that belonging to God doesn't happen by a random stroke of luck. No, God loved us before he made us, and he planned to adopt us.  The sinful status we were born into meant God wasn't our Father at birth. But God meant for you to be his, so he created you, loved you, chose you, planned for you, and purposed to be with you.  
Paul didn't intend a debate when he wrote these words to the Ephesians. He wanted to assure them that belonging to God doesn't happen by a random stroke of luck.
Forever.  
As you look ahead toward the holidays, remember that none of your beginnings will begin in the absence of God's presence. In the same way God was present before he created the world, he will continue to go before you in all things.
This reminds you that all those beginning things that cause so much fear, unrest, and anxiety will not be entered into alone or carried out in isolation. Before your beginning, God had already begun planning your creation and salvation. And he has plans for this new beginning as well. 
Get a FREE eBook to strengthen your family discipleship!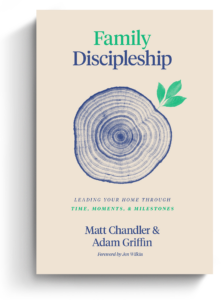 The back-to-school season is stressful for moms and dads. New rhythms of school, sports, and other extracurricular activities can quickly fill up a family's already busy calendar. Where do busy parents look for resources on discipling their family well? Aside from prioritizing church, what else can Christian parents do to instill healthy spiritual habits in their household?
Matt Chandler and Adam Griffin cover these questions and more in Family Discipleship: Leading Your Home through Time, Moments, and Milestones. And we're excited to offer this book to you for FREE as an eBook today.
Click on the link below to get instant access to your FREE Family Discipleship eBook now!