Editors' note:
TGC's critical theological engagement with art and media should not be construed as endorsement or recommendation. TGC often discusses movies, TV shows, and other forms of art primarily because they have explanatory power in helping us understand the culture we're trying to reach. Before you make a decision to watch any piece of media, we recommend reading "Should I Watch This?" and checking out a content guide.
What makes for a meaningful human life? What are human beings for? As Christians, we believe not only that there's an answer to these questions but that the answer will make reference to our Creator.
But what happens when someone thinks there's no answer to these questions or the answer doesn't need to reference a Creator? If "God is dead," as Friedrich Nietzsche's madman exclaims, what replaces the Creator as the ground of meaning and value? For 20th-century existentialists like Jean-Paul Sartre, the answer is the self. Individuals are free to define themselves and determine meaning, and authenticity to self becomes the highest virtue.
These ideas are alive and well today—and pervasive in pop culture. It's hard to think of a more prominent example than 2022's most-Oscar-nominated movie, Everything Everywhere All at Once.
Meaningless Multiverse
Everything centers on Evelyn Wang (Michelle Yeoh, nominee for best actress) and her strained relationships with her husband, Waymond (Ke Huy Quan, nominee for best supporting actor), and their daughter, Joy (Stephanie Hsu). Early in the film, while Evelyn and Waymond are in an elevator (on their way to a meeting with an IRS agent), something about Waymond changes, and he gives Evelyn a headset and instructions that will enable her to send her consciousness to another version of herself in a different universe within the multiverse. We later find out this is called "verse-jumping," and the film's bonkers narrative contains a dizzying amount of it.
The central antagonist turns out to be Joy in a different universe: Jobu Tupaki, an all-powerful, all-knowing supervillain who can verse-jump at will and who experiences everything in the multiverse all at the same time. Alpha-Waymond has discovered Jobu Tupaki is building something that threatens to destroy the entire multiverse, and he's searching for the version of Evelyn who can defeat Jobu Tupaki and prevent annihilation.
Much Kung Fu fighting ensues, and upon finding Evelyn, Jobu Tupaki reveals the weapon of mass destruction she's been building: history's most literal "everything bagel." She has literally put everything on a bagel: not just sesame seeds, poppy seeds, and salt but her hopes and dreams, report cards, every breed of dog—everything. And it's chaos.
When one looks through the bagel—at everything—one sees the truth, Jobu Tupaki tells us, and the truth is that nothing matters. She has endorsed nihilism, and the only way for her to escape is by creating something powerful enough to destroy herself—and, incidentally, everything else.
From Despair to the Creation of Meaning
Evelyn joins Jobu Tupaki's despair temporarily, but then, moved by her husband's apparently naive kindness, she sets out to save Joy. In a surprising depiction of sacrificial love, versions of Evelyn throughout the multiverse reach out to the various versions of her daughter. In one universe, "where the conditions weren't right for life to form," Evelyn and Joy inhabit rocks within a lifeless world. Their silent dialogue appears as text on screen:
Joy (as a rock): "For most of our history, we knew the Earth was the center of the universe. We killed and tortured people for saying otherwise. That is, until we discovered that the Earth is actually revolving around the Sun, which is just one sun out of trillions of suns. And now look at us, trying to deal with the fact that all of that exists inside of one universe out of who knows how many. Every new discovery is just a reminder—"
Evelyn (as a rock): "We're all small and stupid."
Then, as Joy's rock edges off a cliff (depicting her plunge into nihilism), Evelyn's rock tumbles after her.
Evelyn ultimately succeeds in convincing the various Joys not to despair, and their relationship is restored. Joy asks her mother if she still wants to do the Chinese New Year party that's been interrupted, and Evelyn responds, "We can do whatever we want." Then after a pause, she adds, "Nothing matters," and Joy chuckles.
The movie ends on the apparently hopeful note that, despite our chaotic world, we can recognize the absurdity of our condition and choose to create meaning anyway. The "meaning" the central characters land on seems to circle the idea of relational kindness as a basic currency for meaningful existence. Waymond sums it up when he says, "The only thing I do know is that we have to be kind. Please, be kind. Especially when we don't know what's going on."
The film's viewpoint evokes Sartre's slogan "Existence precedes essence." We don't come into the world with an essence that tells us what we're for, what we should be like, or what will make our lives valuable. Instead, we're thrown into existence, and only then must we figure out what essence (or meaning) we'll give to ourselves. Our existence we can't control but meaning we can: "We can do whatever we want."
Limits of Existentialism
In spite of the movie's irreverence and decidedly secular-existentialist response to the threat of nihilism, we find in it the echoes of transcendent meaning and value. For Christians watching the movie, it's hard to miss the depiction of sacrificial acts of grace in the movie's resolution—whether it's Waymond rescuing Evelyn from despair or Evelyn risking everything to save Joy.
In spite of the movie's irreverence and decidedly secular-existentialist response to the threat of nihilism, we find in it the echoes of transcendent meaning and value.
Moreover—and ironically, for a movie with an existentialist worldview—there seems to be an element of fate in its resolution. At the climax of the movie, Evelyn tells Joy, "No matter what, I still want to be here with you. I will always, always want to be here with you."
Yet in the movie, the multiverse is depicted as a group of universes that branch off whenever there are divergent options for how events might unfold. This means every possibility must exist (including those where the change is a small shift in feeling or thinking). There must be a universe where the tensions of Evelyn and Joy's relationship are unresolved, where Evelyn doesn't choose her daughter—unless there's some deeper inevitability or purpose tying them together, something that supersedes Evelyn's and Joy's freedom to choose.
Either way, it's unclear how characters within the multiverse can freely create their own essences. This is where we find that the combination of the movie's multiverse premise with the characters' choice not to annihilate the multiverse turns out to be incoherent. If all possibilities are realized somewhere in the multiverse, so is the destruction of the multiverse.
Kinds of Kindness
Finally, there's tension between the movie's existentialist turn and its message about love and kindness. In a dramatic battle sequence, Waymond begs Evelyn to fight with kindness rather than force. In response, she helps one agent crack his back, pushes two others into a kiss, and helps a teppanyaki chef get his raccoon back (it's as weird as it sounds). Kindness in this scene looks like helping others fulfill what they perceive as their greatest need. Kindness is giving people what they want.
Contrast this depiction of kindness with Thomas Aquinas's vision: "We ought to do our brethren the kindness of correcting them, with the hope of God's help." At the movie's climax, Evelyn turns to a kind of love that accepts without correcting, criticizing, or even disagreeing. She sits and vapes with her tax-auditor nemesis (Jamie Lee Curtis). In another universe (one where humans have hot dog fingers), she shares a strange, romantic dance with a version of the same tax auditor. Perhaps most noticeably, she confidently tells her father Gong Gong (James Hong) that Joy is in a lesbian relationship with girlfriend Becky (Tallie Medel), signaling a shift from Evelyn's initial disapproval of her daughter's relationship (a plot point early in the film) to now full acceptance. If Becky is who Joy wants, then kindness—in Evelyn's mind—means she must affirm this choice.
Yet in a way, the movie can't help enacting Aquinas: Evelyn fights Joy to save her. She doesn't just shrug and let Joy go down the path of "everything bagel" oblivion. She pulls her back toward the right choice, out of love for her. The movie may not fully subscribe to the existence of objective right and wrong, but earlier on, Waymond says Jobu Tupaki is so dangerous because as she's grown more powerful she's ignored truth and is doing whatever she wants. If kindness is helping others achieve their perceived need, Evelyn should let Joy fall into the bagel. But she doesn't.
Haunted by 'Something'
Everything Everywhere All at Once wants a subjective basis for values like love and kindness, but it needs an objective one. The film wants these values to include unconditional acceptance, but in its own narrative, not everything is unconditionally acceptable. By removing the foundations of love and kindness, the film undercuts its own message. Yet it's haunted by the objectivity it denies.
The movie wants a subjective basis for values like love and kindness, but it needs an objective one.
"Maybe there is something out there," Evelyn says to Joy, "that explains why you still came looking for me, through all of this noise."
Lines like these hint at the need for "something" behind the inexplicable existence of multiverse-jumping, sacrificial love. What that is, the film can't say. Still, it's a pesky and persistent "something" that unsettles the moral logic of post-Christian culture. Not even a movie committed to existentialism can escape the question of this "something"—or Someone—that causes love to make sense.
Get a FREE eBook to strengthen your family discipleship!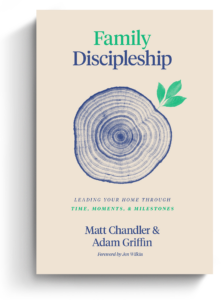 The back-to-school season is stressful for moms and dads. New rhythms of school, sports, and other extracurricular activities can quickly fill up a family's already busy calendar. Where do busy parents look for resources on discipling their family well? Aside from prioritizing church, what else can Christian parents do to instill healthy spiritual habits in their household?
Matt Chandler and Adam Griffin cover these questions and more in Family Discipleship: Leading Your Home through Time, Moments, and Milestones. And we're excited to offer this book to you for FREE as an eBook today.
Click on the link below to get instant access to your FREE Family Discipleship eBook now!