Editors' note:
Take part in TGC's Read the Bible initiative, where we're encouraging Christians and churches to read together through God's Word in a year.
Looking back on pictures from younger days can be humbling. (I have an old picture of me with spiky hair and odd-colored fluorescent socks.) It turns out the same can be true of revewing past sermons.
I was recently asked to preach on a passage in Acts and realized I'd preached it before, so I dug out the old sermon to take a look. Well, it wasn't a train wreck—there were some good insights from the passage. But I felt very uneasy about it. I went over some other sermons from the same time to see if I felt the same way, and came to the same uncomfortable conclusion: too much exegesis, too little Jesus. Ouch.
At the time I never would've claimed these were model sermons. But I also wouldn't have thought they were particularly bad ones, either. I would have been broadly happy with them. I was teaching the text. I was getting it right. I was trying to point people to Christ and see how the word might change their lives. But they sounded like nothing more than warm, friendly commentaries. Which I would have been happy with at the time.
But that was before I got hit by Ephesians 2.
When Christ Came to Ephesus
A couple of years ago, I was reading through Ephesians, minding my own business. I'm not particularly systematic when it comes to reading through the Bible, but I would guess I've read through this letter a few dozen times over the years. But this time, chapter 2:17 suddenly grabbed my attention: "And he [Christ] came and preached peace to you who were far off and peace to those who were near."
Paul is talking about how the message of the gospel first came to his readers in Ephesus. "You who were far off" is Paul's way of talking about Gentiles, while "those who were near" are Jews. The gospel of peace wonderfully came to both groups. Indeed, Paul's wider point here is that this very gospel has made these two distinct groups one new humanity. Jesus has created a new kind of community.
What struck me, though, was who came and did the preaching: "He came and preached peace to you." Christ came and preached to the Ephesians. So the big question is: when did this happen? Was there a moment in Jesus's earthly ministry, unrecorded in the four Gospels, when he popped across the Mediterranean for a quick preaching visit to Asia Minor?
Christ came and preached to the Ephesians. But when did this happen?
No. Christ came and preached when the gospel first came to Ephesus. When Paul and his colleagues started proclaiming the Christian message, Christ himself came and preached. He was preaching peace to these Ephesians.
What Christ Was Preaching
But there's more: Paul has just earlier told us that "[Christ] himself is our peace" (v. 14). In him is all the harmonizing fullness of God's shalom. He is the subject of the preaching, the content of the gospel message.
So Christ was preaching Christ to the men and women in Ephesus. Through his fallible, human servants, Jesus can be preaching Jesus to the hearts of those listening. That, it turns out, is a thing. And now that I know it is, how could I ever want anything less for when I'm preaching? Or, for that matter, when I'm being preached to? How could we settle for less? How could we want to?
Christ was preaching Christ to the men and women in Ephesus.
Learning to Preach Christ
I used to think preaching was merely teaching, transferring Bible data from my head into yours. I'd been trained to get the text right, and I'll go to my grave grateful for that training. Paul commends rightly handling the biblical text (2 Tim. 2:15), precisely because there is such a thing as wrongly handling it. Competent and careful exegesis is essential. But it's not sufficient.
Knowledge isn't enough. Understanding the text isn't enough. All of them are vital. None of them is sufficient. James warns us that even the demons can get their doctrine right (James 2:19).
Competent and careful exegesis is essential. But it's not sufficient.
When we open the Word of God to the people of God, our longing is that Christ himself would come and make himself known to the hearts of those listening—that he would be preaching, and that he would be what people remember.
I used to think good sermon feedback was when someone thanked me at the door and said, "That was a great sermon," or even better, "That was a great passage." But now the feedback I most long to hear is, "Isn't he a great Savior?"
Get a FREE eBook to strengthen your family discipleship!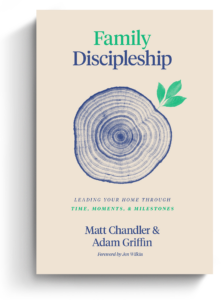 The back-to-school season is stressful for moms and dads. New rhythms of school, sports, and other extracurricular activities can quickly fill up a family's already busy calendar. Where do busy parents look for resources on discipling their family well? Aside from prioritizing church, what else can Christian parents do to instill healthy spiritual habits in their household?
Matt Chandler and Adam Griffin cover these questions and more in Family Discipleship: Leading Your Home through Time, Moments, and Milestones. And we're excited to offer this book to you for FREE as an eBook today.
Click on the link below to get instant access to your FREE Family Discipleship eBook now!