Two of the biggest summer blockbusters so far are Craig Gillespie's Cruella and John Krasinski's A Quiet Place II. Both are entertaining, well-made explorations of how a parent's actions (for good or ill) can mark a child and set the course for his or her life. Both are "origin stories" of sorts, with Cruella exploring the genesis of a villain, while A Quiet Place II ponders the making of heroism.
But the films are strikingly different in instructive ways. Cruella is a morally murky, revisionist narrative that complicates categories like good and evil. Though set in the 1960s–70s, it speaks the "post-truth" language of 2021. A Quiet Place II is set in present day, but champions "old-fashioned" clarity about good and evil. Stories like these—and their respective visions of morality—shape us in ways we don't always recognize. Let's consider this pair of films, side by side.
Note: Spoilers for both films ahead!
Evil's Origin Story (Cruella)
The "villain origin story" movie trend is partially about studios milking every penny they can from iconic franchises. I fully expect more "baddie spinoff" movies in the years to come, giving empathetic texture to The Little Mermaid's Ursula, The Lion King's Scar, Aladdin's Jafar, and maybe even Beauty and the Beast's Gaston (though his cis white male toxicity might not be salvageable). The trend is about more than money, though; it reflects a culture seemingly more interested in the aesthetics of transgression/brokenness than those of virtue/goodness.
The 'villain origin story' trend reflects a culture seemingly more interested in the aesthetics of transgression/brokenness than those of virtue/goodness.
Cruella—and 2019's Joker, 2014's Maleficent, among many others—underscore how much of this is about aesthetics. Villains are just cooler. In Cruella this is made explicit, as the puppy-stealing menace of Disney's 101 Dalmatians is re-envisioned as a wickedly creative punk fashion icon. Played by Emma Stone, Cruella is an antihero for the age of intersectionality and victimhood-as-status. Her pain is channeled into transgressive, anti-establishment art—haute couture in the vein of Vivienne Westwood, Project Runway trash-bag dresses, with a splash of Michelle Pfeiffer's Catwoman.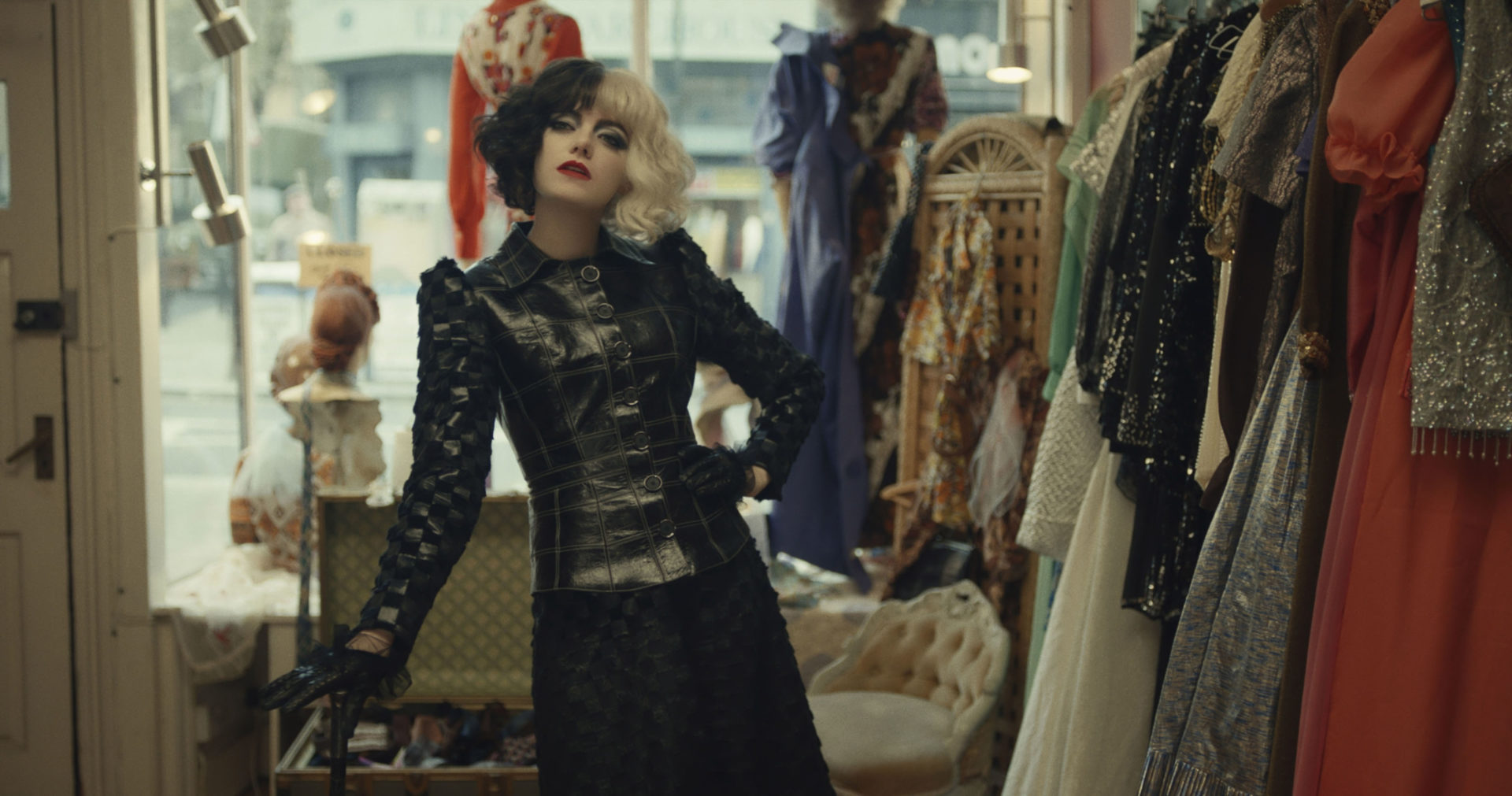 "I want to make art," she tells her fashion-designer assistant Artie. "And I want to make trouble." It's a line that encapsulates the anti-culture dynamics of "art" in the 21st century. It's no longer about beauty; it's about "making trouble." It's about destabilizing, deconstructing, and flaunting convention. "Normal is the cruelest insult of all," says Artie at one point.
Among the alarming, confusing aspects of Cruella is how it takes great pains to stylize Cruella within an undeniably trendy aesthetic. Many Gen Z kids watching Cruella will resonate with the Billie Eilish-meets-Banksy vibes of Cruella's brand, with her many poses accompanied by an on-point soundtrack (The Zombies, Nancy Sinatra, Nina Simone, The Clash, The Animals, etc.). Though ostensibly an icon of 1970s London, Disney clearly pitches this version of Cruella as the sort of goth-chic, non-cis, feminist troubadour many 21st-century teens find appealing.
Aesthetics aside, the film's bigger problem is how it turns Cruella into a victim whose "evil" is largely explained by her horrific childhood and the evil done to her by the film's primary antagonist, Baroness (Emma Thompson). Channeling Meryl Streep in The Devil Wears Prada, Thompson's Baroness is the irredeemably evil villain of Cruella, and Cruella is the tortured victim. Turns out the Baroness is Cruella's biological mother, and her narcissistic cruelty (she says things like "You can't care about anyone else" and "I choose me") sets Cruella on a path to evil from birth. Whereas the film attempts to sanitize Cruella's evil (taking pains to ensure she never harms any Dalmatians), it allows Baroness to be pure evil. At least for now. Surely in a few decades, Baroness will get her own revisionist-origin-story treatment that makes her a sympathetic victim.
Hero's Origin Story ('A Quiet Place II')
If Cruella's villainy can be traced to the shadow cast by her mother's selfish narcissism, the heroism of the kids in A Quiet Place II can be traced to their father's selfless sacrifice. Though John Krasinski's father character is only briefly seen in a flashback, he looms large in A Quiet Place II—perhaps even more of a formative influence on his children in death than in life (having laid down his life for them in the first film).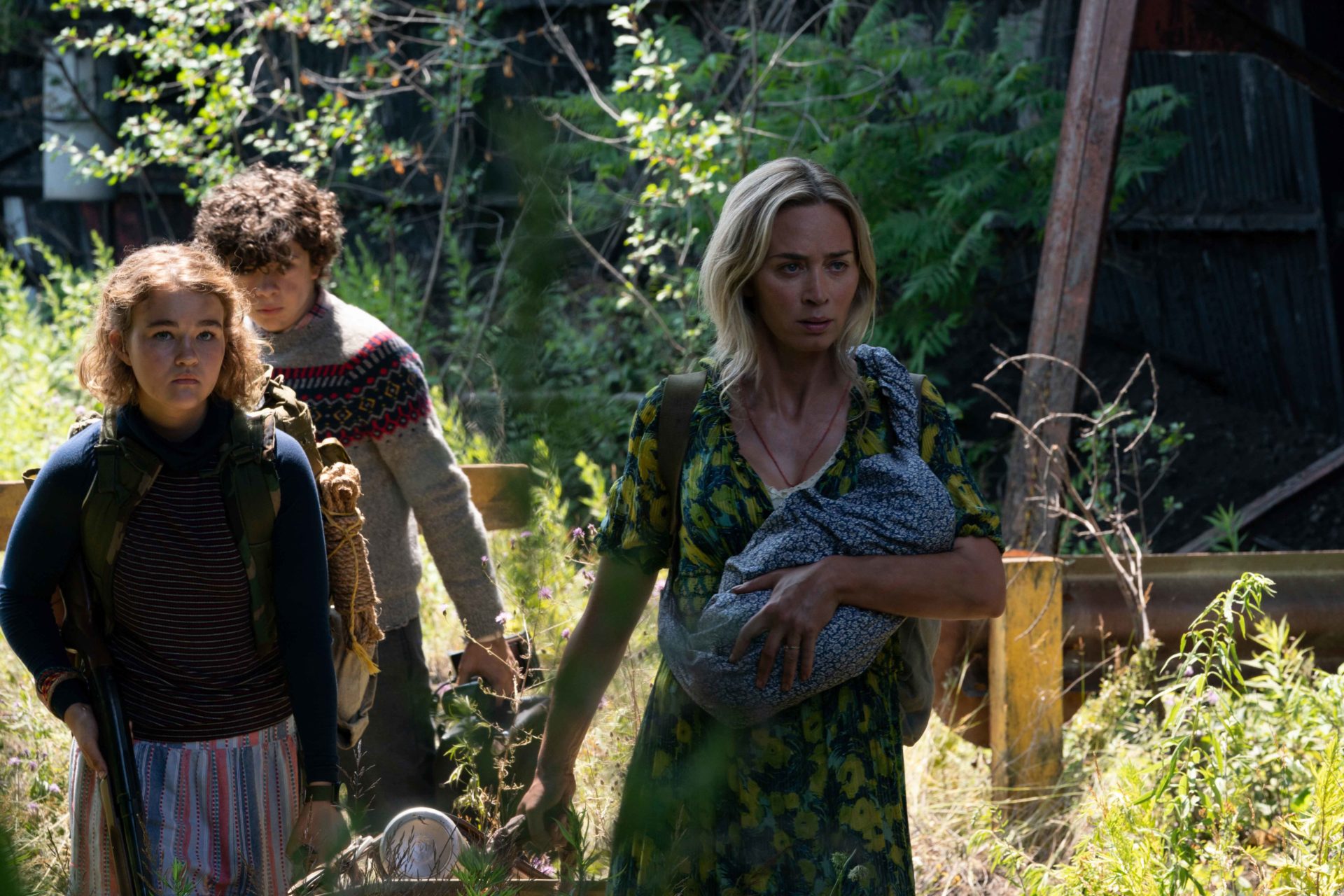 Having been raised by a dad who modeled self-sacrificial love and courage, Regan (Millicent Simmonds) and her little brother Marcus (Noah Jupe) both demonstrate these characteristics in the film. The lasting imprint of their late dad—as well as that of their fiercely courageous, sacrificial mother (Emily Blunt)—is deeply formative for them. This shows how selfless virtue—like narcissistic vice—passes between generations. As a parent, this film reminded me that no book, YouTube video, or Instagram influencer will train my sons in virtue more potently than my wife and I modeling it for them in authentic, non-hypocritical ways. But the opposite is also true, as Cruella demonstrates: nothing sets a child on a sinful trajectory quite like dysfunctional, narcissistic, or absentee parents.
If Cruella's villainy can be traced to the shadow cast by her mother's selfish narcissism, the heroism of the kids in A Quiet Place II can be traced to their father's selfless sacrifice.
But vice and virtue, villainy and heroism, are also not deterministic. Many children of godly parents become ungodly rebels, and plenty of kids raised in horrific circumstances rise above it and chart a better course. Even as parents loom large in our formation, we make our own choices and bear responsibility for our actions.
Origins Aren't Everything
The children in both films are repeatedly traumatized; they've witnessed horrors and lost loved ones to violent deaths. Yet Cruella seems to define herself by trauma in ways Regan and Marcus don't. For Cruella, the cruelty done to her becomes an excuse for inflicting cruelty on others. For Regan and Marcus, the apocalyptic horror they've endured might have functioned similarly—hardening them into animalistic, dog-eat-dog brutes (as are so many others in the film). Yet they choose not to respond this way, instead aspiring to goodness even when they have every excuse not to.
If Cruella finds agency in victimhood (in what has been done to her), Regan and Marcus find agency in sacrifice (in what they can do for others). While Lee certainly set his kids on a trajectory of virtue and sacrifice, it's not a foregone conclusion they'll live that way. At various moments in the film they have opportunities to choose the safe, self-serving thing over the dangerous, sacrificial thing. Likewise, while Cruella is set on a narcissistic path by the Baroness, she has choices along the way to act otherwise. Her friends Jasper (Joel Fry) and Horace (Paul Walter Hauser) repeatedly beckon her to be Estella (her version of Jekyll) rather than Cruella (Hyde). Ultimately she chooses the latter.
If Cruella finds agency in victimhood (in what has been done to her), Regan and Marcus find agency in sacrifice (in what they can do for others).
"I'm not sweet Estella, try as I might," she says. "I never was. I'm Cruella: born brilliant, born bad, and a little bit mad." By the end, Cruella seems to fully own the dark side—even as the film continues to frame her villainy in terms of victimhood. In an explicit perversion of Romans 6 and Paul's language of putting to death our old, sinful self, Cruella ends with the death of Estella and the "resurrection" of Cruella De Vil—cruel devil—who sets up her home in hell (literally: "Hell Hall") as the Rolling Stones's "Sympathy for the Devil" plays on the soundtrack. Does Satan himself have an origin story that makes his evil understandable, even excusable? The ending of Cruella suggests as much.
Goodness Is Cool. Badness Is Normie.
As much as Cruella mines the familiar trope of transgression being fashionable—and "normie" being boring—the hollow film ends up proving the opposite is true. Especially when juxtaposed with a film like A Quiet Place II. The Abbott family is pretty "vanilla" on the surface—they live on a farm, play little league, and probably buy their clothes at Kohl's. But they consistently serve each other, and the broader world, through acts of self-giving love. And that makes them radical.
Self-centered sin, after all, is the norm in our fallen world. "Transgression" is the bourgeois, conformist thing. People who choose virtue over vice, and sacrifice over self-interest—those are the real nonconformists.
Cruella may have a killer wardrobe and edgy brand, but her story is ho-hum in a world where narcissism is the norm. Her baddie aesthetic may be "relatable" in a perverse, brokenness-is-authenticity way, but it's not nearly as cool as the goodness we see in A Quiet Place II. We may not be able to "relate" to the virtuous Abbotts as much as we do to the "complicated" Cruella, but the Abbotts model something to which we can aspire—and aspiring to virtue is far more punk rock than relating to vice.
Get a FREE eBook to strengthen your family discipleship!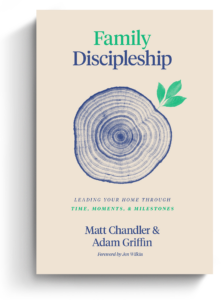 The back-to-school season is stressful for moms and dads. New rhythms of school, sports, and other extracurricular activities can quickly fill up a family's already busy calendar. Where do busy parents look for resources on discipling their family well? Aside from prioritizing church, what else can Christian parents do to instill healthy spiritual habits in their household?
Matt Chandler and Adam Griffin cover these questions and more in Family Discipleship: Leading Your Home through Time, Moments, and Milestones. And we're excited to offer this book to you for FREE as an eBook today.
Click on the link below to get instant access to your FREE Family Discipleship eBook now!