The Story: One of the largest mass shootings in Texas history occurred yesterday at a small Baptist church, leaving Christians grieving and wondering how common such violence is in churches.
The Background: Yesterday morning 26-year-old Devin Patrick Kelley, armed with a semi-automatic rifle and wearing a ballistic vest, entered the First Baptist Church of Sutherland Springs and killed or injured approximately half the congregation. At least 26 people were killed and 20 more were wounded. The victims range in age from 5 to 72 years old.
As he was leaving the church, a local resident fired on Kelley. The shooter fled in his vehicle and was later found dead, though authorities haven't said what caused the fatal wound or whether it was self-inflicted.
Kelley had previously been court-martialed and spent a year in jail for an assaulting his spouse and their child. He was dismissed from the service with a bad conduct discharge.
His motive for the shooting at the church is currently unknown.
Among the dead is the 14-year-old daughter of the First Baptist Church's pastor, Frank Pomeroy, who was traveling out of state with his wife during the incident.
The Context: In the wake of this tragedy, Christians are likely to experience two competing emotions—grief and fear.
As Ray Ortlund said on Twitter, "The San Antonio shooting prompts two sobering thoughts. One, it could have been any of us. Two, it was us. In Christ, we are one."
The appropriate response to the news is to grieve. We should mourn the loss of our fellow brothers and sisters in Christ and weep with their loved ones. We can also soberly reflect on the fact that it could have been of us who were directly and intimately affected by the massacre.
What we should not do, however, is let this act of terror cause us to be afraid of gathering with our fellow believers in worship. While it may be tempting to give in to the fear, we should recognize that church shootings are extremely rare events.
The Center for Homicide Research produced a study using online newspaper archive articles to document all cases of shootings on church property within the United States from 1980 to 2005. According to the data, there was a total of 139 shootings on church property with a total death toll of 185 people. During that 25-year period there were an average of six shootings on church property every year.
While that shows gun-related violence is rare, those statistics are for all shootings that occurred on church property, including some in the parking lot and unrelated to church activity and some that involved targeting of pastors outside of church services.
Let's narrow the data further by considering media reports involving only shootings that occur within the church, and look at the period from 2006 (just after the study by the Center for Homicide Research) to June 17, 2015—the day of the mass shooting at Emanuel African Methodist Episcopal Church in Charleston, South Carolina.
During that nine-year period we find approximately 24 church shootings, an average of 2.7 per year.
If we assume that approximately three church shootings occur every year in the United States, what is the probability they could occur at any particular church? Church shootings are rarely random, and many are spillovers of domestic violence. But for our calculation let's assume the targets are randomly distributed across all congregations.
There are an estimated 378,000 congregations in the United States, which means the likelihood of any congregation being involved in a shooting in any year is approximately one in 126,000 or 0.0000079 percent.
If we assume that each congregation meets at least once per week, there are a minimum of 19,656,000 church services every year in the United States. That means your odds of being in a church service in which a shooting occurs are at most 1 in 6,552,000 or 0.00000015 percent.
The purpose of considering such statistics is not to assuage our fear through probability but to help us to gain a clearer perspective on reality—a reality that is in God's hands. What these numbers help us quantify is the God's providential restraint on a specific form of evil (2 Thessalonians 2:7).
Satan is a terrorist and if he had his way, there would be some form of deadly violence—including church shootings—on every Sunday in every congregation. But like human terrorists, he is thwarted and limited in his desire to cause direct harm, and so the Devil relies on intimidation.
If he can't cause violence in our churches he will use church shootings to cause division among God's people and cause them to fear entering houses of worship. We must not give into such satanic terrorism.
Instead we should heed the words of Pastor Pomeroy, who in his sermon the previous weekend said, "Lean on the Lord . . . leaning into God is the way we should go because God's got it figured out whether we do or not."
Get your FREE 7-day devotional!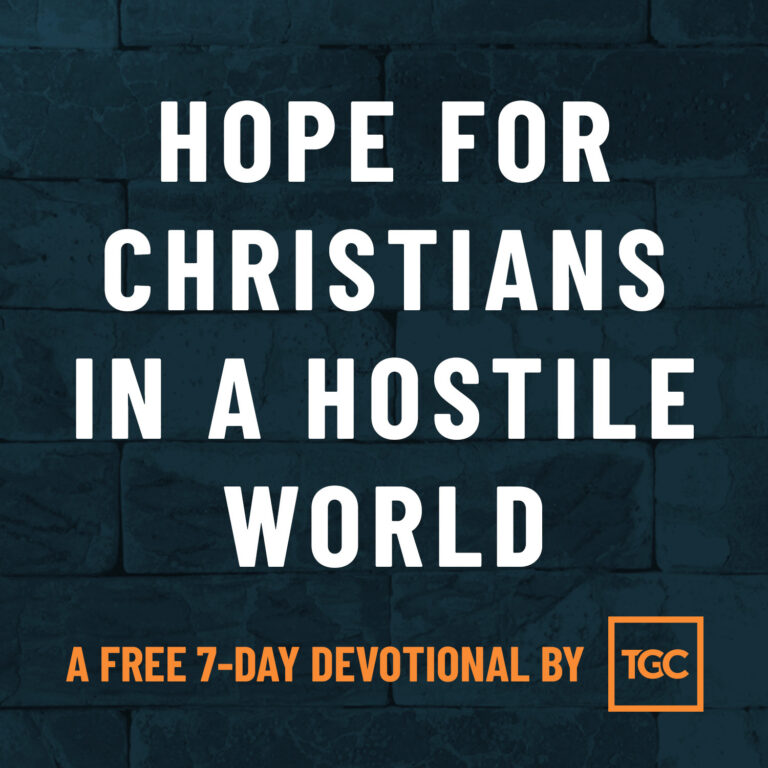 God's people have always been strangers and sojourners in this world. Do you feel that way, too?
You're not alone. Since the church's beginnings, Christians have often felt ostracized. And the Bible offers great encouragement for how to live with hope.
If you're feeling the weight of cultural exile today, our new 7-day devotional, Hope for Christians in a Hostile World, will encourage you.
If you sign up for this FREE resource, we'll send you an email each day for a week with a daily devotional featuring Bible readings and reflections written by TGC staff and friends.