Adam Murray is a senior web developer for World Vision. He studied anthropology at Middle Tennessee State University and business management at Liberty University. Adam serves as associate pastor of Priest Lake Christian Fellowship in Nashville, Tennessee, where he lives with his wife, Karen, and their five children.
---
What do you do each day?
I'm a software engineer and a pastor. Working two jobs is tough. Thankfully, I get to work from home, which gives me some flexibility, and my pastoral responsibilities are shared with others. In addition to that I'm an organizer for a local Christian hackathon called Code for the Kingdom Nashville (C4TK).
As an image-bearer of God, how does your work reflect some aspect of God's work?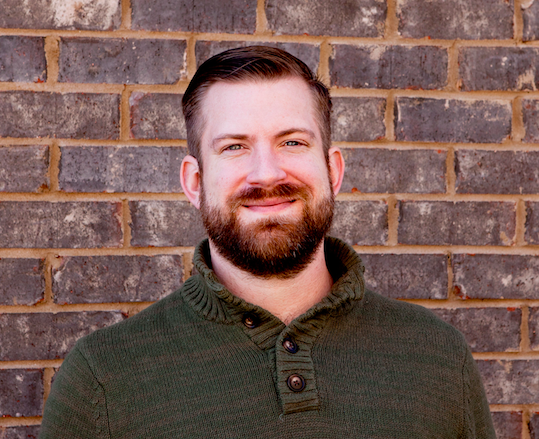 At the hackathon last year, a theology professor gave a talk where he described coding as an extension of Genesis 1–2. First, there was nothing; then, God spoke and made this awesome universe. Similarly, coding is turning ideas—essentially nothing—into reality through computer language. It's a cool reflection of the image of God in humanity.
Working for C4TK, I've also seen how programming has a huge potential for bringing people together. At our events, people who want to serve their communities bring their ideas, and we work together to improve and develop them. This is a reflection of God, too. He's one and three, and in Christ he invites us into his fellowship. As those made in his image, when we're around others, we become who we're really supposed to be and make even greater things.
How does your work give you a unique vantage point into the brokenness of the world?
One thing that drew me in to coding was that I could type something and, literally a second later, could watch it materialize before my eyes. That's neat, but it can feed a desire for immediate gratification and a false sense of power. Coding is also a highly marketable skill these days. It's easy for programmers to look at their work and think, This is where my value is, and thus to get locked up in the pursuit of things that won't last. Coding is great, but unless your identity is in something greater, you'll waste your skills and your life.
Jesus commands us to "love our neighbors as ourselves." How does your work function as an opportunity to love and serve others?
Last year I rebuilt the World Vision sponsorship site to raise awareneness about children's needs around the world. None of the people blessed by it wrote me to thank me for my work—they simply didn't know I'd done it. But that's how it is for many of us: we get to love our neighbor in a behind-the-scenes way, as our labors are part of a larger organizational purpose.
A friend who runs a food kitchen wanted to help her fellow church members not be afraid of those they're called to help—homeless people, undocumented immigrants, refugees. She came to the hackathon last year to share her idea, and we helped her develop it into a pitch that resonated with people. Her idea—now a marketing campaign called "Be the Samaritan"—is still in the works, so she'll be coming back this year. I loved her idea, and I love how it shows that our collaborative work as developers gives us an opportunity to serve those around us.
---
Editors' note: TGCvocations is a weekly column that asks practitioners how they integrate their faith and their work. Interviews are condensed and edited.