After nearly 10 years, the scene is still fixed in my memory.
Our group from Desert Springs Church in Albuquerque, New Mexico, had taken a second mission trip to the town of Rabinal, in the Baja Verapaz region of Guatemala. We wanted to spread the Gospel to the Achi people, descendants of the once-mighty Mayan nation.
On that memorable day in 2004, we traversed a mountainside for two hours. We hiked alongside Pastor David Ixcopal, his wife Maria, and several of their 11 children, with the goal to share the Jesus film—the pastor's only Western gospel resource at the time. A donkey carried the film, along with a generator and sheets that would serve as a movie screen. By evening the entire village of Patchalum viewed the movie; for many, it was their first exposure to the glorious Gospel of Christ.
For several days we accompanied Pastor David up and down steep mountains, taking paths between corn rows to reach the low, dark dwellings of Achi families.
I was overwhelmed by the Guatemalan pastor's daily response to the call of Jesus, and the unwillingness of his family to ignore the seemingly impossible task to spread the Gospel. Their crushing poverty, amazing energy and boundless joy, in contrast to my many resources, paltry excuses and constant grumbling, made me weep. I returned home a broken woman.
Thankful to God for "a book like this"
The physical and spiritual challenges remain for those in this region, but their resources have increased far beyond that single Jesus film, thanks in part to the efforts of The Gospel Coalition-International Outreach (TGC-IO). Through the organization's Packing Hope initiative, my church has been able to take solid biblical literature to Pastor David and others. He recently finished reading one of the resources, This Momentary Marriage, by John Piper,andwrote to express his appreciation.
"I am thankful to God for the opportunity to have a book like this in my hands," he said. "The author confirms to us that marriage is born in the heart of God."
A Largely Oral Culture
One might wonder how effective it is to bring books to the poorest region of Guatemala, where at least 60% of the people are functionally illiterate. However, education has improved in the last 10 years. Boys and girls now stay in school longer. They're learning to read and write in Spanish, and even in their ancient Mayan language.
Also, within the last few years, Chronological Bible Stories were produced on CD to be read by Achi Christians in their native tongue. By this method, Bible stories are presented orally, making them easier to understand.
The Achi of Rabinal were persecuted—even massacred—in the not-so-distant past. They are marginalized still. To hear the Gospel in their mother tongue brings life and light to many.
A great milestone was reached in 2010, when translators created an Achi New Testament in both written and oral forms.
Joyful Pastors' Conferences
David Ixcopal planted a church in a nearby village and labors to serve the people. Daily he counsels, teaches, exhorts and prays with men and women there, in Spanish and in Achi. His fellow pastors seek to be taught also, to discuss and expound the Scriptures, so they can correctly minister within their culture.
Many Achi pastors eagerly attend pastors' conferences offered yearly by Desert Springs Church (DSC). They listen attentively to theological applications expounded by the DSC pastors. They joyfully receive the great resources, which they can read, study, and apply throughout the year.
One couple recently wrote to say how much they appreciate the books from TGC-IO and our church in New Mexico. Rodrigo and Carol Barrera have worked and translated among the Achi in San Miguel Chicaj for 40 years.
Carol wrote: "The books have enriched my life, introducing me to new ideas, filling in gaps about important topics, causing me to think and evaluate ideas. [They] challenge me in my Christian walk and fire up my missionary zeal from the testimonies of others."
She also mentioned one pastor, Narciso, as an example of the eagerness of Achi Christians to grow in Christ.
"He had never read much, but he persevered in reading the books (it might take him months to painstakingly finish one book), meditated on the topics, and then shared them with his church as much as possible. He would finish a couple of books, bring them back to our house, then discuss them with me and pick out two or three more to take."
Able to Teach
Desert Springs Church will continue to partner with The Gospel Coalition-International Outreach to relieve theological poverty globally.
I continue to pray for the Achi, encouraged by Paul's words in 2 Timothy 2:2:  "and what you have heard from me in the presence of many witnesses entrust to faithful men who will be able to teach others also" (ESV).
In a season of sorrow? This FREE eBook will guide you in biblical lament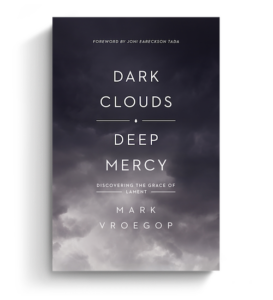 Lament is how we bring our sorrow to God—but it is a neglected dimension of the Christian life for many Christians today. We need to recover the practice of honest spiritual struggle that gives us permission to vocalize our pain and wrestle with our sorrow.
In Dark Clouds, Deep Mercy, pastor and TGC Council member Mark Vroegop explores how the Bible—through the psalms of lament and the book of Lamentations—gives voice to our pain. He invites readers to grieve, struggle, and tap into the rich reservoir of grace and mercy God offers in the darkest moments of our lives.
Click on the link below to get instant access to your FREE Dark Clouds, Deep Mercy eBook now!